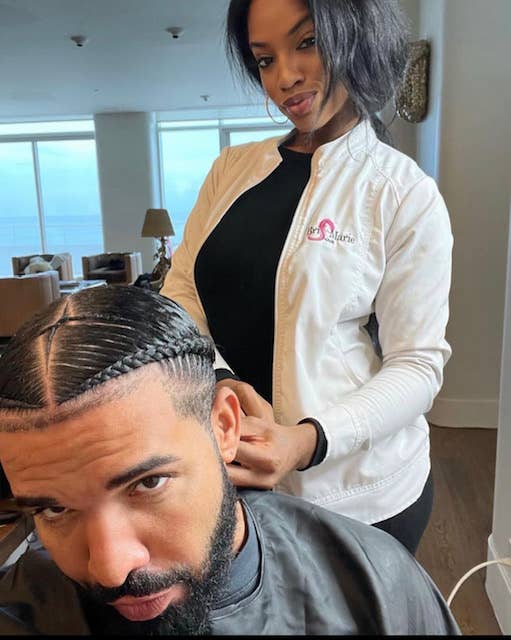 When Drake walked onstage to host the Nike Maxim Award Show in Beaverton, Oregon in early September 2022, he captured the attention of countless celebrities, athletes, and fans in attendance, but not for the reason you may think. It wasn't his speech—although incredibly witty and humorous—that stole the show. Instead, it was the Nike swoosh-shaped detail braided into his hair. He later followed the public appearance with close-up shots of his protective style on Instagram, which garnered even more positive feedback. 
At this point in his career, Drake understands that how he presents himself at live events and on social media—the kissy-face selfies, comedic captions, and eccentric hairstyles—is just as crucial to his brand as his chart-topping music. In the past two years, his hairstyles have become a focal point of his brand and have played their own role in his album rollouts and marketing campaigns. Before the Nike swoosh hairstyle, Drake debuted his close-cut fade featuring a heart-shaped cutout by his temple in preparation for 2021's Certified Lover Boy. And most recently, Drizzy has been rocking a variety of braided styles that coincided with the release of his summer album, Honestly, Nevermind. Though Drake deserves credit for the branded machine he's cultivated over the last few years, he isn't doing it alone. The stylist responsible for the new era of Drake's hair evolution is 22-year-old designer Bri Marie, who's been building a hair empire over the last three years. 
"My whole story is actually pretty crazy," Bri Marie tells Complex. "This whole braiding [career] just fell in my lap." It's noon on the East Coast, but the South Florida-based stylist has already met with several clients before she hopped on this Zoom call. She works with Riff Raff and Rich Homie Quan in addition to Drake, who she started working with this year.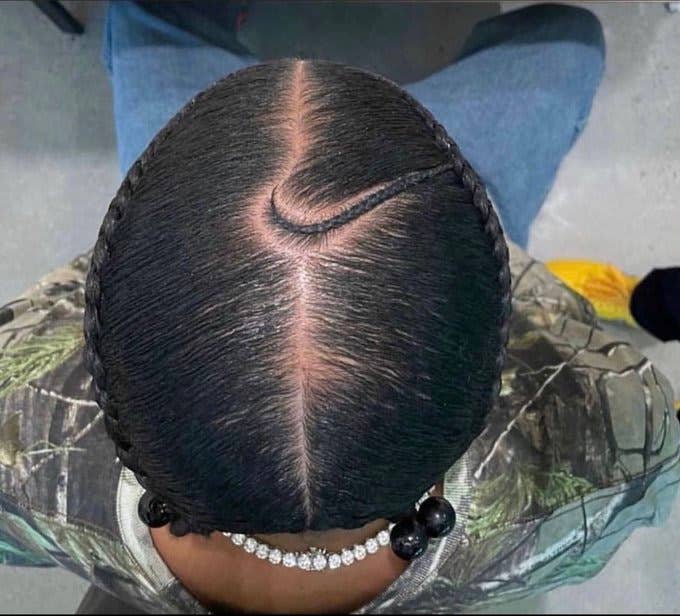 Had things gone a little differently, Bri Marie might have had a career in the military instead of designing celebrity hairstyles. "Fresh out of [high] school, the whole plan was for me to go to the military. That was what my parents wanted me to do," Bri Marie recalls of her early ambitions after graduating from high school in 2018. So after graduation, she started on that track, visiting recruiters' offices and waiting to begin basic training. That same year, a friend reached out to her with an unexpected request. "There was this guy on the basketball team, and he asked me, 'can you do this braid style for me really quick?'" she remembers.
Bri Marie had always been the cousin that braided her family's hair, but this particular style request was more complex than what she'd previously done. Still, she agreed to try it. "I saw it, and I was just like, 'I do not know how to do that, but I could try it.' It really made me interested in creating art out of someone's head. So, I did it on him, and I posted his hair on Snapchat. Clients just started coming in." 
Just like that, Bri Marie began to accept new clients on a routine basis and braid their hair out of her garage. At the time, she also held a daytime restaurant job, making her hours even longer. During the day, she worked 8 a.m. to 4 p.m. at the restaurant, then she'd go straight into braiding hair, oftentimes until 2 a.m. She notes that the long schedule continued for a while until she experienced a moment of reckoning. 
During a crossroads decision of whether she should continue doing hair or go to the military as originally intended, Bri Marie looked to her faith for answers. "On Thursday, I was praying. I was just so conflicted. And this girl came up to me like, "listen, this is confirmation that you shouldn't go [to the military,]'" she recalls. "I came back home and told my mom, 'I'm going to have faith and just stick it out and go the hair route.'" The next day, she called the recruiter and passed on going to the military and started doing hair full time. After leaving the military behind, she attended a one-year cosmetology program to receive certification and then gained employment at a local barbershop in her hometown, where she continued to grow her brand and clientele. "I went to the barbershop with 200 followers [on IG], and I left with 10K," she says.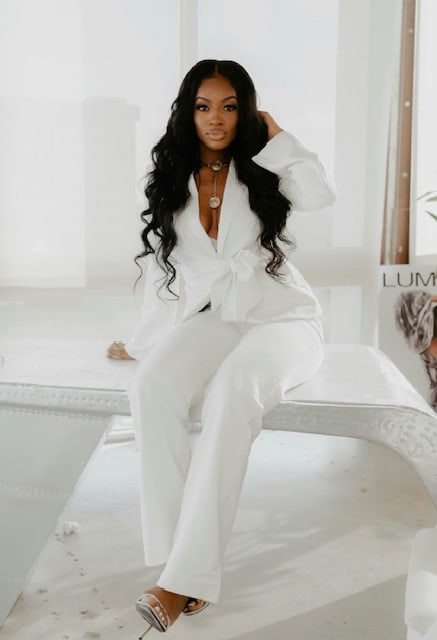 Bri Marie's first celebrity client was rapper Riff Raff in 2019. Riff Raff's PR team reached out to her via Instagram DM after discovering her name under a hashtag. His braids, which often include intricate swirls, shapes, and details, are all over Bri Marie's Instagram page. His co-sign also helped her bag more exclusive clientele. Now, Bri Marie welcomes celebrities like the aforementioned plus James Harden, Swae Lee, and more into her chair. 
Most of her new clients, she says, have found her through social media, namely Instagram. Drake, however, was introduced to her through a friend of a friend. The OVO rapper admired a style she did for his friend and immediately inquired about booking her. "He saw it and was like, 'Bro, I need that.' I got the call the next day and was like, 'Come through,'" she says, looking back on that moment in awe. 
Drake's now-staple braided style includes two to four stitch braids, which is a braiding technique that is achieved by sectioning the hair in clean, horizontal lines. The style took around 45 minutes to an hour to perfect. Bri Marie notes, "the more simple [the style], the more intricate it really is." But she also enjoys tackling challenging designs. 
The Nike swoosh was an exciting challenge for the young hairstylist. It took a total of two hours to do, the hardest part being "drawing out the Nike sign" as if she was using a pencil on paper. "[We] had a conversation about trying something new, and something that would be branded towards that event," she says of how the style came about. "It's simple, but it's still doing a whole lot. It was just really off the top of our heads. We're like, 'Why not? Let's just try to see if we can create that shape.' It was my first time doing it, and it was executed perfectly."
The style was a hit to say the least. Bri Marie remembers the moment she saw Drake make his debut onstage. "I remember watching how he put his head down, just seeing how precise the stitches were looking. It made me feel proud," she acknowledges. "They [were] saying how clean it is. If anything, it makes me feel like, 'Wow, you did that.'"
The swoosh isn't the only trick in her bag. Just by looking at her Instagram account, it's clear that Bri Marie specializes in details. What many wouldn't know, however, is that all of her designs, just like the Nike swoosh, were done off the cuff. 
"All those styles that I've done on my page, those are my first time doing it," reveals the designer. "Actually, some of those styles are just off the top of my head. I'm driving down the street and I'm just looking at shapes. I'm looking at the signs on the road, the sky. I just try to piece all those things together to see if I can replicate it on someone's head… I don't have a mannequin head. I don't practice on anything prior to me trying it on someone's head, but it always ends up working out."
Now, Bri Marie can add anything from a star or scorpion to an octopus or geometric shape of any kind to a client's style, "it just depends on what they're feeling," she says. Her designs capture a growing trend of creative experimentation with braided styles in the industry. Over the years, celebs such as Beyoncé, Rihanna, and ASAP Rocky have incorporated unique detailing into their braids. In 2018, designer Alexander Wang featured eccentric braided styles, which included letters and other designs in his runway show for New York Fashion Week. Bri Marie, theorizes that the trend started during the pandemic when people were growing their hair out and looking for expressive styles. 
"I feel like shapes add a little bit of flavor rather than being simple. It becomes a lot more intriguing for other people to try," she explains. "Guys want to be hip. They want to have the latest. They want to stand out. There's so many different things that go into it. Shapes can really turn the style up a lot more."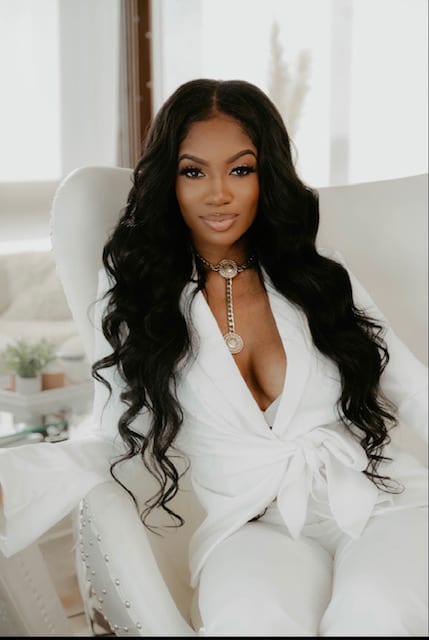 Since Drake, the number of requests for his particular hairstyle have grown exponentially, and Bri Marie confirms her platform has grown as well. "It's one of those things where you don't know until you know," she says of the payoff of Drake's support. "I'd definitely say it really helped bring a lot more traction to my work, a lot more people recognizing that I do have a love and a passion for my brand." 
Drake is just the beginning, though. In addition to having a booked schedule, the hair designer also launched a durag and bonnet line called BMogul. The collection is made of silk or velvet fabric and comes in an array of vibrant colors, giving a luxury feel. And she hints at other business moves in the works, although she's hesitant to share any more details right now. 
Looking back on how far she's come in just three short years, Bri Marie shares the motto that keeps her moving forward: "If you put God first, you will succeed. Believe in yourself and never give up on your dreams because you never know where your talent can take you." 
As far as the design she'll tackle next, she's not even sure. But we'll see it soon enough. "I'm always trying to outdo every style that I've done before. I just try to do stuff that has never really been done before. It really helps me get better and better."