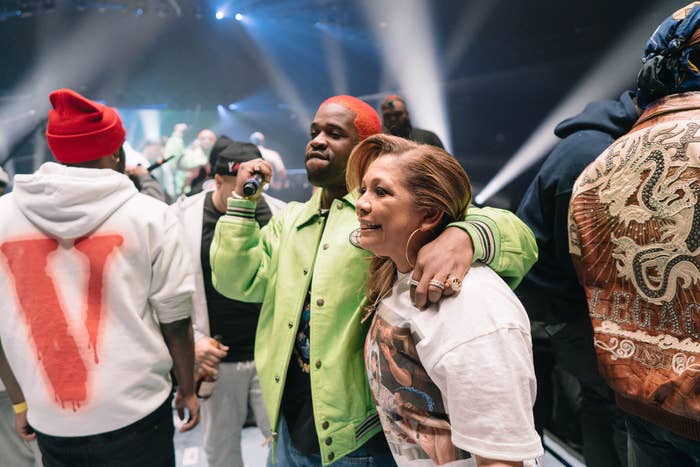 "I get nervous to see so many people," says Tatianna Paulino, mother of ASAP Yams. "I see so many people that really love my son and who were inspired by my son."
Paulino is backstage at Brooklyn's Barclays Center, the site of Yams Day 2020, preparing to give a speech just one day before the fifth anniversary of her son's death. There is a crew of people standing around her, tinkering with her outfit—a customized denim jumpsuit with "Yams Day" emblazoned on it in pink lettering. The jumpsuit's arms are peeled down, revealing a T-shirt that memorializes her son, as well as Fredo Santana, Nipsey Hussle, Mac Miller, Juice WRLD, and XXXTentacion.
It makes sense that Paulino (who is often referred to as Tati) has some pre-concert jitters. Yams Day has evolved and grown significantly since its first year at Manhattan's Terminal 5 venue in 2016. After events at Madison Square Garden and the New York Expo Center, Yams Day planted roots at the Barclays in 2018. But no matter the venue or size, the concert has stayed true to its mission: to honor the legacy of ASAP Mob's co-founder and remain distinctly New York.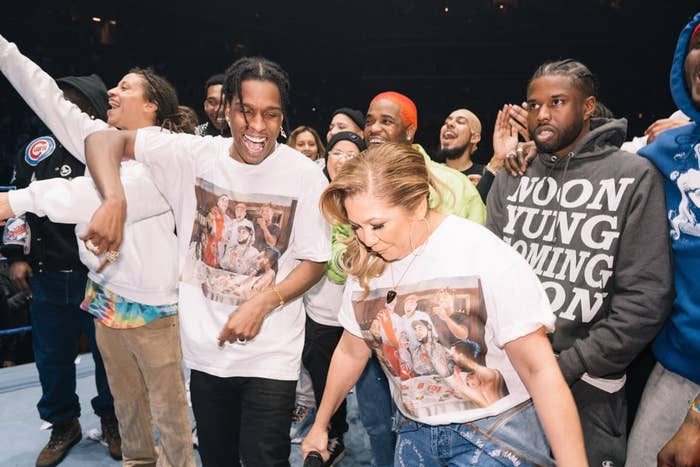 The aesthetic of Yams Day is inspired by the WWE, of which Yams was a fan. It's not out of the ordinary to see amateur wrestlers launching from the ropes of a large ring erected in the middle of the arena, as cameras pan to a sea of kids who are moshing in general admission.
The fifth edition of the show took place on January 17, 2020, and included guest appearances from 2 Chainz, Tyler, the Creator, Bun B, and more, but managed to remain very New York-centric. Before performers even appeared on the main stage, the DJ showed love to Brooklyn's buzzing drill scene, playing hit records from Pop Smoke and Fivio Foreign. Young M.A represented for the city before Rocky invited fellow Harlem native Jim Jones to the stage.
I'm so proud to see that he changed so many people's lives. The culture changed with him. He brought a new chapter for the culture.
After performing his mega-hit "We Fly High (Ballin')," Jones congratulated the ASAP Mob for keeping the city's music culture alive. "I'm proud of y'all. Y'all pushing the culture forward," Jones said. "You should be proud of yourself. Yams is happy. He's smiling [up there]." 
ASAP Yams, born Steven Rodriguez, co-founded ASAP Mob in 2006 alongside New York artists ASAP Bari, ASAP Kham, and ASAP Illz. The collective, which consists of rappers, producers, and creators with the ASAP moniker, includes ASAP Nast, ASAP Twelvvy, as well as its most visible members, ASAP Rocky and ASAP Ferg. Yams passed away in January 2015, at the age of 26, from an accidental overdose, but in the years he was alive, he impacted many lives and helped usher in a new wave of young talent. This is what Tati is reminded of every time she attends Yams Day.
"I'm so proud to see that he changed so many people's lives," Tati says. "The culture changed with him. He brought a new chapter for the culture. That's amazing when I see all those young kids inspired by my son."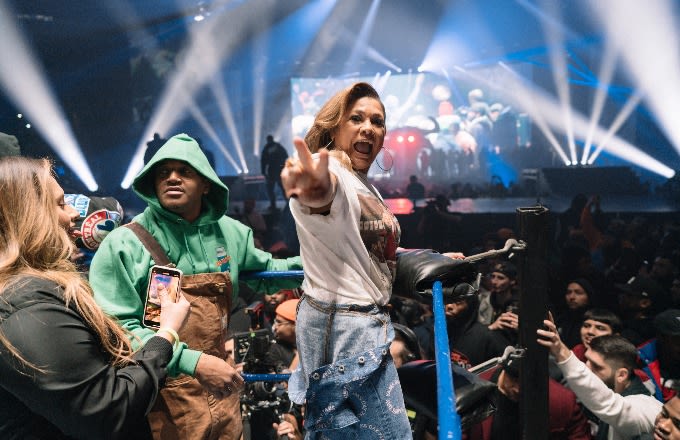 Yams will always be regarded as a rebel who mapped out his own blueprint for success and inspired a generation of artists and fans to live authentically and unapologetically. But Tati wants her son's memory to go beyond the stage. "I want my son's legacy to continue by the foundation," she says, referring to Always Strive and Prosper, a nonprofit organization "dedicated to providing young people with accessible and realistic education about substance use and abuse." 
"I want to bring awareness to so many people who are struggling with addiction to drugs," she continues. "I want to bring awareness to so many people who suffer from addiction and overdose. My son is not here, but I'm his voice." 
The success of Yams Day over the last five years is proof that Yams' legacy will continue to live on and grow. "Thank you to all the ASAP Mob, all the artists here tonight," Tati said onstage on Friday night, yelling over the crowd. "I'm so proud to stand here after five years to celebrate the vision of my son, ASAP Yams, Steven Rodriguez. This right here is his legacy."