Taylor Swift Shares How She Overcame 'Mass Public Shaming' After Kim and Kanye Drama
In her latest cover story, Swift opened up to 'Vogue' about her feud with Kimye, and why she didn't speak up during the 2016 presidential election.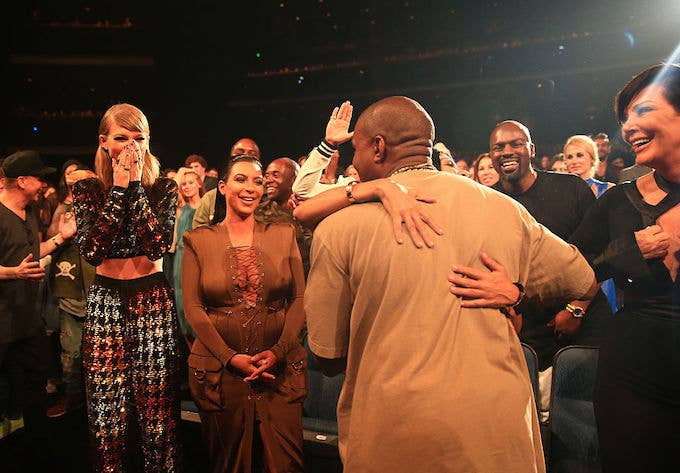 Getty
Image via Getty/Christopher Polk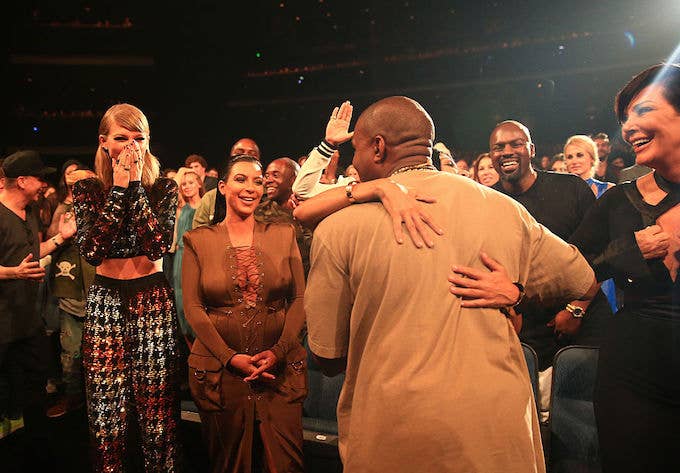 Although she's certainly polarizing, the pop-cultural influence Taylor Swift wields cannot be minimized, which is exemplified in her latest cover story for Vogue. During her interview with the fashion magazine ahead of the release of her album Lover, the pop star opened up about the "mass public shaming" she was subjected to in the aftermath of the Kim Kardashian and Kanye West feud, the negative impact of "cancel culture," her decision to advocate for the LGBTQ community, and why she didn't speak up during the 2016 presidential election. 
In 2016, Kim Kardashian infamously called Swift a "snake" on Twitter, and sparked a debate over the lyrics to Kanye's song "Famous." From that point forward, Kimye and Swift were pitted against one another on every corner of the internet. "A mass public shaming, with millions of people saying you are quote-unquote 'canceled,' is a very isolating experience," Swift told Vogue. "I don't think there are that many people who can actually understand what it's like to have millions of people hate you very loudly."
She continued: "When you say someone is canceled, it's not a TV show. It's a human being. You're sending mass amounts of messaging to this person to either shut up, disappear, or it could also be perceived as, 'Kill yourself.'"
In order to overcome the repercussions of the public feud, Swift said she channeled her energy into her music. "I realized I needed to restructure my life because it felt completely out of control," she explained. "I knew immediately I needed to make music about it because I knew it was the only way I could survive it. It was the only way I could preserve my mental health and also tell the story of what it's like to go through something so humiliating."
Outside of meaningless pop culture feuds at the time, the 2016 presidential election saw musicians and fellow celebrities denouncing Donald Trump in hopes of increasing the electability of Hillary Clinton. Swift remained silent when it came to her political stance, which drew widespread criticism from fans and pundits given the cultural influence she inarguably wields.
Two years later, Swift argued to Vogue that her support may have done more harm than good. "Unfortunately in the 2016 election you had a political opponent who was weaponizing the idea of the celebrity endorsement. He was going around saying, 'I'm a man of the people. I'm for you. I care about you.' I just knew I wasn't going to help. Also, you know, the summer before that election, all people were saying was 'She's calculated. She's manipulative. She's not what she seems. She's a snake. She's a liar.' These are the same exact insults people were hurling at Hillary. Would I be an endorsement or would I be a liability? 'Look, snakes of a feather flock together. Look, the two lying women. The two nasty women.' Literally millions of people were telling me to disappear. So I disappeared. In many senses."
The singer also opened up about her decision to advocate on behalf of the LGBTQ community, saying she was inspired by a conversation she had with one of her close friends, dancer Todrick Hall. "Maybe a year or two ago, Todrick and I are in the car, and he asked me, 'What would you do if your son was gay?'" Swift recalled. "The fact that he had to ask me shocked me and made me realize that I had not made my position clear enough or loud enough. If my son was gay, he'd be gay. I don't understand the question."
In June, Swift published a letter that encouraged Tennessee Sen. Lamar Alexander to support the Equality Act. The legislation aims to protect LGBTQ persons from discrimination in public places, including in schools and the workplace. The bill has passed the Democrat-controlled House but it remains unclear whether it will survive Mitch McConnell's Senate. 
"I personally reject the President's stance that his administration, 'supports equal treatment of all,' but that the Equality Act, 'in its current form is filled with poison pills that threaten to undermine parental and conscience rights. No," her letter read. 
You can check out Swift's full Vogue interview here.