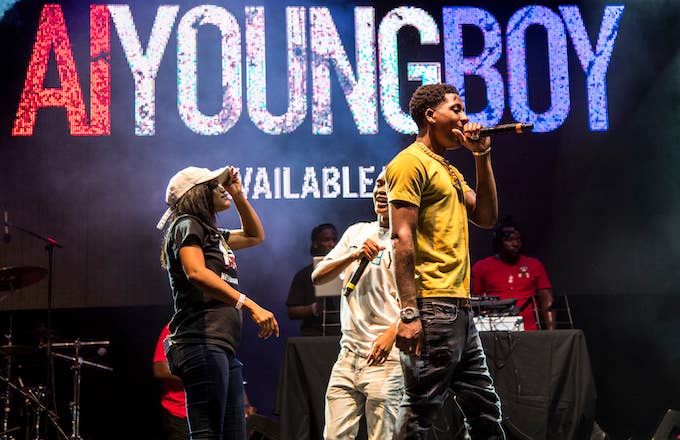 YoungBoy Never Broke Again (real name: Kentrell Gaulden) has been arrested in Atlanta and charged with three misdemeanors for possessing less than an ounce of marijuana, "use of fighting words," and physical obstruction with another, according to TMZ.
His bond is yet to be established, and he's due in court on Tuesday morning. Until then, he'll be incarcerated in the Atlanta City Detention Center. Thus far there are few additional details available, but witnesses who spoke to TMZ say he was arrested "along with a female companion."
WSB-TV Atlantaadds that Gaulden's arrest came after an incident occurred at the Hyatt House in downtown Atlanta. The APD says that a housekeeper at that establishment had entered a room that was supposed to be empty, but instead found it occupied by YoungBoy and a woman identified as Starr Thigpen. Police say that YoungBoy told Thigpen to get the housekeeper to leave the room, which allegedly led to Thigpen striking the hotel employee in the face. The physical altercation extended into the hallway, but the housekeeper was reportedly able to escape and call for help.
In addition to the charges that Gaulden is facing (and which are listed in the first paragraph) Thigpen was charged with "disorderly conduct - act of violence toward another, disorderly conduct - physical obstruction of another and possession of marijuana less than an ounce."
In February 2018, Gaulden was arrested prior to a concert at a club in Tallahassee. The state of Georgia had a warrant out for his arrest for assaulting his girlfriend (with footage of that assault being leaked shortly afterward), in addition to felony kidnapping. Gaulden was sentenced to a 10-year suspended prison sentence in August 2017 after pleading guilty to a count of aggravated assault with a firearm. 
The East Baton Rouge District Attorney's Office revealed that it plans to file a motion to have NBA's probation revoked. WAFB reports that the office filed a similar motion after NBA's arrest in Florida. That motion was overturned, however. 
The Baton Rouge CBS affiliate goes on to say that YoungBoy has a probation hearing later this month that could become a hearing on whether or not to revoke the rapper's probation, thereby sending him to prison.