Caught up in all the drama that followed after Remy Ma dropped 'shETHER' was Trey Songz. After all, Remy not so subtly accused Nicki Minaj of sleeping with Songz with the lyric "Mention guns, you Pussy Galore, James Bond/Only time you touch a trigga is when you fucked Trey Songz," that she dropped in the middle of the track. That led to this tweeted out response from Trey:
Which, in turn, led to some tweeted out and then deleted messages from Minaj that said that what he should have said instead was that the claims were bogus: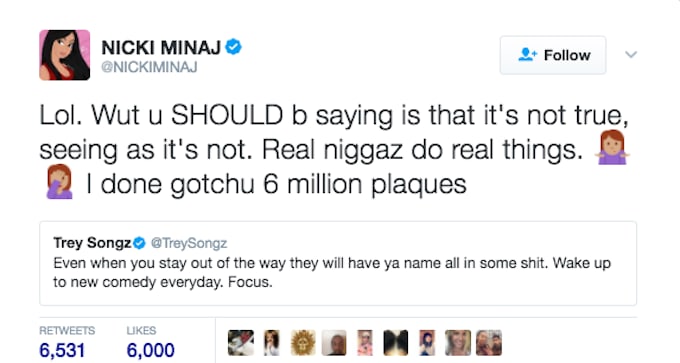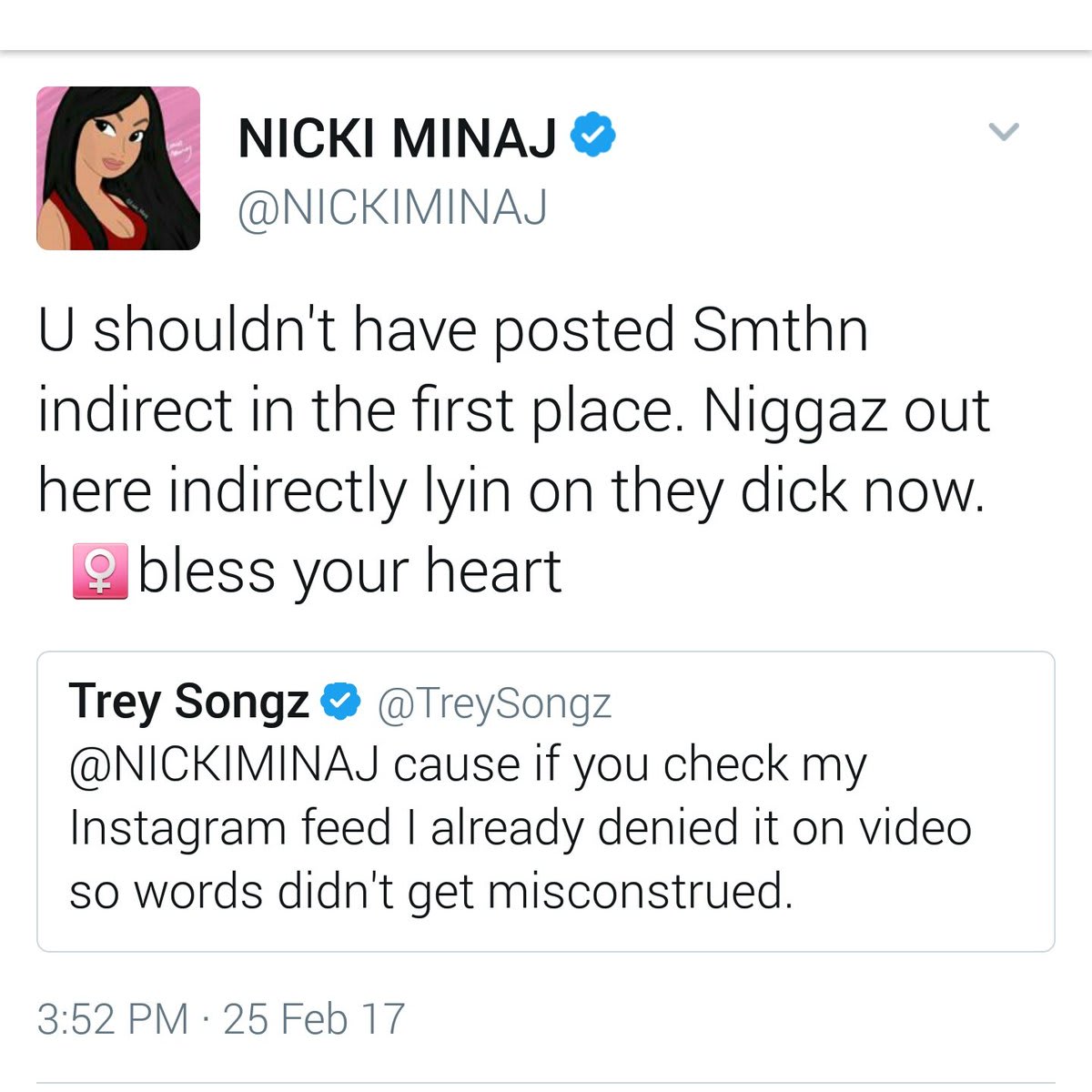 Finally, that led to this response from Songz, in addition to another tweet at her that plugged his own music while also saying "I love you":
You'd think that was that, but you're wrong because, on Friday, Trey was on The Breakfast Club, where he commented on the still-headline generating track by saying that Minaj has yet to apologize to him for the tweets she sent his way (huh, should she?) before saying "Nicki, I love you."
"Everything's alleged with me, baby," he said when Charlamagne Tha God brought up the situation, as transcribed by Hip-Hop DX. "Nicki said she gave me a six-pack, but let's keep it real, Nicki had shit before 'Bottoms Up.' She [only] had the song with Sean Garrett," he continued, referring to "Massive Attack."
"After that, she did 'Monster' and then [makes skyrocketing motion] we could say that," he reasoned. "All before it was like, look she's hanging with Wayne. Who's the wild girl with the wild hair? I love you, Nicki. I love you. You came at me wrong. You disrespected me. But I love you."
The hosts and Songz then talked about how there must have been a misunderstanding, because Songz dispelled the rumors on Instagram. The singer reiterated that Minaj should be mad at Remy, and that Nicki's response track "No Frauds" took a week, which most people think was too long.
"[You] definitely need to be mad at Remy," he stated. "You gonna be petty, I'm gonna be petty, too. You ain't said nothing to Remy. It still took you a week to say something to Remy."
Finally, Songz said that his Instagram post about not sleeping with Minaj should've been sufficient. "I went out my way to say I didn't and I don't do that," he stated. "I just had a conversation up here with y'all about that two weeks before this happened that I don't feel a need to say nothing about a woman to promote my career whether I've been with her or not and I don't feel the need to denounce things when people say they are true. But because this was Nicki and because we do have a history, because I respect her, I went out my way to do that. What that got me?"
We're not sure of the veracity of the claim about starting her career...like, at all. But hey, a good sound bite's a good sound bite. Check out the clip above to see his comments, and react to them however you see fit.