The beef between Nicki Minaj and Remy Ma keeps getting more intense by the minute. After Nicki took what many viewed as subliminal shots at Remy on a new song with Gucci Mane, Remy Ma responded on Saturday with a fiery seven-minute takedown of Minaj called, appropriately, "ShETHER."
Towards the middle of the track, Remy claims that Nicki slept with Trey Songz. Joking that Nicki's penchant for mentioning gunplay is based in fiction, Remy raps, "Mention guns, you Pussy Galore, James Bond/Only time you touch a trigga is when you fucked Trey Songz." The line, of course, also puns on Songz' 2014 album Trigga, which featured the hit Nicki collaboration "Touchin, Lovin."
Songz seemed bemused by finding himself in the middle of the beef. "Even when you stay out of the way they will have ya name all in some shit," he wrote on Twitter. "Wake up to new comedy everyday."
In a few since-deleted tweets, Nicki immediately responded, saying, "Wut u SHOULD be saying is that it's not true."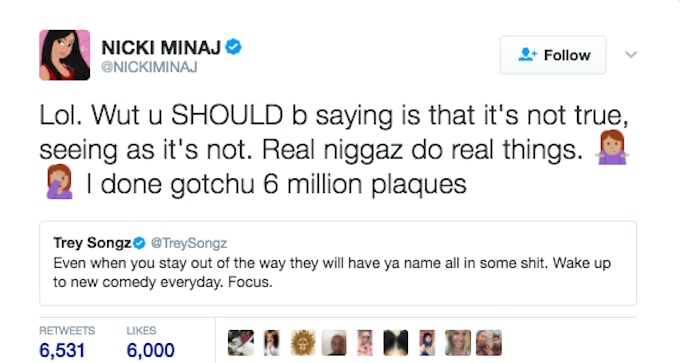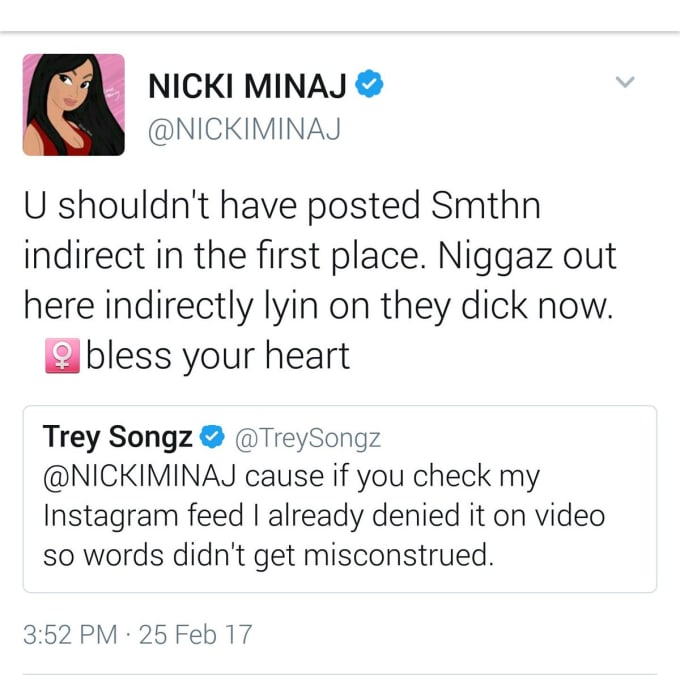 Songz fired back almost immediately, saying that he wasn't the one Nicki should be mad at.
He then backpedaled, saying "I love you" in a tweet that also plugged his own music. 
Stay tuned: There are sure to be more stories on the fallout from "ShETHER."