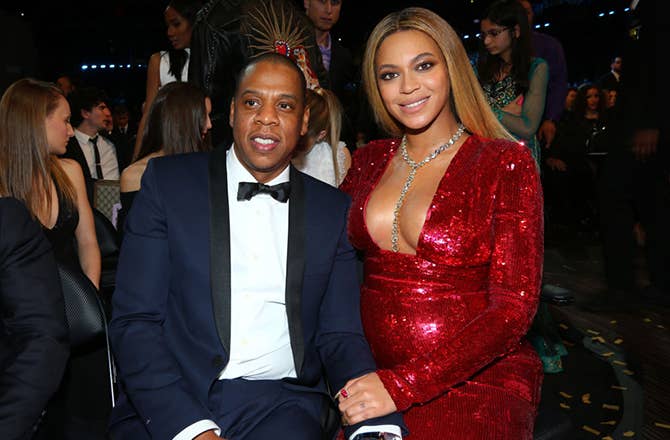 The day 4:44 dropped, as the news was dominated by headlines quoting Jay's confessional lines regarding Beyoncé, Becky, and more, the critic Emily Nussbaum had the tweet that best encapsulated the unprecedented awe inspired by Lemonade and 4:44: "I usually root for musicians to divorce & make brilliant post-divorce albums, but it's crazily impressive to make the albums & STAY married."
At this point, we know all we need to—and if we're being honest, probably way more—about the marital tumult the Carters endured, and that they emerged from it improbably stronger. Strong enough to confront the rumors, failures, and forgiveness head-on in the music for the public to dissect, discuss, and even witness, all while not just raising but growing their family in private. The only lingering question is perhaps the biggest: how?
Jay hinted at the obvious answer in his sit-down with Dean Banquet last fall. They made music. Not separately, as capsule messages to later present to each other as communication and contrition, but together. Those rumored joint sessions do exist, but they served as therapy before anything else. This is, in a sense, the factor that could truly elevate a collab album from these two from a vanity effort to a crucial one. In the same way that touring their old songs was, in part, a therapy session—remember Jay admitted, "'Song Cry' to 'Resentment,' that was real crying" on "ManyFacedGod"?—just imagine how overwhelmingly potent new material that directly addresses all these emotions could be.
After months of rumor reports and accidental artist page updates, Monday Jay and B made it official: Four (coincidental?) years after they weathered separation rumors across 21 stadiums, they're coming back for Couples Therapy: Tha Tour Pt. 2. Given Jay's on-the-record admissions, it could honestly yield for a better time than the first go-round. In his review back in '14, Jeff Rosenthal called the show "excruciatingly perfect," lamenting that their production was so polished that it removed the artist-to-audience connection people crave from a live show. Of course, we can now reasonably assume that overwhelming polish was less from being uber-rich and incapable of connecting, and more from a sense of committed professionalism to keep the show on the road and surfboard through the Page Six rumors. If they're better and more communicative with each other now, though, it might create a less rigid atmosphere in the translation to their live chemistry. Imagine the post-storm exuberance of "Family Feud," writ large.
But more important is that this is probably bigger than just a tour. It has to be. In the summer of 2014, Jay had wrapped a tour in support of Magna Carta while Beyoncé the album had barely been out half a year. By this summer, Jay will have already toured his latest extensively, and the Formation Tour claimed souls and weaves all the way back in 2016. As per their business model (and Jay's recently inked deal with Live Nation), they have to have something new in the chamber. The Carters deal in brand-synergy event movements. It seems unlikely that they'll tour 36 shows with "Top Off" as the only shiny new attraction.
Judging from the details about the music they've recorded so far, the potential for a worthy successor to Lemonade and 4:44 is there. A common rebuttal from people who aren't enthused by the idea of a Jay-B album is that their real-life chemistry doesn't consistently translate on wax. But between "Crazy in Love," "Drunk in Love," "Upgrade U," and the underrated "Part II," there are more hits than misses. What's more, coming off two Album of the Year-worthy records respectively, how can anyone think these two would risk fucking the streak up with a dud filled with "Hollywood"s?
The material that they have thus far sounds intriguing if you, like me, choose to believe reports from the dearly departed Beyoncé fan account that never told a lie once. Back in 2016, TheBeyHiveTeam claimed that the Carters didn't just have songs on deck, but a visual album as well. They teased song titles and collaborators, both of which offer interesting creative directions the album could go in. Like, say, a song called "Fuck Love," which retroactively turns "Crazy," "Still" and "Drunk" into a series that might end on a dark note. And if that sounds like a domestic dispute that you don't want to hear on wax, consider Hit-Boy is listed as the producer—i.e., the same genius who co-produced "Sorry." Scorn bangs in the club, too.
The production credits provide the most optimism. Elsewhere in those tweets, The-Dream and Tricky Stewart were listed alongside Hit-Boy. The duo are close friends that know the Carters well and can claim responsibility for plenty of their respective hits prior. Which is to say, these are people who may be able to produce a result similar to No I.D.'s infamous construction of the "4:44" beat specifically to box Jay into addressing his marital issues head-on. And one of the people responsible for helping the joint myth spread is Detail, the maestro behind dolo bangers for Bey like "7/11" and "Drunk in Love."
His involvement bodes well for Jay-Z's performance too. According to Drake, Detail is quietly one of the top people you want in the booth when laying a verse down: "What's different about Detail, I'll do a verse in one take with 40; Detail would make me go line by line. It was annoying at first, like who is this guy to tell me I'm not doing it right? But when I listened to the finished product there'd be so much emotion in every line that it was almost like somebody different rapping." This is exactly the type of guy you want around Jay to keep him from lapsing into a comfort zone that he sometimes falls in.
While 4:44 was a thrilling return to the warm soul samples that came to define Jay's sound, the way he's glided over beats from Detail, Hit, Vinylz, and Mike Will Made-It ("Somewhereinamerica," "FuckWithMe," and "Beach Is Better" were the consensus faves on the much-maligned MCHG) prove he can still dip a toe into modern sonics without sounding like a washed try-hard.
The important thing here is content. Specifically, not repeating it. Beyoncé arguably covered all the bases of betrayal to reconciliation to perfection on her own. And it's hard to imagine how much more apologizing Jay can do on wax beyond 4:44's title track. Of course, attacking these emotions and phases together can offer a different perspective. Meanwhile, there's Happy Ending content to mine now too, a sentiment they broached on "Shining." (Note the "I'm still in love with you" sample in what sounds like new music in the background of Beyoncé's OTR2 video.) We're approaching a full two years of no new music from Beyoncé. Meanwhile Jay, who famously doesn't cut his hair while recording, is almost ready for dreads at this point. Mike Will's been spotted at their LA crib, where they have a home studio. Now, official confirmation of a new tour provides opportunity, motive, and incentive to bring this joint album to fruition. Finally.
A viral tweet from last summer featured the image of a simmering Solange, dumbstruck Jay, and surface-passive Beyoncé emerging from the Standard elevator with the caption that three great albums were born in that moment. No shade to that tweet, nor Solange's masterpiece, but her album rightfully leaves her sister and brother-in-law's issues to the wayside for them to unpack themselves. The final installment to that potential trilogy hasn't happened yet. But if it did, it'd be a perfectly tidy conclusion. And when have Jay and Bey ever been known to pass up a perfect moment?