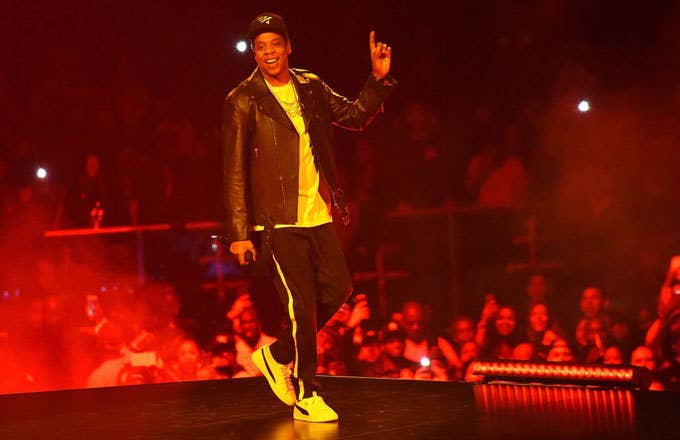 Jay-Z's latest album was, among other things, an exorcism. Of personal demons, shame, guilt, and ego. His new tour, following that release, opens with Jay Z burning in effigy (the image is from the "Holy Grail" music video). Then the screens, originally positioned as a sort of cocoon or shield, ascend, and Jay-Z emerges from the embers. After that ominous entrance, though, and despite the new album's confessional tone, the 4:44 Tour is more Irish wake than somber funeral.
There's no such thing as seeing Jay-Z live too many times. Now on his sixth dolo tour for his 13th studio album (and 14th tour once you factor in co-headlining), what could easily be a mechanical, rote act—Jay's able to do this in his sleep—is instead so casual it's charming. The legacy has been cemented for too long for any live show to break it, or even significantly add to it. Jay knows this, his fans know it, and as such there's a Just Here to Have a Good Time air baked into the DNA of his live act. Since Fade to Black, Jay has enjoyed a special level of no-frills ease when it comes to commanding an arena's attention for 90 minutes. Just him on stage, running through his sturdiest hits, with few gimmicks.
For his return to the tour circuit for the first time since 2014, he's hit higher levels of casual—his tour outfit is, quite literally, a hoodie and sweats. On stage at the 4:44 Tour, much like his festival run earlier this summer, he's loose, ambling, and playful, treating the setlist like an amorphous guideline rather than a rigid playlist and interacting with the crowd far more often than the inspirational and societal addresses that come with the nightly script—sometimes even mid-verse, like when he chided a woman for pointing at him a little too emphatically on "Story of O.J.'s" "guess how I'm feeling? Dumbo?" Jay's ability to effortlessly channel his affability into a sustainably enjoyable evening isn't news—that he's doubled-down on it in the wake of releasing some of his rawest music to date is what's surprising.
Those who've pointed out that his new material would be better suited for small venues are right, of course. Intimacy is 4:44's currency, from No I.D.'s warm production, to the content, and even the mixing, intentionally under-engineered to sound more conversational than Dolby HD. There will probably never be a better performance of "4:44" than its live debut on the SNL stage, which maxes out at 200 bodies capacity. 
With a catalog that spans two decades to draw from, there are countless detours a Hov show can take. Some fans lament the lack of American Gangster representation, others wouldn't mind less Blueprint 3. I, for one, wouldn't have minded some left-field choices, like throwing in "There's Been a Murder" next to "Kill Jay Z." And no "Caught Their Eyes" was both curious and criminal. But simply being there for Black Album qualifies you as being a Day One Jay fan in a 2017 arena, a cold, hard fact he acknowledged before going into "Allure." Crafting a setlist that can satisfy a Timb'd out fan who can go bar for bar on "Imaginary Player" as well as someone who'd place "Empire State of Mind" in his top five (or worse yet, someone who doesn't know what comes after "On the canopy, my stamina be...") is no small feat.
Instead of performing 4:44 in earnest with the classics and deep cuts weaved in, this tour's setlist is close to the opposite. It's The Hov Clinic through and through, a flex of just how deep his stadium status bench goes, with new songs dutifully, and at times awkwardly, mixed in. "Bam" and "Family Feud" fit right in alongside Black Album and Vol. 2-era classics. "Moonlight" and "Story of O.J.," however, could benefit from more strategic set placement to fully maximize their landing. ("Big Pimpin," where our hero gamely declares "I'll be forever mackin," amazingly still makes the setlist cut.) The night's highest thrills came not from watching Jay run through his freshest material for the first time, but rather the moments he generously dipped further back into the well for shit that, at this point, would qualify for a B-Sides show instead. In particular, two moments from the eons ago age of 1997: "Imaginary Player," (which truly deserved to be rapped all the way through, skit included), and even more precious, "I Love the Dough." The tour has been filled with city-specific treats like rhyming over "Know Yourself" in Toronto or cruising over "Thuggish Ruggish Bone" in Cleveland. Witnessing one of The Commission's two priceless collabs was ours.
Ultimately, 4:44's three key moments were awarded their full weight and presentation. At this, his 19th stop on the tour, Jay raps the contrite title track with a briskness that implies he's looking forward to the day when he never has to touch that song on stage ever again—but is nevertheless committed to honoring it and seeing his newfound candor through. "Accepting moments of discomfort, that's when you grow," he acknowledged, adding that he "owes us the truth." The song's raw nerve is acknowledged in its visual presentation—at its conclusion the screens descend again. Jay literally hides from us to recollect himself, while footage from the highlights of both his career and personal life play, with him ominously absent from them. The montage tellingly culminates with his infamous "death scene" from "99 Problems." And when he returns, the stage contracts from Olympian mound to a flat plane, bringing him as close to the crowd as he's ever been as a performer.
The thunderous "Kill Jay Z" works even more as an opener live than it does on the album, but the show's best moment is "Smile." It's the most intimate moment of the night, performed damn near a capella over its already iconic Stevie sample and the barest of drums. Where "4:44" is performed high in the middle of the stage—the furthest point from the crowd possible—for "Smile" the stage is level, with Jay playing up to each section of the crowd, rapping softly, the stage lights at their warmest tone. It's the perfect note to end on, encapsulating the album's theme of pain and grief giving way to reckoning and recovery. Jay-Z endured what he himself described as "the hardest thing he's ever had to do." Now that he's come out on the other side, not only intact, but better. He's throwing a nationwide party to celebrate that. Bad times, good memories.