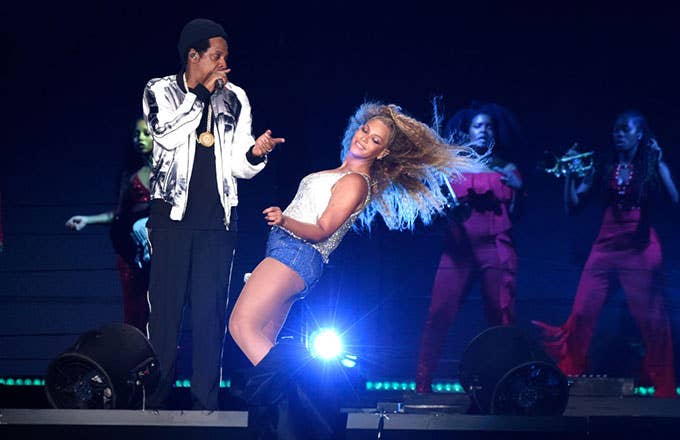 Rap's GOAT. Music's reigning Supreme. On the Run II is what happens when the term blockbuster just doesn't quite do the spectacle justice. On Friday, Night 2 of the production's two-day stop at MetLife Stadium in New Jersey found two Complex employees on the floor—Frazier Tharpe, our resident JAY-Z "scholar," and Angel Diaz, the bane of Rap Twitter's existence, who had never seen Beyoncé live and had witnessed Hov but once. Both were there to watch greatness unfold, but were unsure of what to expect. Jigga's live show is unimpeachable, but even though he's presidential onstage, how would he play to an audience that's at least half there for Bey—especially in a post-Lemonade/4:44 climate where some Hivers can't forgive as graciously as their queen? Beyoncé is our greatest entertainer, but would her production leave ample room for JAY's differing style? Would their chemistry even gel in person as cleanly as it does on Everything Is Love? The first On the Run did have its share of detractors, who deemed it robotic, although now we know why that probably was. Any uncertainty was all for naught, obviously. Here are Angel and Frazier, post-benediction.
Angel Diaz: I've seen the pope once. Pope John Paul II visited Germany when I was living there around the time the Berlin Wall fell. I was super young—like, maybe 5 or 6—and all I remember from that day were the crowds of people crying and fainting. This is how I felt watching Beyoncé live for the first time. Like, I get it now—I understand why the #BeyHive goes so hard for its queen. Her eyes pierced through my soul when I looked up at her dancing like a maniac on the big screen. This is the greatest live performance I've ever seen in person.
Frazier Tharpe: I've seen JAY something approaching 10 times live; last year I wrote that there's no such thing as too many times with him, whether you're a Stan (cough) or casual fan. I went to 4:44 both nights in BK, even. But seeing him with B.K.—his wife, our greatest living performer, with the James Brown work ethic and Michael Jackson execution—was an experience unto itself. On 4:44's arena tour, he turned casualness into literal performance art, mixing energy and laissez-fare ease effortlessly. A stadium, and next to "Beyoncé, nigga" (his words, not mine). Big gear shift!
AD: Yeah, I remember you not inviting me to either of the 4:44 Tour dates. This is my second time seeing JAY live, and I'm honestly OK with that. Plus, my first time seeing him was special. It was at the Brooklyn Hip-Hop Festival a couple of years ago, when he marched onstage with Jay Electronica and the Fruit of Islam. The first song of his set with his "Young, Black, & Gifted" freestyle, and he was wearing a Five Percenter chain. I don't think anything he does live will my match the energy I felt that day. The On the Run Tour is more of a Beyoncé show featuring JAY-Z.
FT: What?! We gotta check you for Hive tats, on some Black Panther shit! What I did like is the way they complemented each other, style-wise. Beyoncé is laser-focused and always in character, per the scene they're creating, whether that's Amazonian fire and brimstone during "Don't Play Yourself" and "Sorry" or the air of a regal queen with a side of Mary J. dance moves that she employs during "Family Feud." She strode up those twin runways with the determination of a Terminator. JAY, meanwhile, is more freewheeling. Beyoncé entertains her fans with theatrics and makes sure to interact when she can to reward their loyalty, whereas with JAY, crowd engagement is part of his currency.
Thus, the show is the perfect match of precision and nonchalance. What did you think about their chemistry, though? I missed out on the first OTR, but everyone who saw both said their chemistry is basically night and day. Jigga basically cops to this on 4:44's underrated "ManyFacedGod," where he says, "'Song Cry' to 'Resentment,' that was real crying," a verse he incorporates into OTR II's re-up of that same sequencing. It's a crazy, meta fourth-wall break that also speaks to the evolved state they're in now, in real time. How did you feel witnessing this display of black love in a stadium of 20,000-plus people?
AD: Hov is a pro for sure, but I was there to see Beyoncé and Beyoncé only. I wasn't exaggerating about that "demon queen" tweet. I really felt like she was conjuring a football stadium of spirits with each outfit change and dance move. She had her background dancers earning every cent of their paychecks. JAY did perform "PSA" and "U Don't Know," but I wanted a couple more street songs in the vein of "Streets Is Watching." However, the film segments and the stage design blew my mind. They had great chemistry, and the short videos between sets drove the spirit of Lemonade and 4:44 home, like the part where JAY is running after Beyoncé as she walks to a boat with her luggage only to get there too late. Also, when he punched the Jamaican dude at the party who wouldn't leave Beyoncé alone.
FT: BRO, those cut-scenes. These motherfuckers basically made Before Sunrise-meets-True Romance for the interstitials. First they had Run in 2014, which was Heat-but-Bonnie and Clyde, and now this. If these two never make another song or album together, or never tour together again, then so be it, but we'll have been damn cheated if they don't co-direct an honest-to-goodness film. I enjoyed that, much like the album, the tour didn't dwell much on incorporating marital strife into the narrative. We got the (eerily prophetic) "Song Cry"-to-"Resentment" twofer, which will always be emotionally affecting. (Shout out to the Hive member behind me on the riser who ad-libbed "Resentment" harder than Swizz, then, when it was over, declared, "It's Friday, but I thought it was Sunday 'cause she just took me to church.") We got a truly titanic, transfixing performance of "Don't Hurt Yourself," which was the most still I stood all night. Then "Family Feud" came through like a reconciliatory balm and shit was sweet again. Basically, it was a lit, two-hour-plus vow renewal reception.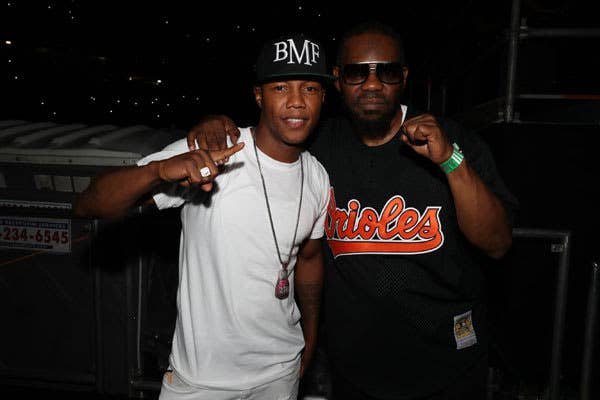 AD: OTR II was worth the hype, man. I really enjoyed the "Story of O.J." intro ballet number to Nina Simone's rendition of "Strange Fruit." I kept trying to post footage I had of it on my IG, but Instagram kept blocking it like some haters. I would be willing to pay upwards of $500 to see Beyoncé live next time. I'm a member of the #BeyHive now. I get it. I will never laugh at watching people cry and faint at Michael Jackson shows again. I felt that type of energy on Friday night. I now understand.
FT: The show runs longer than The Dark Knight and I still would've been down for more. I needed more EIL—"Black Effect" was a hymn, and I'm so glad it ended on a blockbuster like "Apeshit." I get what people see in "Young Forever," but can't we scrub that Hallmark card for something funkier and thematically on point like "LoveHappy"? Beyoncé makes everyone around her rise to her level—somehow "O.J." rang off harder in a stadium with half her fans than it did on H.O.'s own tour. In return, he brought a more playful, interactive side out of her that differed from what I saw on Formation. I'll see either of them together or apart whenever they're in town and I'm blessed enough to be there. I do need another B-Sides show from Hov soon though—it was great to see Beanie Sigel in the cut chilling in the D'usse lounge, but I wanted to see him touch that stage! Either way though, whatever they do next,  we truly are witnessing a dynasty like no other.