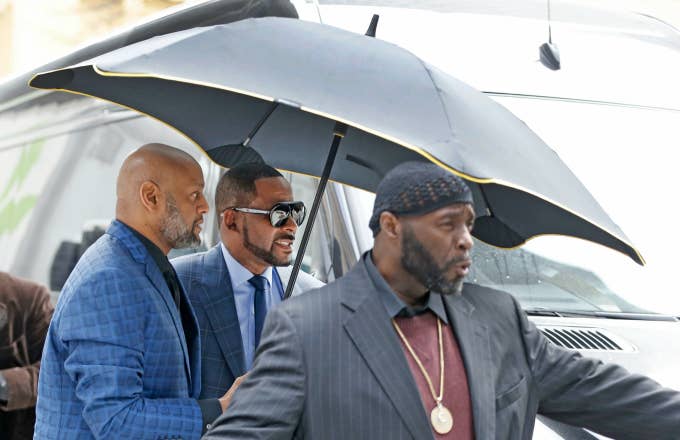 TMZ is reporting that R. Kelly has been arrested over unpaid child support. A video shows Kelly arriving at a Chicago courthouse to an awaiting media circus.
In the clip, Kelly can be seen being hurried into the building under an umbrella with a swarm of press chasing him. Although the singer's bodyguards tried to help clear space, they were outmanned by members of the media determined to ask Kelly a question. This did not stop once he got inside the building. Later in the video, Kelly is seen walking through the halls of the courtroom visibly upset.
Kelly was at the courthouse for a hearing regarding $161,633 in back child support that he owes his ex-wife. However, sometime during the hearing, the singer was escorted out of the courtroom and taken into police custody. Eventually, The Cook County Sheriff's Office confirmed that the singer was arrested for neglecting to pay his child support. Kelly reportedly must pay the full balance if he wants to be released from jail.
The arrest comes while Kelly is on bail after being indicted on 10 counts of aggravated criminal sexual abuse. The media frenzy that greeted Kelly at the courtroom was especially fierce, with this being his first appearance since the explosive interview with CBS' Gayle King aired on Wednesday morning.