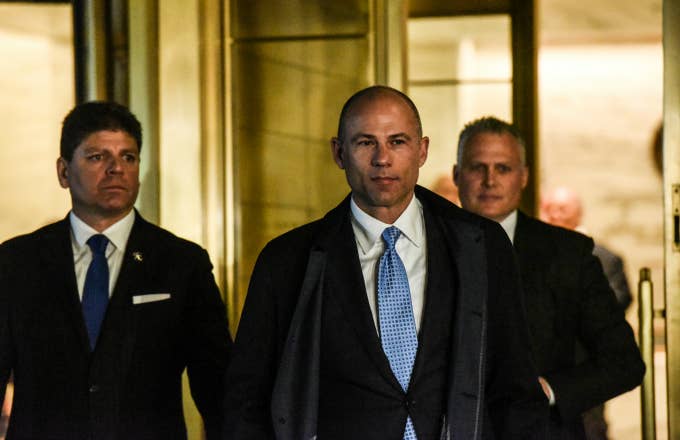 The defense team for tarnished singer R. Kelly believes that Michael Avenatti's latest arrest could help their client beat his pending criminal case. 
On Tuesday, Kelly's lawyer Steve Greenberg disclosed to TMZ that Avenatti's credibility is now in question after the attorney was indicted on fraud and extortion charges. This is pivotal to Kelly's case because Avenatti is the lawyer that obtained and submitted a tape of Kelly having sex with a 14-year-old girl to the Cook County investigators. Cook County prosecutors then used this evidence to build the 10 criminal sexual abuse charges that Kelly is currently fighting. 
Greenberg cites a flaw in the "chain of custody" regarding how Avenatti secured the video. The lawyer states that not only does the man who gave the video to Avenatti have a "history of extorting Kelly," but he also "strongly suggests" that the footage could have been altered. Although claims that the tape is doctored have yet to be proven, it has been reported that previous owner did confess to milking close to a million dollars from Kelly to stop the tape from getting out. Because of this, Kelly's team is questioning what Avenatti did to get the video. 
It is said that Greenberg and Kelly's other lawyers are now actively working to create reasonable doubt in hopes to get this key piece of evidence dismissed before trial. He also claims to be unaware of any other videos despite attorney Gloria Allred alleging that her client Gary Dennis is in possession of another R. Kelly sex tape.
Also after his charges hit headlines, authorities insisted that Michael Avenatti's legal troubles will not impact R. Kelly's case. Per TMZ, Avenatti's—who represents the family of one of Kelly's "girlfriends" Azriel Curry—current indictments have no connection to allegations against Kelly. In addition, Gerald Griggs (the attorney for the family of Kelly's other self-proclaimed lover Jocelyn Savage) assured the publication that there would be no overlaps because the case does not hinge on Avenatti's contributions.
"[T]he ten charges are based on four independent accusers and other information independent of Mr. Avenatti," Griggs explained. "The Savage family continues to seek reunification with their daughter, and that process of justice continues on course for all the alleged victims of Robert Sylvester Kelly."