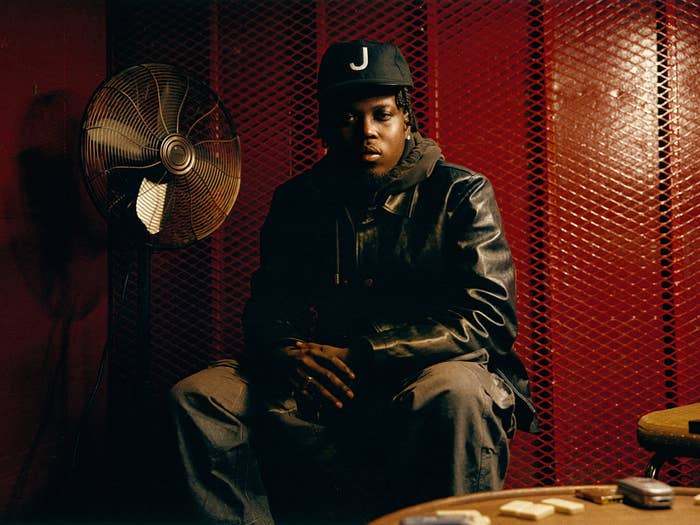 Last week, Montreal rapper Skiifall dropped his biggest project to date: Woiiyoie Vol. 2 — Intense City.
The Saint-Vincent native took a minute after the success of "Ting Tun Up" and the first tape in the UK to get his bearings and make sure his next move was the right one. He's already taken an unlikely journey in music, from community recording studio NBS in the Montreal neighbourhood of Cote-des-Neiges to partnering up with Knucks an ocean away for a second version of his breakthrough hit, so it makes sense that he's trusting his instincts.
Woiiyoie Vol. 2 more than doubles the length of the first one, and features production work from WondaGurl and DJ Dahi, in addition to his day ones Yama//Sato and Dayhills. The tape also has guest appearances by Charlotte Cardin and Obongjayar.
Complex Canada talked with Skiifall about delivering a message on Woiiyoie Vol. 2 — Intense City, not thinking about making it in the US or UK paradigm, and staying close to his community studio in Montreal.
How's the reaction been to Woiiyoie Tapes Vol. 2 so far?
I don't know how to even explain it because every single person that reached out to me was excited about it. Not one bad thing I've heard so far. So I'm pretty stoked.
You got a chance to play it at NBS Studios in the parking lot a couple of weeks ago. What was that like? 
I grew up making all my music there, you know? So it was important for me to go back at least, because I recorded the whole project there as well. But now I worked on the whole thing there, in LA, and London, so it was important for me to go back and be able to share it with everyone. And to show them that they can also do it if they put their mind to it.
So Woiiyoie Vol. 2 was done in LA and London mostly?
London, Montreal, LA. It all started off here. Most of the songs that are on that tape are from the beginning, before things started going off. And then there's a few newer ones that were made last year.
I know there's lots of kids still going to NBS Studios. They must love seeing you guys.
Yeah, I mean we all grew up together, you know, so it's kind of normal to see us there, but also inspiring for them. I think they enjoy it a lot for sure. I enjoy it a lot. I think for them, again, being able to see me do my thing. Sometimes they sit in on my sessions as well. But for them being able to see what's going on, they ask me questions. And I'm always open to share whatever they ask. But I think for them, they get a sense now that they're able to do it as well. They're like, 'oh yeah, that someone from the neighborhood is also able to do it.' So I'm not going to give up now. I think that's really dope.
What were some new things you were looking to show people on this record?
So this one I kind of wanted to talk more about things that I went through, life experiences that happened to me, whether it was before blowing up, or even during that time or after. I just wanted to be able to make a story, make sense, and talk about my friends. Sprinkle a little love story into the project. But it all honestly just came together while living. It wasn't like I woke up in the morning and said, 'Oh, I'm gonna make this song.' It just all stemmed from just living and experiencing different things. And I think that's really allowed me to showcase the things that I used to do back then because I listened to a lot of pop at one point, which I hated even before I started listening to it, but when I gave it a chance, I loved this so much. I did that for six years with my first engineer and I just thought it would be cool to just bring back the old me. I was always singing, I never used to rap. "2 Charming" was one of those songs that needed to live, and I also dropped "Lost Angeles" on the last project so I had to keep telling those love songs.
The album was delayed a week. Was it just anything or just finishing touches?
Honestly, we want things to be perfect. Anything to make it perfect. So we kind of pushed it back.
You talk about police brutality and violence on the record. What message did you want to say in your album about that
Honestly, the message that I wanted to share was that we're not going to continue standing for this shit. It's a different generation. Also, we have to educate ourselves on certain things and I choose to do so. Before, I would never even say a word about this type of stuff. But I see myself in these situations, or even just my friends, my younger brothers. I just see myself in things involving young black people especially. But for me, it's about sprinkling it into my music, making music that people my age want to listen to, but making something that's personal and has meaning.
Is the goal to have music you can put on at a party, but if you go into the lyrics, there's more?
I just speak my mind. I think it's important. I really like the things I like, and I speak on what I feel. Some people might shy away from believing in what they want to believe, or losing their truth. I'm going to share and whoever disagrees can disagree. I learned something this morning: if someone gives you something and you don't want it, or you don't want to accept that gift, that person still owns that gift. So it's like, if I want to share my opinion, that's my opinion to share. I'm grateful that they listen. But it's all about sharing and learning about experiences.
What was it like getting, having like a WondaGurl and Dahi on the record? 
Honestly, meeting them, working with them, it was totally different. And it's just really great vibes in the studio with them. Every time we work. These songs only took a few sessions: "Fam Without Blood" with WondaGurl only took one session. She told me to pull up to Malibu. They played me two beats, I picked one. I think we murdered it then I left at like 3 a.m. from Malibu straight back into the city.
I want to be worldwide. I don't want it to just be focused on one set of people. For me, it's just like everyone has to accept what the world is becoming and how music is evolving.
 With Dahi, we did two sessions to be warm enough to each other. We talked a lot. We made music that made sense to us. We were also in the studio with Venna to play the sax on "Intense City" and Yama//Sato produced it as well. It was such a great experience, to do it with Yama//Sato. And I didn't know Dahi that much before we did it, but it made so much sense to work with him on that song. It turned out really well.
You got your first big break in the UK. I was wondering about this record, are you hoping it gets more attention in the US? 
I think for me, honestly, taking over the world is much bigger than the US. That might be where you see all these famous people, but for me, this is music, and it's much more than just a place. I didn't even aim for the UK to accept me, I just knew they were going to accept the music that I was doing. I just know that I love music and wherever it goes, it goes. Whoever doesn't like it. Too bad.
I wanted to know: are you still on XL Recordings?
No.
Was it just the singles?
Yeah. You know what it's like? I feel like it's important to take moments for what they are. And if those steps can create other steps for you in the future, and it aligns with where you want to step, go ahead. But for me, I just felt so much bigger than the UK. So that question about the US, but I feel like I don't just want things to be great there. I want it to be great everywhere. All around the world. I just saw the other day someone tagged me in this post in Japan, playing my music in the nightclub. That's how far I want to go. I want to be worldwide. I don't want it to just be focused on one set of people. For me, it's just like everyone has to accept what the world is becoming and how music is evolving. I just feel like going back and taking old references and making them feel new. Just giving people something new to vibe to. I think that's my ultimate goal.
So would you ever join a label or does that not matter to you?
If it happens, it happens.
Is there a lot more music that you recorded for Woiiyoie Vol. 2?
Yeah, definitely. This was about making that one statement. And then we're going to continue keeping that fire burning. If we do this, we have to do it right. I think taking that little time off between projects was the right thing to do.
You took a step back after the first tape?
I did. It was just about being able to make a good body of work. I just feel like music comes and goes too fast. I'm always about giving the best quality music I can.
So you'll take your time to make sure it's right?
Definitely.