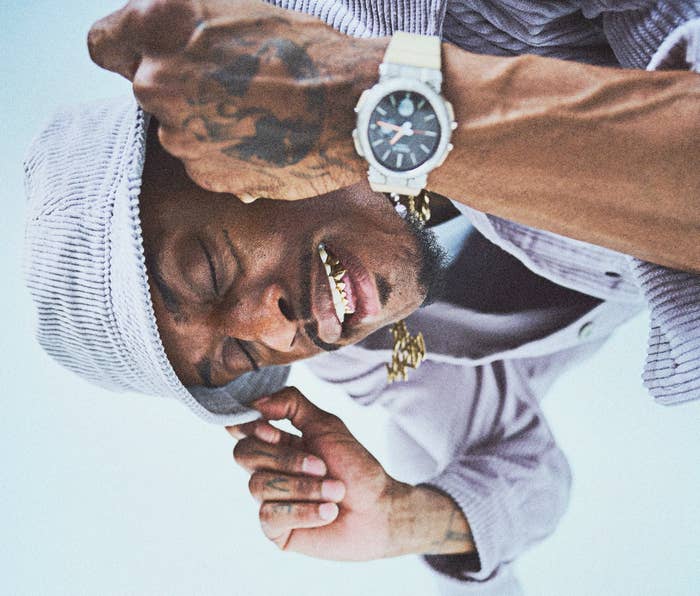 When you're firing on all cylinders the way Montreal rapper Nate Husser is at the moment, there's only one possibility when it comes to naming your long-awaited first full-length album: All Time High.
"I'm the highest I've ever been so far," Husser explains. "It's a combo of where I'm at in my career, along with my love of basketball and getting high smoking weed, pretty much."
So why is Husser on his Rita Coolidge in 2022? For starters, the Little Burgundy native finally decamped for Los Angeles after years of hopping back and forth, making the move earlier in the year. "It's been the dream, and the time had finally come," he says. And so far the West Coast has been exactly as advertised.
A big fish in a smaller pond back home, Husser has been free to immerse himself fully in his music and basketball playing in LA. Creativity is flowing.
"I guess in some ways it's easier to make music here," he said. "It's more inspiring, and there's more balance and I'm a little more at peace."
The album, his first after a multi-year string of singles, including a Jake Paul celebratory go-to, and 2021's Adult Supervision EP, finds the dexterous MC discarding festival-booking cheapskates ("On a Roll"), getting acquainted with newfound wealth with quick-tongued ShittyBoyz member BabyTron ("Gwapanese"), and paying homage to a legend on "Dwayne Carter Flow."
The latter caught fire on the eve of All Time High's release and has since amassed over 2 million plays on Spotify.
Husser's never afraid to put in the work and let listeners know, and with everything gravitating towards that inevitability, the rapper finally decided to hit detonate on the album button.
"Now I have the backing, the momentum, more ears ready to listen, and all together it's ready, with more stuff to follow up," he says, adding that the success of "Dwayne Carter Flow" has been a "rewarding feeling."
In equal balance with music, Husser puts a similar work ethic into his basketball playing. For the past five years, he's held court takeovers in his hometown, with the proceeds going to charity. Without fail, he's always able to attract a crowd. His latest court takeover with Newmarket baller/YouTuber Matt Kiatapis went down at Oscar Peterson Park on Aug. 24.
"In a way, it was a chance for people to celebrate the album launch with me, I was able to do something back home for the people," he said.
Even though Los Angeles may agree with him, Husser isn't concerned that people in Montreal will think he's anything other than one of their own.
"Nah," he says. "I'm not worried about that."