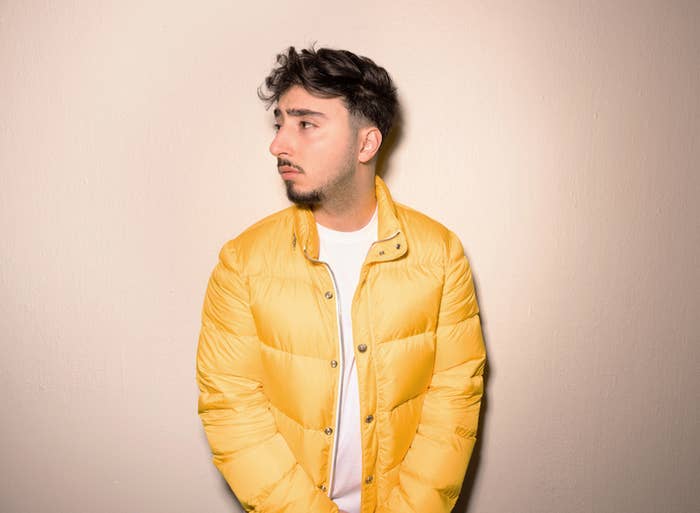 One day, several years ago, Zack Bia wrote the phrase "learn to fly" in his notes.
He does this kind of thing a lot. Whenever interesting words or phrases pop in his head, he writes them down in his notes, tucking them away for the future.

Bia went back to that list earlier this year when he needed a name for the debut EP he'd been working on, searching for something that would capture the energy of this exciting new step in his music career. Then he saw it: Learn to Fly.
The 27-year-old music executive and DJ first made a name for himself in L.A.'s nightlife scene, known for throwing Hollywood's coolest parties and connecting people from every corner of the entertainment industry. From there, he started his own record label, Field Trip Recordings, launching the careers of breakout stars like Yeat, while continuing to DJ all over the world (including two nationwide tours with Post Malone and Drake). Now he's checking off another item on his music industry bucket list: making and releasing a project under his own name.
Bia says his personal music tastes are "all over the place," bouncing across countless subgenres and scenes, so he wanted to make an EP that represented his various musical interests in one cohesive tracklist. And most importantly, he wanted to do it with his real-life friends. So he started booking studio sessions in L.A., and before he knew it, he had an eight-song EP, featuring artists like Lil Yachty, Don Toliver, 347aidan, JID, DJ Gummy Bear, and more.
The Learn to Fly studio sessions had a revolving door policy, and on any given night, you might find artists like Yachty, Trippie Redd, Fousheé, Brent Faiyaz, or Wale in the mix. Bia's main goal was to create an environment where his collaborators were free to try new things, so the EP is full of surprising moments. Wedged between upbeat, dance-leaning records, for example, is a melodic singing interlude from one of today's best spitters, JID.
Learn to Fly is just the beginning of Bia's ambitions to release music of his own. He says he's "sitting on so much music" and hints that more projects are on the horizon, but that's not all he's focusing on right now. He's currently DJing on tour with Drake, opening each night of the It's All a Blur Tour with a lively DJ set (he calls this "the greatest opportunity in my life"). And of course, he's still dialed in on his work with Field Trip Recordings, suggesting that Yeat is only getting hungrier and more ambitious as time goes on. As summer comes to an end, Bia's flight plan is right on course.
In late July, after the second night of Drake's run in Brooklyn, Zack Bia stopped by the Complex office for a conversation about everything going on in his busy world right now,. The interview, lightly edited for clarity, is below.
How's life?
It's amazing. Thank you for asking. We're just in the thick of it, you know?
What's something you've been really into lately? What's your latest obsession?
It's still early enough in this tour run where I'm not like, "Let me go find an outside thing." So I've really just been getting to the arena early, talking to people, and getting game. I'll spend time in the audio room or wherever and just soak up knowledge and crack jokes, asking about the previous tours and getting stories. I don't know if it's an obsession, but that's my favorite thing right now, for sure.
You just put out your debut EP, Learn to Fly. You've been releasing music with artists on your label for a while, but what made you want to put out a project under your own name?
I always wanted to do that. I put it on the back burner, because when you're working with artists, someone's career and creative vision is in your hands to execute. So I definitely didn't want to feel like I was focusing on making my own records when I was working with artists, and I didn't want to take away focus from working with them. But I've gotten to a place where I built out a team and an operation where I was like, "OK, I understand where I have time in my schedule to go make music."
Once I started making music, I realized my life is kind of like an infinity loop, where all of the different things I do feed into the same common goal anyway. DJing feeds into being involved in music, which feeds into signing artists, which feeds into being in the studio and making music. It's this constantly revolving door. I listen to so many different kinds of music, and I have the privilege of hanging out in the studio with so many different kinds of artists, so I was like: Can we carve out time to go try these new things?
I wanted this to be a project where an artist like JID, who has sung before but is really known for prolific rapping, could go and make a singing interlude. I thought it was time to put my own twist on things. When you bring an idea to life, making a song exist, it's no longer yours. Now it belongs to the world. You're contributing something and making something that'll probably exist beyond your own time on Earth. So it was more about making permanent versions of our ideas, and I just wanted to help bring it all together.
Learn to Fly is a fitting title for a debut project. What's the story behind that?
I've kept a running page in my notes for years. It's completely nonsensical. I just write words or titles or short sentences that I think would be a cool name for something. I don't know what for, but I'll keep it in the notes. It's been around for five years.
I was really jumping back and forth in my head about what to name the project. And then I just came to Learn to Fly. Whenever people ask me what it's like starting your own business, I'm like, "It's about having a blind faith in yourself to jump into a journey and figure it out along the way." Having a record label, you put out other people's music, but putting your own music out is an entirely different sort of feeling. So it was like, "Let me learn to get my wings in this way." It was almost like starting from scratch for me, putting my own music out, jumping into the unknown, and figuring it out on the way. Like, "How can we get this thing to take off?"
Were there any DJs or executives who have put out albums of their own in the past that inspired you?
So many. This project is really dance-leaning overall, so obviously you look at the prolific people like Calvin Harris, A-Trak, and Armand van Helden. People like that. And it's interesting, because Cole [Bennett] is working on his album, and what we're doing is so different but also similar, because it's a new journey. So throughout the whole course of us making music, I'm sending him stuff and he's sending me stuff. It's a really great bouncing board. So I'm inspired by Cole, I'm inspired by Puff, and I'm inspired by so many artists in general. I don't think there was a specific person in mind. It's just a culmination of me consuming all of it for so long, and then being like, "OK, what's my twist on it?"
What is your twist on it? What was your goal for this project?
My initial intention with this EP was... At any given moment, I'm listening to so many different kinds of music. If I pulled up my Apple Music or Spotify, it's all over the place. So I wanted to make at least one song in each category of things that I'm currently listening to, like a dance record, a drum and bass record, a guitar interlude, and all of these different things. I wanted to get in the studio with my friends, because, you know, no one that I made music with isn't at direct arm's length to me. These are people I interact with on a daily basis. So I wanted everyone to get in the studio and bounce ideas off each other.
Even with the Don Toliver record, I went to the studio with him and he played me what ended up being his new album. Then I was like, "We should do a day where we try this other stuff." And I went in with a specific idea of this bassline record and I played him the references. He just fully leaned in. It was really cool, so I thought if I could go to artists that are my friends and help push the music in interesting directions, then we'd be doing something special.
It was the same with JID. I ran into him New York. He was at Electric Lady, and he was like, "Come pull up on me at the studio." JID has hard drives on hard drives full of music with unfinished ideas and fully fleshed-out songs, and he played me an early inkling of the "Hate This Place" idea. So I'm like, "Let's just build upon this concept." That's the thing people don't know about making music: There's no right or wrong way to make it. You can come in with a finished beat, or you can make something from scratch, or someone can have an a cappella and you can build around it. There's no right or wrong. So it was just about finding all these different balances with different artists and coming to that conclusion. My main goal for this project was to really spend the time in the studio with my friends and see if we can we push in a new direction.
You have two songs on here with Lil Yachty, who I know you're close with. What's your connection like with him?
I'm Lil Yachty's biggest fan. You know, I've known him forever, and even the other day, we were laughing because he has this private Instagram, where he posts all the craziest stuff, and the best outfit pictures, and great music snippets, and all these things. And finally, the other day, he posted a fit pic on Instagram. I'm like, wow, finally, Yachty makes it to public. He's another one who you think is actually good at the internet, because you see so much of him, but he doesn't really share that much. He's just such a genius. He really is so versatile. There's not many people that can do what he does, which is like, "Let me go make a completely left-turn alternative album, go make viral rap hits, go do a pizza company, go write songs with some of the greatest…" He does this thing where he's so versatile and so beloved. Yachty is someone that's always been down to just help out and lean in. If I'm like, "I've got a song idea," he's like, "Let's do it." He's just so positive and down to do things with his friends. I'm just really grateful to him. This project doesn't exist the same way without him.
One of your songs with Yachty on this project is "Flowers." What are your memories from making that song?
I booked a studio in L.A. The early way I was running these sessions was it'd be a revolving door concept. I would just book a studio for like 10 hours, and I would tell a bunch of friends, "Hey, I'll be at the studio from 6 p.m. to 6 a.m. Come whenever is convenient for you. Just pull up. This is the address." Yachty pulled up and Trippie Redd pulled up and Fousheé pulled up and Brent Faiyaz pulled up and Wale pulled up. Not all at the same time, but it'd be like two or three at same time, and someone would be like, "I gotta go eat," or, "I gotta leave. I'm tired," or whatever. So throughout the course of a night, there would be so many crossover moments and that was the most fun thing for me too.
It would be a thing where, like, Yachty would come pull up. He'd play me things and I'd play him ideas and references. We were making that beat that ended up being "Flowers" that day, and he's like, "I love this. Let me just sit with this a little bit." We were building out that beat, and he's like, "Nah, this is crazy. I got it. Send me the beat after the session. I'll cook it and send it back to you." What he sent me back was obviously him over the beat, and then that whole outro part he chopped up himself and did that all himself. So he just took it to the next place.
Your other song with Yachty is "One of Those Days" with 347aidan, which was a single. What's the story behind that?
We had the song, and it was the two Yachty hooks and the Yachty verse. I was like, "This is awesome, but we've gotta make it a little bit longer." So we made a version with an open [verse], and I was just sitting on it—playing it, playing it, playing it. I'm like, who do I hear on this? And just going back to the concept of, like, can I bring friends together and just try random things? Yachty had never heard Aidan's music before. But I'd been talking to Aidan a lot, and he'd been working with my little brother. He's like a little brother to me too. He's such a special guy, with really positive energy, and he's always sending me nice messages. We have a really good rapport. So I was just thinking he had the right energy, so I sent him the record and let him take a stab at it.
He was so hyped. Like, you know, he grew up on Lil Yachty, and it was so formative to him. So he's like, "I'm gonna go crazy on this. I'll send it right back." And like a day later, he sent me the verse, and he brought such a special energy. Actually, the day we went to go shoot the "Poland" video, Yachty was in New York, and he was at this little pizza spot. I pulled up on him like, "Yo, I got a verse for 'One of Those Days.'" I didn't give him any context. I'm like, "Just listen to it." And he's like, "Nah, this is crazy. Who is this?" I told him it was 347aidan, and then we all got to link when we pulled up again in Atlanta. Like a month later, we shot the video.
One of my favorites on the project is "High" with DJ Gummy Bear. What do you remember about that?
Yeah, so Montell Fish is one of my favorite artists. Gummy Bear is his alter ego. And the reason we didn't put it out under Montell Fish is because it really is a DJ Gummy Bear record. Montell Fish is so prolific, and he cooks up a million fresh little ideas every day. He's always shooting videos and making art projects and making these little 20-second guitar snippets. He'll send me stuff, like, "What do you think about this?" And it's a 25-second idea that's just unbelievable. When I was in L.A., I was sending him references and beats, and he sent me an early version of what ended up being "High," just like a little vocal and a loop. And I'm like, "We gotta go build this out."
That's what Gummy Bear is to him: a way to just go and try things. He's known for this more alternative, guitar-based music, and Gummy Bear is his way of taking a turn into electronic music and dance music—even just a place to just throw ideas at the wall. And that's kind of what that song was. He's been DJing more and doing more live producing and things like that, so it was like, "Can we make this song and set up a DJ Gummy Bear DJ set?" As opposed to a Montell Fish show. Those are two different things.
What's your favorite song from the project to play in DJ sets so far?
I honestly want to take this moment to just thank Don Toliver, because he's the first person on the first record I ever put out under my own name. And for him to just be like, "I get the vision and I'm down to drop this song," when there was no... Obviously, there's internal respect and friendship and all that, but there had been no proven proof of concept. And he was like, "I'm down," and he leaned all the way in: "Let's shoot the video. Let's go do this. Let's recut this."
We made two songs, and he's like, "Let's combine both songs." He really took that song to the next place and put a lot of time into it. That song came together over the course of months. We made it all in one session, and then went back over months and tweaked it and made new versions. He's such a special artist, and that was when he was wrapping up his album, too, so it was a really busy time for him. It was a really cool time, because I got to be around when he was finishing up that project and I got to listen to him in that process. We would be going out at night and playing new things out and testing songs and being with our friends. So I definitely want to take a moment to thank Don Toliver for being a part of that.
Yeah, he's the best. So you're skipping the "favorite song" question?
Yeah, skipping the "favorite song" question. I'd say that's the most meaningful song. Favorite? I love them all. I love the project. But with that song [with Don Toliver], it was really, like, "I'm taking this leap." I remember the day when that song was coming out, and I was like, "Oh, we're really on this new journey."
Trying something new isn't always easy. What was the biggest challenge while working on this project?
Anytime you do something for the first time, there's new energy. You've got to make a wish. That's what I always tell people. They're like, "It's my first time going to this place," and I'm like, "You've got to make a wish, because this is a new path for you and you can really throw a bunch of new ideas out there." When I'm doing things for the first time, like this project, there are some things that are easier than I thought they would be and some things that are harder than I thought they would be. Nothing is ever as you imagine it. Sometimes you'll make a song and it'll come out right away. And sometimes a song that you had been planning to put out gets caught up behind the scenes with approvals and clearances and things like that. I learned a lot about timing and momentum and things that I hadn't realized on a personal level yet. I know them about other artists, but it's new to think about it in first-person.
After putting out this project, I'm sure you caught the bug and want to put out more music?
Yeah, I'm sitting on so much music.
I just saw you open up for Drake at Barclays in Brooklyn last night. What has this tour been like so far? What's the energy like?
The reaction to this tour, in person and online, is just unbelievable. The show is insane. Everything that has to do with the show, with the flying objects and the pyro and the setlist and all these things, are so well received. So I basically have the easiest job in the world: Go on, play a selection of hits, and have fun with a crowd that's already waiting to see their favorite artists. So my job is completely just in the background. Like, let's just have a fun 20 minutes.
Really, Drake told me... He just sent me a voice note on my birthday. And it was just like, "Happy birthday. I love you. I miss you. I'm so dialed in to finishing up my book and my tour and working on music." And he's like, "I'm sad I'm missing your birthday, but I'm really in this zone of just work, work, work, work, work." And on that note, so much of the last five years has been about us going to experience these things out in the world and these parties. And he's like, "We've gotta bring that to tour. So if you can come, you gotta come open up on tour. And we've gotta just bring the music to the people, and the party to the people. People gotta come experience how we are in real life." That's what the show is, and that's just how Drake is. So I just go in there and play whatever music I think is fresh and have a fun time with the crowd. But really, my job is so easy. It's the best crowd and they're waiting for the best show. They're already amped up. I've just gotta play the hits and have fun with them.
What's been the funniest moment on tour so far?
There are jokes every day. I was laughing with Yachty last night during the show. Yachty's been watching the shows, but this was his first time going in person. But I've just been dying laughing, because everything that would fly by, I'm like, "Yeah, by the way, we were thinking for the Atlanta show, we want to strap you to the Peter Pan and fly you around..." [Laughs.] We just say stupid things like that. We're just having the best time. You know, that DJ set moment during the show is really special because it allows people to really see... You know, here's a bunch of friends. And it's cool, because it's really a medley. He's singing the hits—"Controlla," "One Dance," and all these songs that we know and love—but the versions are different. It's kind of an amapiano, dancier sound. We know and love the songs, and he's pushing the sound. He's bringing, like, South African dance music to the main stage of his own tour. It's really cool what he's doing.
There's a special Virgil tribute during the show, and I know he was a mentor of yours, especially with DJing—
I look up to him in every way.
Do you still carry his wisdom with you, and he continues to be an inspiration?
Anyone who is interested in pop culture carries wisdom from Virgil every day. The statue's special and it deserves to be celebrated every night—to celebrate him every night. It's a tough moment in the show, but it's a beautiful moment. It's cool, you know; it's like Virgil is coming with us everywhere.
Drake is an artist operating at the very highest level on a tour like this. Is being around that energy each night a constant source of inspiration for you?
DJing on this tour is the greatest opportunity in my life. I'm just grateful to be there, and I want to be in the background just having a good time and providing 20 minutes of warm-up for the crowd. For me, the biggest privilege is just seeing an operation at the highest level of show business. Just even from a production standpoint and a management standpoint and a musical standpoint and a performance standpoint. Everything we're seeing is at the highest level it could possibly be. So even just seeing that and being able to take that in at such a close range... It's just fascinating. And then, obviously, you know, I work with artists, so just being like, "Oh, this is how this works." You learn so much every day: "Oh, this is how early you've gotta plan this." Or things that you don't even really know. So just taking that in every day, it's just insane.
Let's talk about Field Trip. What's been your favorite thing about running a record label so far?
Constantly being in search of new music, which is naturally part of who I am, and working with artists across a different spectrum. But also, you know, seeing Yeat go tear up Europe. He really tore up the festival circuit this summer. He's a genius. You know, he doesn't share much. He just gives you the music and he's just himself. But he worked hard on this live show, and he's taking such big strides performing to what seems like an endless sea of people. He's going out there and crushing those shows, so being able to work with him and seeing what he's doing is really special.
Big picture, what excites you the most about Yeat's next chapter?
With Yeat, the bigger he gets, he's even more ambitious and more excited. He's going even harder. He's already been going 100 miles an hour, and he's making more music and has more ideas. Every day he sends me so many ideas. He's just so inspired. You don't often see people, as they rise, get even more hungry. Sometimes people get to a place and they start to get entitled or they start to feel whatever, and with him it's the exact opposite. He's just so prolific. And I don't even really want to talk too much about Yeat, because it's all his own ideas. And I don't want to pull the curtain back, because it's really just all his own doing. But yeah, he's really a special human being. A special artist.
What's next for Field Trip in general?
We're living in a time where, thankfully, the barrier to entry to releasing music and virality and success is the lowest it's ever been. We're seeing so much music, and there's a much more fair shot to success than there ever was. You can make a song on your phone, and put it on SoundCloud or TikTok or Apple Music that night, and go viral. And it can just work. The barrier to entry is so low, in a good way, and it's accessible. But the flip side of it is now, when there's an endless sea of music and content, how do you even justify any meaning to it? So I think kids are coming off of two or three years of one-off TikTok hits, and now it's like, where do you attribute meaning?
I think quality is being rewarded again. My theory on the music business is like... It's not about being a global superstar that reaches all these random countries on radio. It's like, can you build your own core audience? Can you build your own core fan base with people that really care about you? This might seem obvious, but that's the reality we're living in. You take a group like $uicideboy$, who are massive. Someone random walking down the street is obviously more familiar with the Taylor Swift song or the Drake song, and all these massive chart-toppers, but $uicideboy$ do massive tours and massive streaming numbers, and they built their own core. I think that's where music is at.
We're seeing festival tickets go down and individual concert tickets are up. With me, it's just about finding these pockets of talented artists... Like, where is the sound going? What do people care about? It's always exciting when people are whipping up new things. I think there's a different way to find ownership. And I mean ownership in terms of, like, feeling like you're a part of an artist's come-up and feeling like you really connect to the music. I think it's different when you're consuming the same TikTok snippet, as opposed to, like, if your dad gives you music or your mom gives you music. You feel a different type of way, as if you discover it on your own. So now TV shows are putting kids on to older catalogs, and we're seeing old rock bands from the '90s spike up because kids are finding that music on their own.
So now it's like, what pockets of culture are people consuming? What do they care about? And can you build something that people care about beyond a snippet? It's about building things that people want to buy tickets to, and want to interact with. That's the best part about working at a label. That's what the future is. Can I go find these amazingly talented artists and just go help them build their world? Completely starting with the music and based around the music, but also the visual aspect of it, the branding, if they want to start a brand, a festival, whatever it is... Can we go build that all out?
The first time I interviewed you a few years ago, the big question was, "Who is Zack Bia?" But we've moved past that now. Not only does everyone know who you are, they have opinions and theories. There are tabloids about your relationships and shit. How do you handle that? How does it affect you?
I've never once addressed any headlines or any "who is" type of commentary. It's interesting, because when you're constantly in the thick of things, then it's like, why are you there? And when people don't have an outward explanation as to why it is, all these theories come about and they spread. I just didn't realize how far wide some of these things had spread. And it's funny, because I'll see things online, like, "Oh, he's a rich kid. Oh, he's this." Or, "He's that." Or, "His dad is that." None of these things are true. I've never once made a public statement, because what are you supposed to do? Go and make a video and be like, "This is the reality of my life"? You can't address any of these things—you've got to just do the work. And I don't do any of it to tell the story; I do it because I care about the work I'm doing and I care about the times I'm having. And ultimately, if you just have an output of good times and good product and good things, hopefully the stories get told the right way later on.
I know fashion is important to you, and you've put out cool stuff recently, including Field Trip ASICS. What's next for you in the fashion world? How does fashion fit into your plans moving forward?
I think fashion is a reflection of music. Style has always come from musicians and skaters and kids in the street. People think of record labels as these buildings in uptown New York, on the 50th floor, where people are handling paperwork. But that's not what we are. So can we take the idea of building a community around music and translate it to product? We made those sneakers for friends and family on purpose, because it's like, let's just give them to people that are a part of our creative community. And now we want to expand on it. If you fuck with what we're doing, we're about to drop a new pair of ASICS next year. So if you like what we're doing, come be a part of it. Those are just a physical embodiment of the movement we're trying to spread.
You're friends with some of the greatest in the industry. I saw you just did some traveling with Verdy, who did the artwork for your EP. What's your relationship like with him?
Verdy is a very, very close friend of mine, and we've been in so many places together. One of the places we actually became very close was Chicago. We were both there for ComplexCon, and we kept running into each other. We were like, "We're both in Chicago; let's just go grab a meal." And over the course of this meal, we traded so many stories, and he told me about a lot of Osaka traditions and drinking beer and pouring the cup on your head and all these different anecdotal things. And I was telling him about my life. Then whenever we crossed paths, we carved out time to go have a meal. That's how it really started. I went to have dinner with him and [Takashi] Murakami when they were both in L.A. for an art exhibit. I'm very fortunate. I think food is my biggest vice. I just love to know good restaurants, especially in cities where my friends aren't as well versed, and I can expose them to good food. That's such a big part of who I am.
Verdy is someone who came from hardcore and punk. He was doing tour flyers and album covers, and he's one of the most genuine creatives. These are all things that are truly native to his world. You know, he doesn't have an Instagram for Girls Don't Cry. There's no Instagram for Wasted Youth. It's all just a part of his creative world. And I think it's really interesting to see someone with that much of an output, with all of these collaborations and projects, and they're all native to his world.
I went to Japan, and Verdy treated me to the greatest week of my life. I had a week off after my birthday, and I went with my little brother. I'd never been to Japan. I was working on rolling out the project, and I was like, let me just go there, tap in with Verdy, and spend some time with friends. Luckily, Luka was also out there, and Starboy, who I worked very closely with, and a bunch of friends were out there. He just gave me the full Verdy experience. Like, "Come to the office, I'll show you what I'm working on, and then let's go hit the hole-in-a-wall curry spot. Let's go hit the three-star Michelin, 10-course insane food experience. Let's go to the toy store." He was even like, "Yo, I'm gonna get us a billboard for the EP. I got it. Don't worry. My friends handle the billboard in Shibuya, and they'll just do it for us."
So I'm walking through Shibuya, and I hear my song playing in the street. I go around the corner, and there's a massive billboard on the side of Tower Records, with a speaker blasting "Hardcore." It's right in the primetime spot in Tokyo, blasting my music with the characters animated. I'm like, "You're insane." And he's so casual, like, "Oh, yeah, they're all over Shibuya. Just keep walking around." He garners such a tremendous amount of respect, because of how genuine he is and how creative is. He told me this project was so fun for him because he loves coming up with new characters. For every song and collaboration, there's a new Verdy character, and there's a lot of little nods to our actual friends in real life. There's a character posing like this, which is Paulo, Verdy's business partner. And there's a guy with a bow tie, eating a pizza, and that's based on my manager, John. Nothing about this project was forced. I was like, "I'm coming up with a song," and he's like, "Oh, I've got the character for it." Just being able to go celebrate that with him in his city was such a privilege.
You've already dabbled in so many different parts of art and entertainment. Is there anything you haven't tried yet that you want to do? Like movies?
We're just now really getting started. I'm fortunate for whatever success we have, with the label and the team and everything, but we're just getting started in music. So we've got to see it through for the rest of my lifetime. We have so much to do on that front. But if I were to take a side pivot in something else, it's definitely film for sure. And I know it sounds crazy, but probably like venture capital. Like, can we raise money to go build out products and things that we believe in?
I'll finish by asking the same question I asked Yeat. And you can't say, "Shmadonka…"
[Laughs.] How can I beat that answer?
What is the meaning of life?
I think it's about finding balance. Take me as a testament that life can get crazy and beyond our wildest dreams. If you told me that we're doing all of these things that I'm doing now, two years ago or whenever we did that interview, I wouldn't believe you. So take me as a testament that crazy shit can happen. And [I think it's important to] balance that with spending time with family. Can you find a healthy balance of ambition, gratitude, doing things at the highest level, and also finding time for the little things? Stopping at the corner store with the little snack that you love to get... All of those things. It's only when you do both of those things that either has meaning. I don't know if I have a direct answer to, "What's the meaning of life?" But I think it's just about finding your balance, and one that makes you happy. I can't beat Yeat's answer. You put me in a tough spot. [Laughs.]