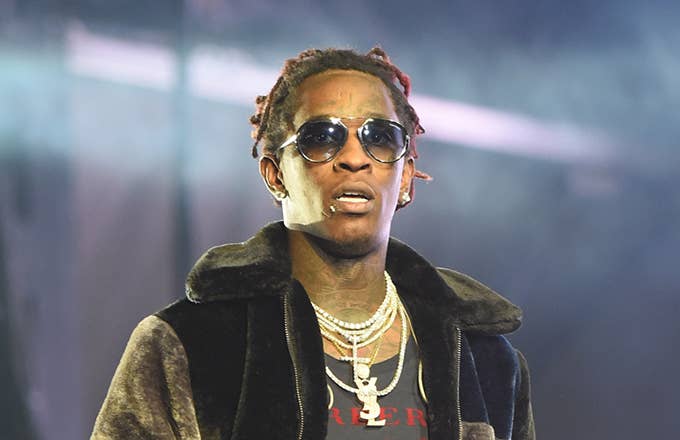 More bad news for fans of Young Thug, aka SEX, arrived on Thursday. After canceling his entire upcoming Australian tour due to complications with his visa application, Thug told fans that he isn't planning on releasing any music until 2019 out of respect for his brother.
"I've got a deaf brother," he told Hypebeast during a short video interview. "I've got a brother who can't hear or talk, so I want to act deaf for a year. So I ain't going to put out no music this year."
Looking forward, Thug explained that he plans to return next year with his long-anticipated Hi-Tunes project (sometimes stylized as Hy!£UN35), telling Hypebeast's cameras, "In 2019, I'm going to put out probably Hi-Tunes."
Thug is known for being a prolific artist, so he would be straying far from his normal release strategy if he's serious. Participating in Philipp Plein's Fall/Winter 2018 and VFILES' showcases during New York Fashion Week as the interview took place, Thug focused most of his thoughts on fashion. So, maybe that's how he'll spend his time if he isn't releasing music this year.
"I am fashion," Thug said. "I don't even think I can get no deeper. I wake up and breathe this. I used to look at the Discovery channel and look at the clothes they wore. I was like, 'Man, what if we could turn this into a cool outfit without diving under water. We need to make a fuckin' fishing suit as a real outfit."
There's a good chance he has unreleased features on other artists' projects that will surface throughout the year, so we most likely won't be completely starved of new Thug verses. But let's hope he doesn't follow through on this particular promise: It's been a long ass time since we've gone a full year without a new Thugger project.