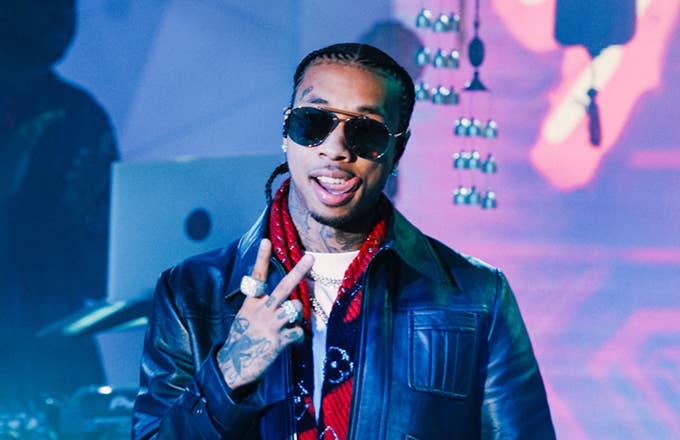 Tyga's sixth studio album, KYOTO, has arrived. Featuring Gucci Mane, Tory Lanez, and 24hrs, the 14-song project finds the 28-year-old pushing his vocal range more than ever throughout a melody-oriented album.
You can hear the project now on iTunes/Apple Music or on Spotify.
On an episode of Everyday Struggle, Tyga explained that he gained the vocal confidence to try things he wasn't able to in the past. "There were certain melodies where I didn't like how I sounded," he said. "You have to find your pocket. You've got to know what you'll sound good on. You've just got to know where you're comfortable at, and I wasn't comfortable making these types of records like a year ago."​
In an Instagram post announcing the album, he added, "I been wanting to make this album for a while now but didn't have the confidence and the story to express my true emotions.​"
Always in the headlines, Tyga wasn't able to escape the album rollout without a bit of controversy. As soon as he unveiled the Hajime Sorayama-designed cover, he received backlash from confused fans who called the art "furry porn" and thought it disrespected the Japanese flag.
"I think it's lit," Tyga responded. "It's art, man. It's art, you know?" As for the flag controversy, he said, "It's not a flag. It's a rising sun, and the artist is Japanese. He's a very well-known Japanese designer, so that's why I did it with him."
Shortly before the album's release, Tyga dropped a music video for KYOTO single "U Cry," which you can watch below.