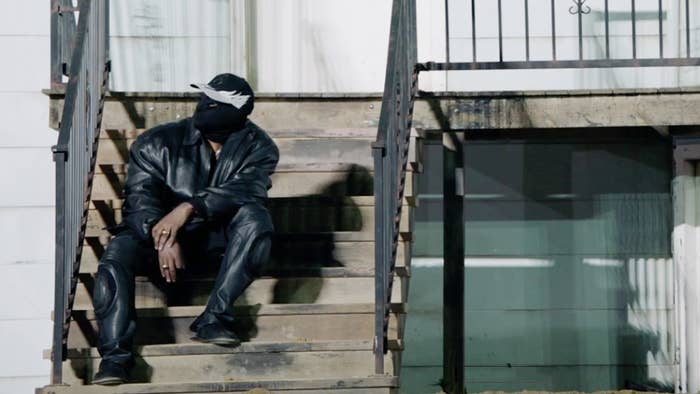 It finally happened. Kanye West dropped Donda on Sunday morning, following several false starts and a month of public release parties.

It didn't come without a little last-minute drama, though. A few hours after the 27-song album hit streaming services, Kanye announced on Instagram, "Universal put my album out without my approval and they blocked 'Jail 2' from being on the album." The second part of that statement didn't turn out to be entirely true, as the DaBaby-assisted song did appear on streaming services, but it seems there are still some behind-the-scenes issues going on between Kanye and his label.

For now at least, the long-anticipated album is still available to stream. So we gave it a few initial spins and attempted to answer the questions that are on everyone's minds: What's the best song on the album? What are the skips? Who had the best guest feature? Is the album any good? Members of the Complex Music team (Eric Skelton, Andre Gee, and Jessica McKinney) came together to share our first impressions and takeaways of Donda.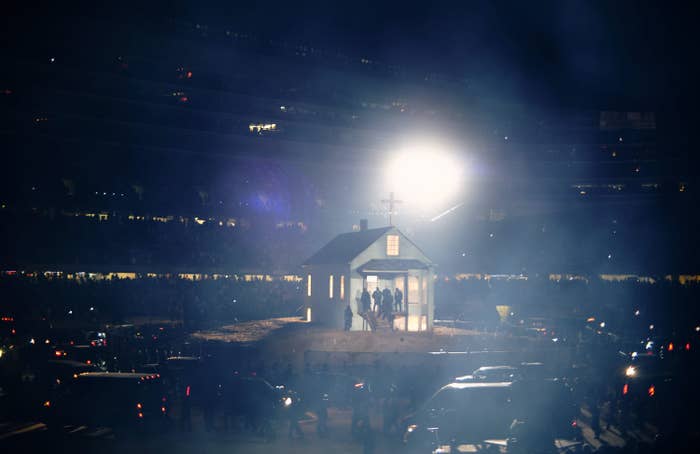 Best song?
Eric: There's a lot to choose from on a 27-song tracklist, so I'm going to cheat and pick three: "Hurricane," "Off the Grid," and "Believe What I Say." After being teased for years, "Hurricane" was more anticipated than any other song on the album, and Kanye somehow exceeded those high expectations by getting great performances out of both Lil Baby and the Weeknd. "Off the Grid" has two of my favorite verses on the whole album (from Fivio and Kanye) and "Believe What I Say" sounds like it could be a legitimate radio hit.

Andre: "Hurricane." A lot of tracks on Donda take after this, with introspective, redemptive lyrics shrouded in melody and warm production, but this is my favorite example of it. Lil Baby showed up as always, and this was Kanye's best rapping exhibition on the project for me. The flows, the wordplay, the passion—this sounds like that early-2010s Ye who was out to be considered one of the best rappers. But it's not just the technique; he explores a range of topics on this one and gets candid about his marriage.

Jessica: "Off the Grid" is an obvious standout. It's one of those songs that will go off in the club or at a festival, and Fivio Foreign delivers one of his best verses yet, rapping about a stint in prison, faith, and his come-up. Kanye is also in rare form as he raps about his recent silence with a flow that's reminiscent of old Ye ("My mask on my face, you can't see what I'm finna do/ Had to move away from people that's miserable"). And while we're talking about the best songs, "Jesus Lord" deserves some love, too. Kanye delivered some of the most personal bars we've heard from him in years, the Lox came with heat, and Jay Electronica's verse at the end of the track… chef's kiss. 
Biggest skip?
Eric: "Tell the Vision" is cool, but it doesn't need to be on this album (we already got these Pop Smoke vocals on Faith). As I listen to Donda more, I have a feeling I'll also be skipping the intro ("Donda Chant"), "24," and "New Again."
Andre: "Jail Pt. 2." It's really on-brand for Kanye to mar the nostalgic excitement of The Throne's return by replacing Jay-Z with a guy in a mess of his own making (which he still hasn't genuinely apologized for). Of all the Black people facing legitimate injustice, I don't want to hear DaBaby try to act like he's Jesus being stoned. His assertion that the non-gay people who were offended by his comments are "crybabies" demonstrate that he stilll doesn't understand why what he said was wrong, and doesn't understand what "solidarity" means. Anyway, at least the Jay-Z version made the album. 
Jessica: "Donda." Since it's the title track, I expected to hear Kanye open up about his relationship with his mother or talk about his grieving. That's a tough subject, of course, and I wouldn't want him to force anything that he's not ready to confront, but since he's showing more vulnerability on other tracks, I thought it would make sense to share some of those feelings on "Donda." He also could have utilized singer Stalone more. She contributed to the background vocals, but her voice sounds so angelic that I would have liked to hear her more on the chorus. "Junya" part 1 and 2 are both skips for me, too. Kanye isn't saying anything of substance and Playboi Carti's baby voice doesn't add much, either.
Best thing about the album?
Eric: The production on Donda is incredible, and Kanye pulls the best out of every vocal contributor. At this point in his career, though, neither of those things are big surprises. His albums always sound great, but what's held some of his recent projects back is Kanye's own rapping. Fortunately, that's not the case on Donda. On high-energy songs like "Off the Grid," Kanye sounds more inspired than we've heard him in nearly a decade, hitting a nice pocket and going toe to toe with Fivio Foreign (who delivered a career-defining verse of his own). And on slower, more introspective songs like "Lord I Need You," Kanye gets personal, peeling back layers of his family life. He sounds like he found a passion for rapping again, which wasn't the case on 2018's Ye.

Andre: Every rap feature came with it. Kanye is in the stratosphere of rap where an artist getting on one of his albums is—like it or not—the kind of commercial achievement that's just a step below winning an award. As opportunities to have a "moment" go, it's high on the list. Every artist respected the moment, and also fit the themes of moral quandary and "hell on earth." The project is like a rolling testimonial at church with all kinds of artists stepping in to share some of their pain (some more self-inflicted than others).

Jessica: Kanye is really rapping again. Kanye's Jesus Is King era may have been his most devout period yet, but while the sonics were great, it sounded like he lost his passion for rapping. And on projects like Ye, he dropped a bunch of one-liners and failed to really say anything that would resonate with fans. On Donda, though, we hear Kanye revert back to his roots, giving us rich storylines and glimpses into his life and current headspace. On "Jesus Lord," he rhymes about his mental health, rapping, "Suicidal thoughts got you wonderin' what's up there/ And while I introduce you at the party, you say it's up there/ Too many pills, so much potions, so much pain, too many emotions." Elsewhere on "Lord I Need You," he seems to be speaking directly to his estranged wife Kim Kardashian for some of his most vulnerable work in years. 
Worst thing about the album?
Eric: I'm tempted to say it's too long (no album has any business having more than 20 or 25 songs on it) but I think Kanye designed Donda for the streaming era. He understands everyone is going to cherry pick their favorite songs and save them to playlists, so he gave us lots to choose from—even including multiple versions of several tracks. So I'll give him a pass there. What this album does suffer from, though, is a lack of identity. In many ways, it's a gospel album, but compared to Jesus Is King, which stuck much more closely to religious themes, Donda is scattered. A lot of the guest features struggle to stay on theme (getting Playboi Carti to lay down bars about Jesus is a big ask) and songs like "Lord I Need You" sound like they were made for a breakup record, not a gospel album. It's almost as though Kanye started making a gospel album a few years ago, then gradually moved away from that idea as he kept working on it. The fact that he bleeped out all the curse words right before releasing it, instead of just keeping everything clean from the beginning (like he did with Jesus Is King), is a hint that Donda's thematic direction may not have been finalized until the last minute.

Andre: The lack of women, as has been discussed, was disappointing. This project felt like an offering to the future to show what human suffering looked like in 2021, but there was no feminine perspective. Shenseea may have only been added to the album to spite Drake. Also, the lack of accountability and the prevalence of controversial artists was wack. I think Kanye tries to use his faith to be this big brother, unitary figure. Maybe in his mind, Donda was like a collective healing circle. But he brought so many people together, and was the main one who didn't fully take accountability for their own transgressions. He had this "me and God against the world" energy, but was dismissive of his culpability in making people dislike him. He didn't talk about the MAGA alliance, or why he continues to align with accused abusers and other controversial figures, including those on the album.
Jessica: I'm exhausted even thinking about how long this tracklist is. In no universe do I want to listen to a 27-track album. That's ridiculous. I was enjoying Donda, but as it got to the halfway mark, I found myself wanting to focus on something else. Double discs in the streaming era aren't necessary. That's not the best way to fully digest and appreciate the work. Aside from the album length, I have to say that I wish there were less songs with features on them. Of course, verses from Jay-Z, Jay Electronica, Fivio Foreign, were nice additions, but I wanted to hear more tracks like "Believe What I Say," where Kanye goes solo. Especially in this era where it appears he has more to say, it would have been great to hear even more of his thoughts on the record.
Best guest verse?
Eric: The Globglogabgalab on "Remote Control." Just kidding. It's easily Fivio Foreign on "Off the Grid." More than anyone else on Donda, he understood the opportunity in front of him and delivered a career-defining verse. Over the past couple years, he often relied on the energy of his "BOW!" and "GRRRR!" ad-libs instead of putting together tight verses, but he turned that narrative on its head here. Completely ditching the signature ad-libs, he weaved together a sneakily introspective verse and paired it with my favorite flow on the whole album.

Andre: Most people will say Fivio, but I preferred Jay Elec on "Jesus Lord" because he took the album somewhere few people could take it. On an album full of testimonies, he served as a bit of an overarching narrator for the project, dropping lots of spiritual references and explicitly calling out the evil of white supremacy. Evil isn't merely cosmic, it's concerted. 
Jessica: Jay-Z, Fivio Foreign, and Jay Electronica are all tied for me. After the third listening event, many suspected that Jay had been replaced with DaBaby, but thankfully it didn't pan out that way and his verse on "Jail" finally marked the return of The Throne. Fivio Foreign's fiery, aggressive appearance on "Off the Grid" was another standout moment and Jay Electronica killed his verse on "Jesus Lord." 
How did the listening events shape your perception of the album?
Eric: I've never had a first-listen experience like I had with Donda, because an artist has never rolled out an album like Kanye just did. By the time it dropped, we'd already heard several versions of each song, so the only real surprise came from seeing what made the final cut (and finding out that he included alternate versions for four of the tracks). Just like The Life of Pablo will always be remembered for its post-release changes, Donda will always be associated with the listening sessions. We first became acquainted with these songs through the livestreams, and the album itself was shaped by real-time feedback at each event. And, of course, some of the more controversial moments, like Kanye bringing out Marilyn Manson and DaBaby, will influence the narrative around the album for many. Donda and the listening events will forever be linked.

Andre: I was tempted to go to specific tracks first because of how much I enjoyed them at the sessions. The production is also so good that I wish I had heard certain songs for the first time over my speakers instead of on a stream. 
Jessica: Because of the three listening events and the long delay of the album, I had pretty low expectations for Donda. The last listening party in Chicago, in particular, left a bitter taste in my mouth. The album sounded much different than the version we heard at the second party in Atlanta—it was missing several guest features and there were a lot more gimmicks involved, which distracted from the music. The album also kept getting pushed back after each listening party, which only added to my frustrations. I'm glad the album dropped and turned out much better than expectations, but we could've done without three different events. 
Overall first impressions?
Eric: On first listen, Donda is my favorite Kanye album since The Life of Pablo (and it will likely surpass that project in my personal rankings when I get more time with it). The production is very good, the guest appearances are great, and Kanye sounds reenergized as a rapper. After Ye and Jesus Is King, I had come to terms with the fact that he'd become more interested in making sneakers than music, but he proved on Donda how good he still is when he dedicates his full attention to an album. 
I also appreciate Kanye's willingness to keep pushing the limits of how albums can be created and released. At first glance, one of Donda's biggest flaws is its length, but Kanye released it with an understanding of how people actually listen to albums in 2021. He knows most fans pick out their favorite tracks and save them to playlists, so after holding mass focus groups for a month, he offered up all the songs that resonated the most (plus alternate versions of four tracks) and let people make their own picks. The form and function of the "album" has changed in the streaming era, and Kanye is one of the few artists to embrace that evolution and use it to his advantage.

Andre: I think Kanye has to be given credit for putting together a long album that's pretty much enjoyable all the way through. 26 tracks is a lot (or 22 if you're not counting the Pt. 2s) but there aren't many tracks I'd take off here. Many long albums get bogged down by a middle section full of redundant, low-effort-sounding songs, but that wasn't the case here. There was a lot of sonic variety, different vocal approaches, and just about every guest showed up (even if it's wack that a couple were there in the first place). Donda is the exception to the rule of long albums, because few people are going to have the focus, imagination, budget, and resources that Kanye had to craft this. 
He sounded more passionate about rapping than he's sounded in years, which was also dope. It felt like Ye and Jesus Is King were side projects, but we got a reminder of what he can put together with singular focus on the music. Even when people said he fell off, I knew it was more about focus than him losing his talent. This project affirmed that. Also, even if his relationship with Christianity is extremely self-involved at the expense of other people (what's new), it sounds like he's at a decent spot in life, which is good for him and his family. 

Jessica: Donda is a good album. All the listening parties, controversy, and antics aside, there are a lot of things Kanye got right on this project. Standout features from artists like Jay-Z, Fivio Foreign, the Weeknd, Travis Scott, The Lox, and Jay Electronica added a lot to the album album. Kanye's bars were on point, and he showed a side of himself that we haven't seen in a long time. There have been a lot of headlines about Kanye in the past few years, and he made sure to address some (marriage, mental health, etc) in a way that was vulnerable, but also fitting to who he is as an artist and as a person. The production is also sharp, mixing the gospel of Jesus Is King with the experimental electronics of Yeezus with the soulful sampling of Late Registration. All Kanye fans should be happy with this. With that being said, the 27-song tracklist is too long and Donda sometimes feels like a "featuring Kanye West" album rather than a solo body of work. And I'm still not over the album rollout. It was entertaining, yes, but it was also messy and exhausting. Although, I guess it wouldn't be a Kanye album if the spectacle wasn't as big as the music.