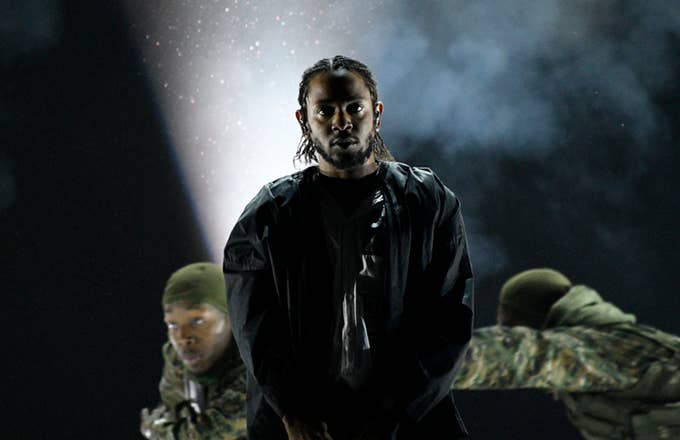 According to a report from The New York Times, however, Viktor is claiming that her work was used without permission. 
Viktor's lawyer Christopher Robinson says that the artist had been contacted by Black Panther representatives on two occasions, asking for permission to feature her work in promotional materials for the film. Unsatisfied with the proposed conditions, Viktor turned them down. So, when the video was released, she was surprised to see her gold patterned style closely duplicated in a 19-second scene.
"Why would they do this?" Viktor said to the Times. "It's an ethical issue, because what the whole film purports is that it's about black empowerment, African excellence—that's the whole concept of the story. And at the same time they're stealing from African artists." She added, "Cultural appropriation is something that continually happens to African-American artists, and I want to make a stand."
Viktor's lawyer Christopher Robinson has reportedly sent a letter to Anthony Tiffith at Top Dawg Entertainment, claiming that a copyright violation has taken place. "The infringement of Ms. Viktor's rights is willful and egregious," the letter says. Later, it explains that Viktor is willing "to discuss a resolution of all her claims, consisting at a minimum of a public apology for the unauthorized use and a license fee."
Viktor and her lawyer claim that the video copied the style of her Constellations series. The Times article notes that the video's directors will likely build their case around the argument that the images used in the video are not exact duplicates of Viktor's work. The aesthetic is so similar that copyright lawyers believe she has a strong case, however.
Viktor was last contacted by Marvel and Disney's public relations firm DDA in December of 2017, when she turned down their request for permission a second time. Understandably, both Viktor and her lawyer were upset to see her work appear in the video after making it clear that she didn't want to participate in the campaign after first being contacted in 2016.
"We're in an age when no is supposed to mean no in whatever field you're in," Robinson said. "It's outrageous that they're taking advantage of her."
Kendrick Lamar, Anthony Tiffith, Disney, and the video's director Dave Meyers declined the Times' request for comment.