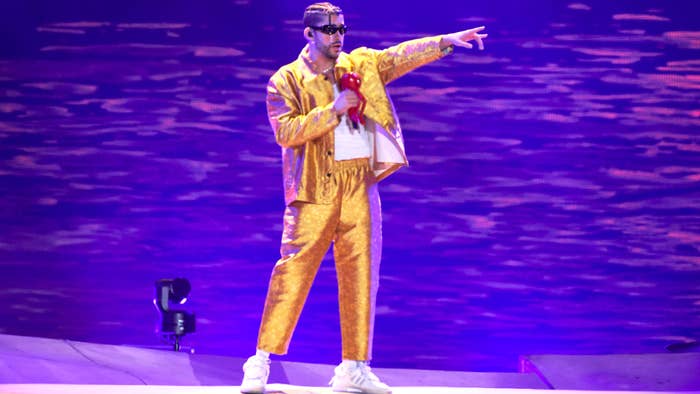 Bad Bunny just ended his World's Hottest Tour on Dec. 10, but some unlucky fans weren't able to get in to see him perform.
The Puerto Rican star held his last stop in Mexico City at the historic Estadio Azteca. He held two shows on Friday and Saturday, tweeting that the tour was the best experience of his life.
However, his Friday show was met with some controversy. Some fans were denied entry after an abundance of fake tickets overwhelmed Ticketmaster's system. This resulted in some authentic tickets being voided.
On Saturday, Ticketmaster Mexico issued a statement on an influx of fraudulent tickets that created botched entries for fans.
"Ticketmaster offers an apology to fans and is announcing a reimbursement for customers who bought legitimate tickets and weren't able to access today's Bad Bunny concert," the company wrote in Spanish on Twitter. "The access issues were a consequence of an unprecedented number of false tickets presented, which caused an extraordinary crowd and an intermittent operation of our system. This generated confusion and complicated admission to the stadium, with the regrettable consequence that some legitimate ticketholders were denied entrance."
Estadio Azteca issued their own statement, stating reported tickets that were falsified will be canceled to "guarantee the safety" of attendees.
Ticketmaster Mexico adds they are working with Mexico's Office of the Federal Prosecutor for the Consumer to "clarify the facts, attend to and reply to the affected consumers."
The World's Hottest Tour hit the Americas and Latin America, resulting in a total of 43 shows.