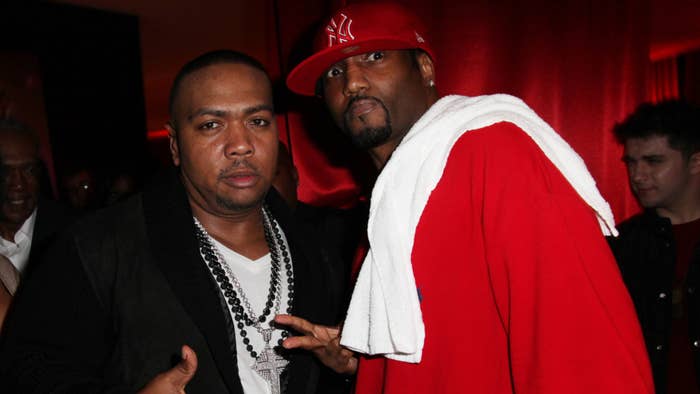 Magoo has passed away at the age of 50, TMZ confirmed.
The news of Magoo's death was first revealed on social media. A cause of death has not been disclosed.
Born Melvin Barcliff, the Norfolk, Virginia native was known as one half of the duo Timbaland & Magoo. His early career consisted of forming a rap group Surrounded by Idiots with Pharrell and Timbaland and later becoming a member of Jodeci's DeVante Swing's Da Bassment Cru alongside artists like Tweet, Ginuwine, Stevie J and Playa. Magoo appeared on albums by Ginuwine and Missy's debut album Supa Dupa Fly as both a songwriter and featured artist.
As Timbaland & Magoo, the pair released their 1997 debut album, Welcome to Our World, that was led by their singles "Up Jumps da Boogie" featuring Missy and Aaliyah and "Luv 2 Luv Ya." Welcome to Our World was their only platinum album.
They also appeared on the Romeo Must Die soundtrack in 2000.
2001's Indecent Proposal and 2003's Under Construction, Part II marked the end of their run as Timbaland would branch out as a solo artist years later with his Shock Value album series.
During an interview with YouKnowIGotSoul.com in 2020, Magoo spoke about his creative process and writing memorable one-liners like "the bird is the word."
It was intentional. I was a little rougher around the edges before, but as I got around Jodeci and learned more about the music industry along and then we got with Aaliyah's uncle Barry Hankerson, I started to understand something about the music industry that I never would have got the opportunity to experience if I came out immediately. People always remember when you say certain things like 'Whatchu talkin bout Willis?' Gary Coleman was a child actor, but his career is remembered because of that one line. Biggie even put that line in his lyrics. Me and Timbaland had a conversation and he was like "You can either sell 200K or we can sell a million records, but you have to decide what that's going to be". If I just did that hip-hop that I was doing that was just doing for the cats on the block, I don't think anybody would know me at all. That's what people don't understand when they talk about me and I've heard about what people say about me. Just because a person comes out with a record a certain way, that doesn't mean that who that person is. I chose that lane because I understood the industry. I would say stuff like 'Wiggle a bit stop drop get up snake freak' because I wanted something kids could remember.
Many tributes poured in from Teddy Riley and more.