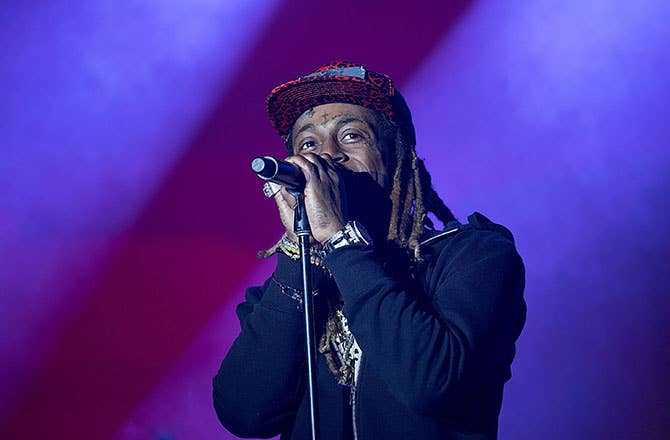 Lil Wayne's sixth installment of his Dedication series is dropping this month.
You can expect Wayne's long-awaited mixtape to drop on Christmas Day, according to a tweet from DatPiff.
After the release of Dedication 5 in 2013, there have been several teasers of Dedication 6 leading up to now. In 2015, DJ Drama famously gave an update of Wayne's release for the year: Sorry 4 the Wait 2, Carter V, and Dedication 6.
Wayne has teased the project in interviews and on social media, saying that his and Dram's collaborative project is coming. "I've also been working on some crazy shit for a mixtape and we just didn't have a good name for it yet," he said in an interview with Drama on Shade 45. "But it might as well just be a Dedication."
While fans don't have an update on C5 or his mysterious Funeral project, a new Dedication tape will have to do for now. Mixtape Weezy was in top form when he freestyled over Playboi Carti's "Magnolia," and you can probably guess he'll keep that same energy on other popular instrumentals that came out this year. You want to hear him on Lil Pump's "Gucci Gang?" Or "Bodak Yellow?" There's a high chance it'll be on D6.
You can read our ranking of his Dedication series here.