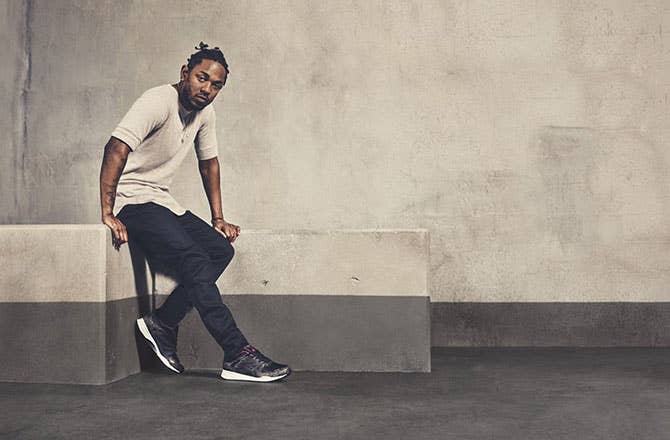 Kendrick Lamar's To Pimp a Butterfly is an album that will be talked about for years to come. In Kendrick's latest interview, he's featured in The Guardian and spoke about the political relevancy of his album, as well as the making of "The Blacker The Berry."
This week,D'Angelo spoke about the need for artists to create music that directly reflected of what's going in America today. Kendrick's album has stuck with us after its release in March, but certain songs like "The Blacker The Berry" are powerful just by how timely the lyrical content is. He tells The Guardian that he an idea for the song before good kid, m.A.A.d city, but wrote the first version of the song after hearing about the murder of Trayvon Martin by George Zimmerman.
"These are issues that if you come from that environment it's inevitable to speak on," he tells The Guardian. "It's already in your blood because I am Trayvon Martin, you know. I'm all of these kids. It's already implanted in your brain to come out your mouth as soon as you've seen it on the TV. I had that track way before that, from the beginning to the end, and the incident just snapped it for me."
Kendrick also believes that it's an artist's choice whether or not they should address serious things like politics. However, in these trying times, the Compton rapper hopes more will step up and say someting in an industry that normally plays it safe. "No, there's no excuse," he tells The Guardian. "It's really just about integrity. We all like to have fun. I like to have fun, too. But where do you stop and say, 'You know what? There's actually some real shit going on out there that people can relate to more than any singalong I can bring to the table.'"
He added, "It's just about balance. I don't fault other artists. I don't say this person should be doing that. As conscious as my music sounds, I would never point the finger because every day I make mistakes."
In another part of the story, Kendrick talks about the depression he addresses in his lyrics on The Pimp a Butterfly and also gives a hint about his next album. "I know exactly what I want to say next," he says. "Everything is going to make sense – not only to myself but to anybody who wants to understand life and music. Everything will make a little more sense."
For the full story, head over to The Guardian and check it out.