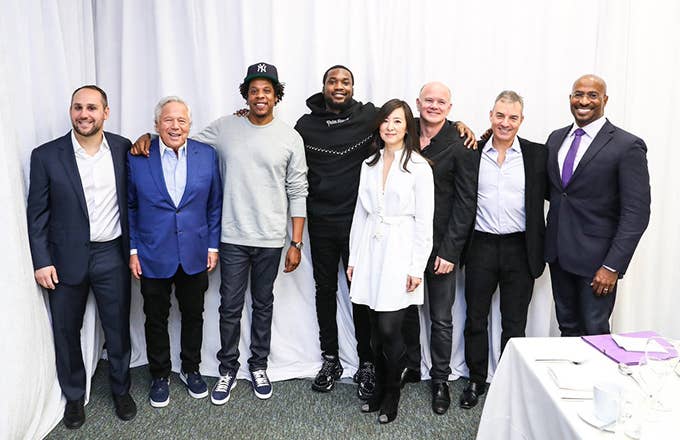 JAY-Z and Meek Mill, along with leaders across sports, entertainment, and business industries, have teamed up to launch a new criminal justice reform organization called REFORM Alliance.
The press conference, which was held in New York Wednesday afternoon, outlined the organization's objects for this movement, highlighted individual cases that embody the problems in the criminal justice system, and discussed why such a partnership was created through several industries.
At the press conference, there were speeches from the founding partners, who unveiled the organization's CEO, and appearances by Philadelphia 76ers co-owner Michael Rubin, New England Patroits owner Robert Kraft, Third Point LLC CEO and founder Daniel Loeb, Galaxy Digital CEO and founder  Michael E. Novogratz, Brooklyn Nets co-owner Clara Wu Tsai. Robert F. Smith, Vista Equity Partners CEO & founder, was unable to attend.
The founding partners of the REFORM Alliance also collectively pledged $50 million.
This initiative was inspired by Meek Mill's controversial two-to-four-year prison sentence for technical probation violations in 2017 (popping wheelies on an illegal dirt bike and getting into a fight at a St. Louis airport, but the charges were dropped), which fueled the #FreeMeek campaign until he was released on bail in April 2018.
Meek Mill was the first to step up to the podium, sharing that his newfound purpose is to give a voice to the voiceless and give back to the people who stood by him.
"I'm one of the lucky ones, we have people who don't have a voice. I'm here to speak on behalf of those people who don't have a voice" -

@MeekMill #FightDifferent #REFORM
Michael Rubin echoed Meek's statement, saying, "I believe that this founding group, we have a responsibility to give a voice to the millions of voiceless. But my voice and Meek's voice alone, it is not enough. And that's why we wanted to build the most incredible team of founding partners that care deeply about this issue and want to put significant capital against the issue and also have major platforms that can help shed light to the situation."
It was later announced that Van Jones would be the REFORM Alliance's CEO. Jones was personally picked by Rubin after he interviewed over 30 candidates for the position. During his speech, he recongized all the elected officials in the room, which include David Soares, who is the District Attorney from Albany, Cook County's state attorney Kim Foxx, Pennsylvania Attorney General Josh Shapiro, New York Governor Special Counsel Jason Starr, Senator Tony Williams, Brooklyn DA Eric Gonzalez, and Governor Tom Wolf.
In a roundtable discussion with the founding partners, each had the chance to speak on why they wanted to be part of the team. Robert Kraft said after meeting Meek in jail through Rubin three years ago, he felt an affection for him and developed a relationship. "I never been to jail before," Kraft admits. "And going there and seeing him, I didn't sleep the rest of the night when I got home 'cause here I am thinking how out of touch someone like myself is with what's really going on. I mean, we give to charitable things and we try to do good. But here, you have a young man whose creative, whose productive, whose innovative, whose inspiring young people, and through riding a motorcycle and doing a wheelie, he's put in jail where taxpayers are paying to keep in going. And he's not employing all the people he could employ and generating all the tax dollars he could do. It's just a cuckoo system."
Meek spoke about his probation restrictions, revealing to the audience that he had to get premission to be there today. He says he gets off probation in 2023. "The restrictions just affect me mentally. I said it in one of my rap songs like going in and out of court for 11 years, not knowing if you'll be kept in a prison when you step in and out of court. That's enough to mentally damage you."
He added, "Me with my rap career, I don't know if you know the statistics of rappers, it is a five-year real stretch for rappers that do good. I am on my seven-eight year in the industry. I've been in prison three times during them eight years not involving crime, and everytime I had to drop, harder, harder, and harder."
JAY-Z took the opportunity to speak on his involvement in creating REFORM Alliance, and you can read his response below:
"I think the attention Meek brought to this issue because of his celebrity, and the egregious of the crime—poppin' the wheelie and breaking up the fight is what sparked the match for the nation. But for me, I'm from Marcy Projects, I'm from Brooklyn, and this has been a part of my life. This is communities that we grow up in, friends that I have, people around me, so I have grown up with this issue. People way worse off than Meek. He has an opportunity, and he had to work hard. And we have to applaud him because every setback he came out stronger, and that takes a really dedicated person. I want to pride you for that.
Below, you can read tweets by REFORM Alliance on their mission statement, which aims to dramatically reduce the number of people on parole and probation who are treating unfairly and under the control of the criminal justice system.
At REFORM, we

#FightDifferent

. Our collective disgust with the current state of the American criminal justice system is creating a powerful, growing alliance that spans different backgrounds, industries and political beliefs.

pic.twitter.com/wg1uAZlbJ8
We are bringing together leaders in business, government, entertainment, sports, technology, art, and culture to give voice to the voiceless. We won't stop until we've changed the laws, policies, and practices that perpetuate the horrific injustice we're seeing in America.
The Alliance started with the unjust re-imprisonment of recording artist Meek Mill due to minor technical probation violations. The shocking 2-4 year sentence Meek received in Nov 2017 spurred the international

#FreeMeek

movement, which led to his release on bail in April 2018.
Although Meek had the resources and public platform to fight his case, he and the other founders recognized Meek's case is only one of millions – and that the vast majority of people trapped in the system don't have the resources to fight back.
After Meek's release, we joined forces and committed to changing mass supervision laws (probation and parole policies) that will have the greatest impact on the largest number of people.
The mission of the REFORM Alliance is to dramatically reduce the number of people who are unjustly under the control of the criminal justice system – starting with probation and parole. To win, we will leverage our considerable resources to change laws, policies, hearts & minds.