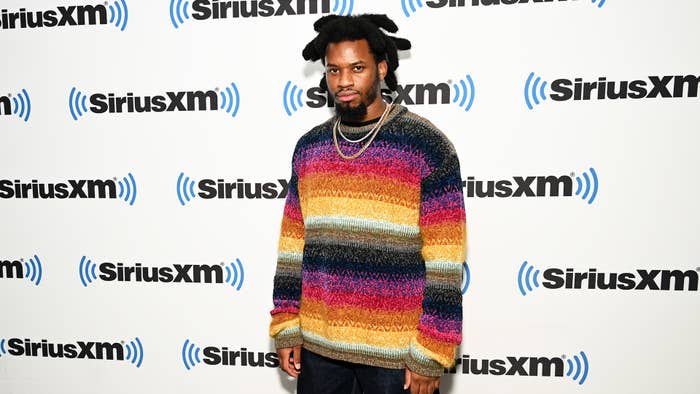 Denzel Curry had time today.
Shortly after the 2023 Grammy nominations were announced for Best Rap Album, Curry voiced his frustrations on Twitter. The albums nominated are DJ Khaled's God Did, Future's I Never Liked You, Jack Harlow's Come Home the Kids Miss You, Kendrick Lamar's Mr. Morale and the Big Steppers, and Pusha T's It's Almost Dry.
In a long series of tweets culminating in the phrase "Scammy Nominations," Curry first praised GloRilla before making a case for why his album Melt My Eyez See Your Future should've been nominated.
"Glo Rilla Deserves it But For The Rap Album Category I can literally Name you 10 other albums that were actually good congrats to kdot and push but all that other shit come on bruh… This shit bout money at the end of the day so if that's what it comes down to I'm going get my bread up In the words of the Late Great Kimbo Slice Man lemme get ma bread."
Curry continued, "My Album literally tied with one of the albums that was nominated for a Grammy and I still got robbed All my homies that came out with Top Notch solid albums this Year Got Robbed They don't care about the culture They only care about building the majors 2000 TFS LEARN TO SWIM MELT MY EYEZ LUV LETTER SICK There's more too PUPPY $OUL SOLD SEPARATELY N***as worked they ass off and y'all give an award to half ass shit."
He concluded that several of his peers should be nominated, including Smino, JID, Joey Badass, Redveil, Freddie Gibbs, Kenny Mason, Saba, Kenny Beats, Earl Sweatshirt, and Key Glock.
Curry has been critical of mainstream artists before. He previously made comments about Drake and Kanye West's album artworks, clarifying in an interview with Spin that they shouldn't be making subpar albums with the resources they have.
"I was looking forward to Drake's album, 'cause Drake always got something. But then, when you get them albums, you're like, 'What the fuck are you doing?'" Curry said. "We don't even really need to talk about Kanye West, it's Kanye West. But for [Kanye and Drake] to go out, and go against each other and make that subpar work with the resources they have. These are the same producers it's hard for me to reach out to because they don't see the return. You've got all these resources, and y'all made subpar albums. I had limited resources, and I made a great one. That shouldn't happen."