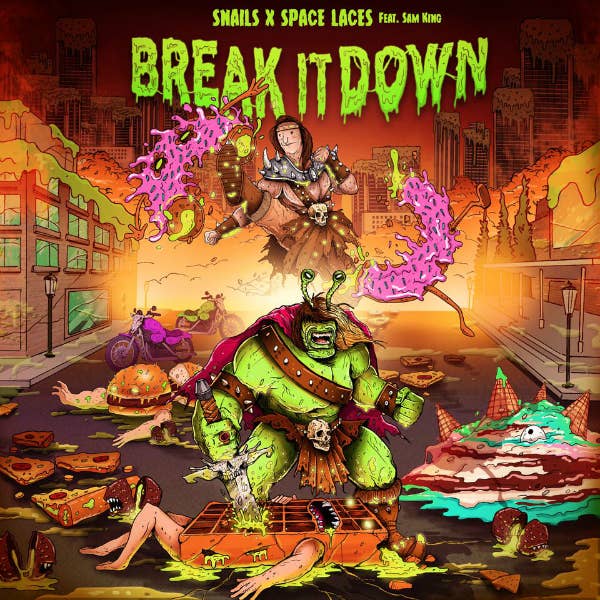 You can always count on Montreal DJ/producer Snails to bring the bass with full force, and fans got a taste of that at EDC Las Vegas when he previewed "Break It Down," his new collaboration with Space Laces and Sam King. The full track is finally out, and it lives up to the bass-pounding performance fans received in the live format.
"I've been a big fan of Space Laces since I started making music and we ended up connecting on Twitter and decided to start an idea together," Snails explained. "The idea turned into 'Break It Down' and I started playing it at my shows and festivals and the response has been absolutely crazy. Almost two years later and I'm happy to finally get this baby out and shout-out Sam King on the vocals!!"
Bump "Break It Down" (at high volumes) below, purchase it on iTunes, and also check out Snails' upcoming show schedule, which includes his Sluggtopia event at Red Rocks Amphitheatre in October. For more info, visit his official website. 
July 28: Tomorrowland Weekend 2 - Boom, Belgium
July 29: Emmaboda Festival - Emmaboda, Sweden
Aug. 4: Osheaga Festival - Montreal, QC
Aug. 12-13: Moonrise Festival - Baltimore, MD 
Aug. 13: Summer Set Music & Camping Festival - Somerset, WI
Sept. 1: Electric Zoo - New York, NY 
Sept. 2-3: Sun City Music Festival - El Paso, TX
Sept. 15-17: Nocturnal Wonderland - San Bernardino, CA
Sept. 29-Oct. 1: Lost Lands Festival - Thornville, OH
Oct. 6: Sluggtopia Red Rocks - Denver, CO