John Legend has consistently used his massive platform to highlight pressing issues in America, whether that be in support of Black Lives Matter, Colin Kaepernick and the NFL protests, or an outspoken stance against President Donald Trump. That all comes together in his new video for "Penthouse Floor."
Legend plays hotel employee John Stephens—which also happens to be his real name—who does his part to shine a light on unity in a country divided. You can check out the video for the standout Chance the Rapper-assisted track off his latest album Darkness and Light above.
Taking a break from his Darkness and Light Tour overseas, Legend spoke with Complex and broke down the message behind the video for "Penthouse Floor" as well as shared his thoughts on Eminem's recent freestyle aimed at Trump and his supporters. 
(This interview has been edited and condensed for clarity.)
The narrative of "Penthouse Floor" takes on this idea of people not being aware of what is going on in the world, and this pops up in the video where you have people protesting. Was that something you originally had in mind when you were making the song?
With the chorus of going to the penthouse floor, we were thinking about upward mobility, and thinking about escape. The more I sat with the song as I was making the record, I wanted to have more attention in the song where I was thinking about not just upward mobility and escaping, but also thinking about what it means to come from humble beginnings like I come from, a blue collar family, where people that are often ignored and forgotten about, and to elevate to more rarified air like I am now but to not forget about where you come from. And to use your power and status to uplift people and shine a light on places where we come from. That is what the song lyrically evolved to and that is what the video represents.
One of the individuals who is protesting is wearing a Colin Kaepernick jersey. You were one of his early supporters when he initiated his protest last season. Have you been in contact with him about potentially working on something, or is that something you would be open to doing with him?
I am absolutely open to working with him. We have been in touch a little bit, not a lot because we are both busy, but I have been supporting him from afar; I think a lot of celebrities are. We care about justice, we care about the cause of Black Lives Matter, and he has caught a lot of heat for being so bold and putting his career on the line for the cause. We want to show him as much love and support as possible, we will continue to do that, and I will continue to do that.
I love that [Eminem] made such a bold statement because he risked alienating some of his core fans.
Chance the Rapper doesn't appear in the video but he's certainly there in spirit with the guy wearing the Chance 3 hat. Chance has also been very vocal when it comes to these social and political issues. Was that something you took into account when you worked with him?
I love Chance, I think he is one of the most exciting new artists that we have right now. I love that he is so active, particularly in Chicago, and doing what he can to uplift his city. I think he is a perfect illustration of someone who has reached rarified heights that hasn't forgotten where he has come from and uses his platform to empower other people and shine a light on his community. I was so happy for him to be on the song, and would have loved for him to be in the video but it just didn't work out logistically. I love his verse because it's really clever and perfectly captures what the song is about.
You've been vocally against Trump and the things that he's done, and in this video there's a guy wearing a red hat that's similar to the Make America Great Again hats. He eventually drops it at the end. I feel like that's you saying enough is enough.
Yeah, in a way enough is enough, but it's also saying we all live here together in this country, and we want to live in a harmonious and peaceful way. But if your desire is to further Trump's cause, which I believe is white supremacy, then we can't be on the same page. But if you drop that, we can.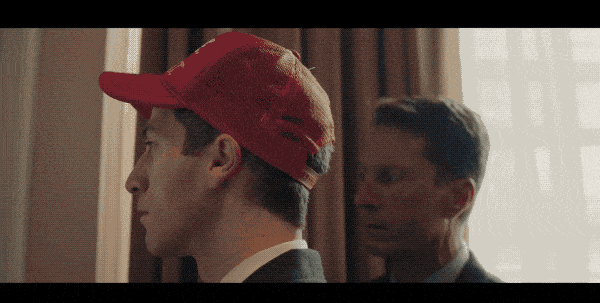 I'm not sure if you've had a chance to hear it or see it yet, but Eminem shared a verse where he draws a line in the sand regarding his fans supporting Trump. How do you feel about that approach to this issue?
I did see the video, it's dope, and Eminem is dope as always. I love that he made such a bold statement because he risked alienating some of his core fans by doing that, and for him to do that I think is particularly powerful. I love that he's saying we all live in this country together, and if you vote for that then you are saying certain things about what you believe and what you want this country to be.
When [Trump] says that Mexicans are rapist and killers, you can't vote for him and not own that. When he says that he wants to ban Muslims, you can't vote for him and not own that. When he's the birther-in-chief and questioning the credentials of Barack Obama, the first black president, you can't vote for him and not own all of that. Eminem is saying if you voted for that and you own that, then we are not on the same team, and I have to concur.
It's been nearly a year since Kanye's visit with Trump, and you were critical of that event. Have you been in contact with him since?
Yeah we have been in touch, last time we hung out was Easter. I think if you were to ask him now, he might not feel the same way he felt last year about Trump. But either way, Kanye and I are old friends, and we aren't going to stop being friends because we don't agree on this particular issue. You would have to ask him how he feels about Trump now.