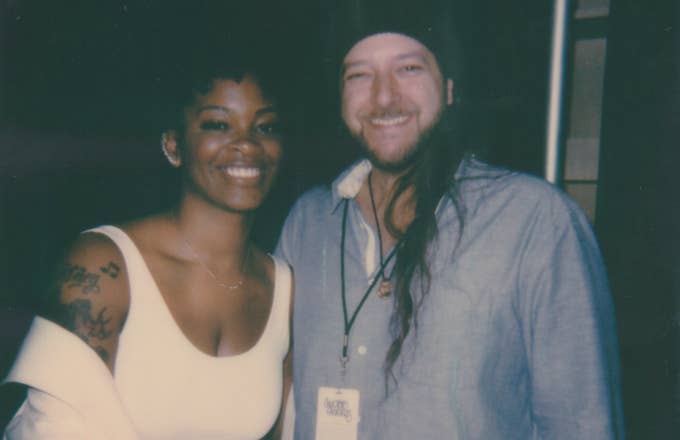 Ever since Ari Lennox signed to Dreamville Records in late 2015, the Washington, D.C. talent was determined to deliver a debut album that fully represented who she is. More than three years later—along with an EP, various guest spots, and opening for J. Cole on tour—Lennox has released Shea Butter Baby, a labor of love that found the 28-year-old singer working with co-executive producer Elite.
"Shout out to Elite for really including me," Ari says, pointing out how closely she worked with the producer throughout the whole process. "I got a chance to really learn what I like to hear. And I finally found my voice in music with this album. I've never been this involved in the whole project in my life, ever."
Complex spoke with Ari and Elite about the process of putting together Shea Butter Baby over the course of several years. The two also shared what to expect from the upcoming Dreamville compilation project, Revenge of the Dreamers III. The interview, edited and condensed for clarity, is below.
Talk about the relationship that you guys have built through working together on this album.
Ari: It was natural from the first time we created. I think we just connected so easily because we have similar values and morals on life, and we're super goofy. Also, Elite is so sweet and humble. So if I'm like, "Hey, I'm really looking for this type of vibe," he will listen and help. A lot of people want to do their own thing, but I may not hear something to their thing. Elite will hear what I'm saying.
Elite: I think it really just came from the fact that we were both staying at the Sheltuh, a studio in North Carolina that Cole had for all of the artists to camp out at, and we were both camping out there. It wasn't just like we were in there making music; we were in there hanging out, too. So we would go to lunch together, we would kick it, and we started building a friendship, which I think made it a lot easier and more fun, too, to create.
The creating was easy once you've built that comfort and that trust between people. The worst thing in the studio is when you get with an artist or a producer and it's just awkward. You can't really talk to them, or you feel like, "Hmm, I don't know if I want to say this." But with us, we had the friendship first, so it was easier for us to communicate and work together once we had that established.
With the songwriting process on this project, were these ideas fully formed? Or were you working on it as you were going in the studio?
Ari: The songwriting is just whatever is happening in my life right then and there. Sometimes it's just very blunt. "Chicago Boy" is like, I'd just gotten back from Chicago not too long ago, and I was thinking of this guy that I met. And then Elite had this fire beat and I was still thinking of this guy, and it just grows. My best writing is not outside of the beat. I'm 99 percent influenced by the beat first, and then the words just flow. Elite's incredibleness really brought those words out of it; really brought my life experience to life on the music.
"I finally found my voice in music with this album. I've never been this involved in the whole project in my life, ever." - Ari Lennox
Elite, this is the first project that you've co-executive produced since carrying out those duties on J. Cole's 4 Your Eyez Only. What insights did you bring from that experience into this project?
Elite: I think just attention to detail: Being able to see a song in its demo form and understand that there's still levels we can take it through tedious work, which is what we did with 4 Your Eyez Only. I think with this project, that was something I was preaching. With certain songs, they might have just started as a loop. When you're creating, you want to be fast, you want to be quick. Especially with Ari, she writes so fast. With "Static," I remember I didn't even finish the drums and she was like, "I want to record." And I was like, "Uh, these aren't done." And she's like, "It's OK, don't change it." And I was like, "OK." They stayed that way.
Ari: Sometimes I need that.
Elite: But also having the experience to know that even though these songs feel really good in their demo form, we can take it to another level by getting with some musicians and adding dynamics and making sure the mix is super polished. Details like that to bring it to its highest level.

Ari: Yes, and I've learned not to give up on a song either. Let the producer do his thing, let the engineer do his thing. There are so many levels it takes to make a song. We've added beautiful things and the musicians added beautiful things. And the mixing engineer making sure you're hearing those beautiful things.
Elite: Correct me if I'm wrong, Ari, but I feel like she really learned to trust her ear, too, when it comes to those things. And when we would go through stuff, she knew when it was right or when it was too much. I think she developed a lot of confidence during that process, too.
Ari: Thank you! I did grow a lot. There were things I never cared to pay attention to before when it came to finishing an album and really editing the song. I can't believe how involved I was. That's all. Shout out to Elite for really including me. I got a chance to really learn what I like to hear. And I finally found my voice in music with this album. I've never been this involved in the whole project in my life, ever.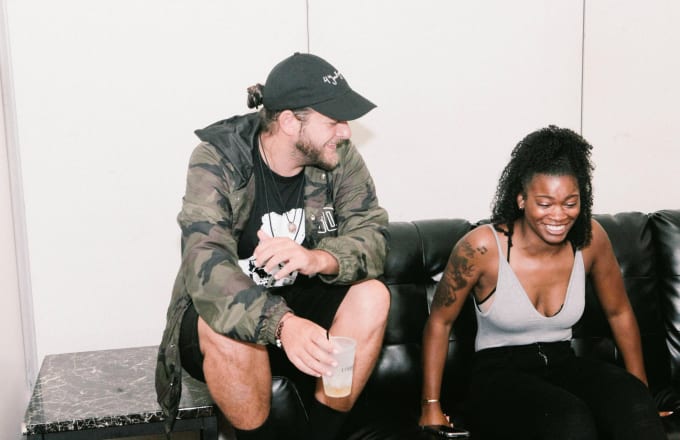 Was it the plan to use a lot of instruments in the production from the beginning?
Ari: Definitely. That is my favorite part of life. The guitar, the live drums, the live musicianship of it. I adore producing and samples, but how can we also elevate it and make it more of our own with our musician friends? That was very important to me.
Elite: I think what we're seeing now, too, is how well that translated into the live show. Even from last night when I was seeing some of these songs with the live musicians. It really lends itself well to a live show. As opposed to if it was just loops and some hip-hop regular beats, it's a little bit more difficult to take that live show to the next level. But I think the live show's really benefiting from that.
You worked your way from 40 or so songs; the project has been in the works for a few years. How did you know, "OK, this is what I'm going to put out as my debut album"?
Ari: I'm being real with you: We went through hell trying to commit. Things were just mixed in a way that I originally heard it; it was still not too different from the demo. Artists tend to get this thing called demo-itis, and I'm extremely guilty of that. So, when people like KQuick and Mez were mixing the hell out of this project, sometimes I got a little hesitant on certain things. But, I'm so glad I finally trusted them. I think it took two months for us to finally edit it in a way where I was pleased—where everyone was pleased. I wasn't going to drop no project that I wasn't happy with mixing-wise.
It's cool looking back on it, how raw that was and how serious I was about it. I have to love this, I have to love the way it sounds, or it won't be fun. And it all worked out, because I love the way it sounds and it seems like a lot of other people do, too. I'm really grateful that we did it. But yeah, I don't know what made me realize it was done. They just finally took all of the notes I had, and they fixed some notes. The album just became perfect.
"When we're working together, it's a beautiful vibe. I just really need that in my life." - Ari Lennox
Do you see your next project taking as much time? Do you feel like the experience you've had now will lend itself for you tightening up the process?
Ari: Oh, hell yes. First of all, the next album, I'm only working with one recording engineer—just one. I'm going to work with Elite, DJ Grumble, basically everyone who was on this album. I'm trying to keep it very simple. Stick with the team, stick with what makes me happy, with what works. There are a lot of incredible producers out there. But that doesn't mean when you get in the studio that the vibe is right and that it's a fun experience, and you can trust people, and just have a good time. And have a nice, beautiful, therapy session. When we're working together, it's a beautiful vibe. I just really need that in my life.
I would like to drop another project next year, but this project made me realize that taking our time is the best thing, because a lot of these songs were made in the last two years. If we just rushed and put out a project a long time ago, a lot of the other songs wouldn't have made it. "Up Late" wouldn't be on the project. I want to take my time with this next project, so we'll see what happens. Maybe three years, maybe five, maybe 20...
Elite: [Laughs]. I'm a big believer in the same things Ari said: taking our time and making sure it's perfect. I think we both got so much better. I think there's a lot of elements of the process that are going to be faster next time. You just get better when you go through something like this. You put so much pressure into something, and you spend so much time working on it, you can only get better. And the next time you do it, you know which things you can kind of skip, and how to be more efficient. Like, OK, we just need to do this, we don't need to exactly spend all this time on this, because we know that Ari likes it like this. There are certain things that we learn that will speed up the process. But at the end of the day, it has to be perfect, so you can't really put a time on it feeling right.
The Revenge of the Dreamers project is still being worked on—
Elite: What's that? [Laughs].
[Laughs]. I don't know how much you can speak on that. Maybe the contributions that you put in, or what you're excited for fans to hear when that project does come out?
Ari: Oh, man. There's a lot of beautiful treats on that. I got to work with a bunch of people I've never worked with before. There's music that me and Elite made that I don't think is gonna be on Revenge of the Dreamers III, but I know we got some extra ammo for the next album. I'm excited for Revenge of the Dreamers III. That whole process was life-changing. I've created life-long friends with Guapdad [4000] and Buddy. Even J.I.D and I got closer. Smino! I love Smino to death. It's just going to be beautiful vibes and it's going to be a lot of nice surprising treats. That's what I can say about Revenge of the Dreamers III. 
"I think people are going to really like ['Revenge of the Dreamvers III,' because it puts artists like Ari and all of our other artists in a context that you haven't heard them in, working with people you'd never think to hear them with." - Elite
Elite: Ari definitely has some records on there that are going to carry her momentum even further because they're pretty special. We have these opportunities to put this great album out, tour, and then it's like, boom, we got this compilation coming out with amazing songs on it that are going to keep the buzz going. I think people are going to really like it, because it puts artists like Ari and all of our other artists in a context that you haven't heard them in, working with people you'd never think to hear them with. But it's refreshing.
We're all so home team oriented, which is great; it gives us that organic sound. But this was a really cool opportunity for people to hear all the artists in completely different scenarios and contexts and see how they can shine with a whole other backdrop, or pairing with a whole different kind of artist.
Ari: And shoutout to Baby Rose. She's a phenomenal voice, a phenomenal person. She's gonna be on this project killing it. I think the record I have with her is one of the most exciting accomplishments that I've made in a while.