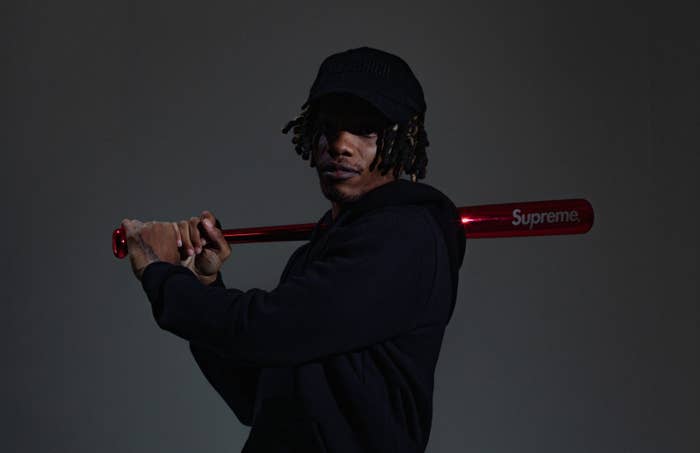 It's the eve of Youngs Teflon's launch party for All Eyes On Me Against The World, and Storm Eunice is raging outside the Just Hype store on Carnaby Street, London, where it is being held. Luckily for Youngs, Eunice's tantrum didn't stop it from being a successful night—one filled with good vibes and even greater music—and the room got to properly celebrate one of our greats the way that he truly deserves.
Of all the heavyweights in the 'road rap' sphere—a darker strain of British rap that grew wings in the mid-2000s—Youngs Teflon, by his own admission, has never been the most celebrated. While acts like Nines, Fredo and Mist have fused their hood-and-proud essence with brighter and chart-friendlier elements, Youngs Teflon has stayed unfailingly true to his gritty core, the reward of this approach being a fifteen-year career with one of the most locked-in, ride-or-die fanbases known to man or woman. But beyond being lauded by his loyal following, the name 'Youngs Teflon' isn't brought up as much as it perhaps should concerning the giants of UK rap—and that has to change. Still, he takes great pride in the path he's etched out for himself.
Since 2009, the Brixton native has been feeding his fans solid, street-inspired food for thought through his bodies of work. From debut mixtape Tef London to his Call Of Duty trilogy and Trillin' 1 & 2, to Tracksuit Diaries and Blood Swvgg & Tears and now All Eyes On Me Against The World—in terms of consistent greatness, no one can really step to Youngs Tef's discography in UK rap, and it's about time the scene at large recognised this. He might not be big on TikTok, but he's probably your favourite rapper's favourite rapper—every bar and flow packaged with some witty punchline or life-game he's picked up from his own journey. On Tracksuit Diaries opener "Sixteen", Youngs Teflon takes stock in his position, spitting with vim: "I ain't got no accolades or awards/Shit, I'm barely even mentioned in the ranks/But it's mad I got the streets and the roads, the hood, the squad and the camp."
To be fully understood by a select few over being celebrated by all and it lasting but for a moment, shows you exactly where he is at. New project All Eyes On Me Against The World sees the veteran rapper continue to strike the balance between speaking from his own mindful perspective and that of the rough and rugged roads he rose from. Not only is his pen a thing of awe on the new EP, but his beat selection has also gone up a tier with luxurious, perfectly-paced beats accentuating his heart-hitting street sermons.
Just before his launch party started, we had a chat with the South LDN artist about his latest drop and his unshakable stance in the UK rap scene.
"I started realising I'm not even underrated, I'm just undiscovered. If you know me, you know—and you rate the ting highly."
COMPLEX: How's it going, Tef? How are you feeling about the new EP, All Eyes On Me Against The World, finally coming out?
Youngs Teflon: It's been a full year since I last dropped a tape. I normally drop something every year and this project was supposed to drop last year, but with lockdown going on, I wasn't in a rush to release anything. I was still working on a lot of music though. I said to myself, "You know what? Let me just wait and do this properly," so I can do things like what I'm doing today with the listening party. Before, we couldn't even come outside like that so I'm pretty excited about it. More than I have been for the last few projects, to be honest. There's a different feel to it.
All Eyes On Me Against The World—what was the thinking behind that title?
There's a couple of reasons. First off, it's not named that because it sounds anything like Tupac's music. It's a nod to him, but it's also like I'm is having a second career right now, so it's almost like I'm showing my loyal fans what they already know I'm capable of and at the same time showing the new audience: this is new to you, but this is what solidifies me in this space. It's proving why I should be here without having to prove myself, if you get me.
I get it. I feel like the singles leading up to the drop have built up a lot of momentum and energy.
Musically, it's something I'd say I made for myself first. I didn't make it for fans, or because of what's current, or to play on radio. I literally made the music I can see myself listening to. From the reaction to the singles, everyone's saying, "You're making your old type of music again! You're going back to the old Tef." Which is true, but I feel like there's a new element to it as well. It's more current.
You're an impressive 15 years into your career now, and you're considered a legend in UK rap by many. But how have you stayed inspired all this time?
As cliché as that might sound, I listen to everything. You might say, "Check out this young boy who came out yesterday—he's hard!" I might give him a one-minute to see what he's about. Or, I'll use whoever's relevant or popping from the younger generations to inspire me. I vicariously live through them [laughs]. It reminds me how that felt when I was young and hungry. It keeps me going.
You recently stated in another interview that you might sign to a major in the not-too-distant future. Why are you considering signing to a label now, after remaining independent since the start of your career?
Well, one: I stayed independent this long because I had to. Two: I've been doing this from a time where not everyone was getting label deals like that. I've had to learn the game by doing it independently anyway, so because of what I know now, if I was to go to a major, I'd know exactly what I'd want from them—you know what I mean? I feel like for me to put out a top-tier album, I'd like label backing, but also with the freedom to make music how I make it.
"Sometimes I sit back and listen to my old songs and I'm amazed. Like, 'Rah! you made that? That's mad.'"
You tweeted recently about people telling you that you're "underrated." You've worked to a point where it's now something you actually don't mind your name being attached to. But was there ever a time when being seen as an underrated rapper got under your skin?
Yeah, at first it did… Maybe for the first half of my career. But at the same time, I didn't know how big I was or how much reach I had until I started performing and leaving the country. I realised, "You're focused on this one little group of people and what they're saying and you don't even realise you've got a whole madness going on outside of that." And then I started realising I'm not even underrated, I'm just undiscovered. If you know me, you know—and you rate the ting highly. Everyone else who doesn't know, I own that now. That's me.
I've heard you talk about that before, realising that you had fans from all over—first outside of South London, then outside of the UK—and it changing your whole perspective on things.
The world is so big and we live in a country that's tiny, but because it's so important on the map and full of different nationalities, you never realise how small it is until you leave. When I say "leave", I don't mean going on holiday—I mean actually experiencing other cultures. Rap in America is a whole different ball game. The way they love and appreciate it—artists from here would be ten, twenty times bigger if they were from there. Even if they did the same exact thing they did over here.
Youngs Teflon fans typically aren't the mercenary types that populate most fanbases—once a Tef fan, they ride with you for years. Why do you think your fanbase is so loyal?
I feel like it's because my music has replay value. It's something that you'd want to hear five, ten years from now. Sometimes I sit back and listen to my old songs and I'm amazed. Like, "Rah! you made that? That's mad." And then I'm tryna figure out the dates, like: "How old were you when you wrote this?" My music has real replay value and it's not just current. I'm not only talking about what's going on today—I'm talking about stuff you can relate to in the future as well.
There are more road rap artists that achieve longevity than a lot of the other rap subgenres. Why do you think that is?
Even though people might say it's a one-subject matter, it still varies across the board. You have a Blade Brown, who's flashy, who talks about the lifestyle and the hustle, and then you have a Potter Payper, who talk on pain, the struggle and jail. Then you have the likes of Rimzee, who talks about making it from nothing and the business aspect, and then you have me—I think I cover all genres, within that one genre. It is called 'road rap', but there are a lot of sub-sections so, really, it's its own space. And it's original. It's what we know! It's probably one of the most original forms of UK rap, to be honest. From Giggs to Joe Black, everyone's authentic.
Like you said before, the energy around this latest drop is different to any other project you've released. How do you feel about hitting a new level at this stage in your career?
As much as I've been in this for 15 years, I feel like a new artist again almost. After taking a break, looking back, preeing the game and reinventing myself, I'm going back to a style I'm comfortable with. For a lot of people, this is their first real time taking in my music. I get people every day saying, "I just found out about you today", or "how did I not know about you earlier?" I'm just like, "I've been here the whole time!" [Laughs] But like I said: I've been undiscovered. Some people just don't know, and it's not their fault. But, sooner or later, you'll get to know.