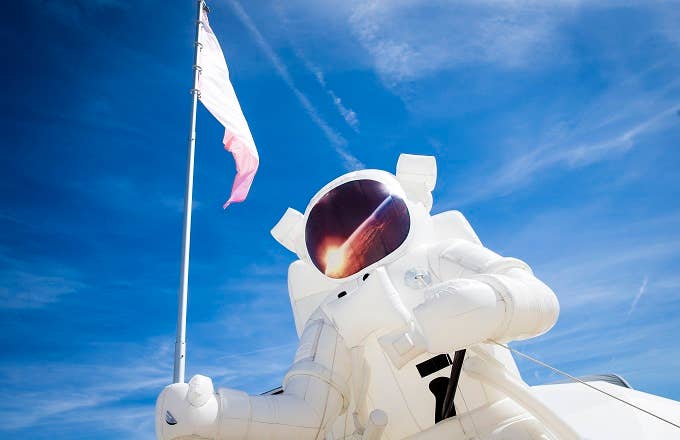 This year's WECANDANCE in Belgium, which took place across Aug. 13 and 14 on Zeebrugge Beach, saw some stellar sets from the very best in house and techno from all four corners of the globe. Rave heavyweights like Jamie Jones, Club Cheval's Sam Tiba, Dixon, Maribou State, Roy Davis Jr. and more descended on the crisp white Belgian beach for the weekend's madness. But in spite of all that, there were plenty of up-and-comers and relative unknowns who more than matched the prowess of the festival's big names.
We couldn't review the festival without mentioning the mind-blowing design that adorned every last bit of space across the site. Each year, the festival assumes a different theme and this year, WECANDANCE's fourth, the theme was space—and that meant intergalactic artwork, huge planets, shimmering sequins, giant lightbulbs, silver pool sliders and an over-arching sci-fi vibe. We're not sure what next year's theme will be but we're hard pressed to think of a theme more fitting for the kind of hedonistic, space-age beats blasting throughout the festival site.
Of course, the music was the most important thing that weekend. The obvious highlights were Jamie Jones, Sam Tiba, Roy Davis Jr. and the rest of the big-name acts but the real excitement came from discovering the local talent the festival pushed. Ghent duo Catwar & Lilihell enthralled the crowd and won over a lot of new fans with their bass-heavy, ultra-cool club tracks, as did another Belgian DJ, Brussels' Laura De Greef with an equally enticing set of laid back house. If you went to WECANDANCE for the big name dons, you stayed for the raft of Belgian talent waiting to take over.
Peep what went down in pictures below.