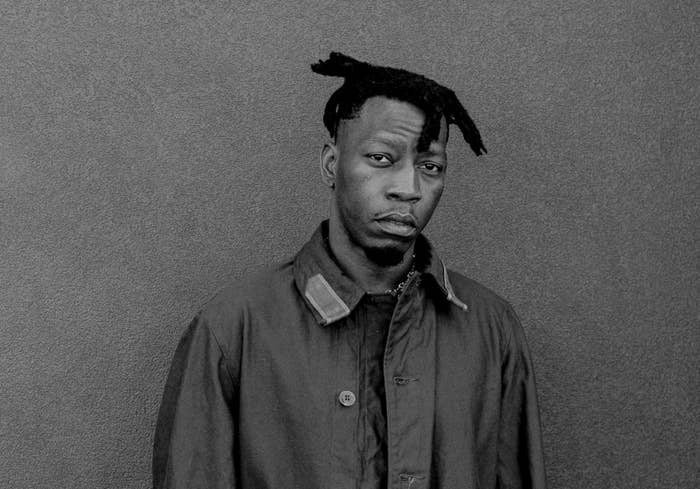 Singer, songwriter and producer Tiggs Da Author has been the go-to guy for rappers looking to elevate their tracks and maybe even take a shot at the charts. In October, however, Tiggs—who was born in Tanzania and raised in London—took centre stage with a project of his own entitled MOREFIRE.
Fans have been eager for an album or mixtape ever since "Run" with Lady Leshurr in 2016, and that desire has only been amplified in the intervening years with a constant stream of A-list collaborations. This time, Tiggs was calling the shots and MOREFIRE is exactly what we'd hope to get from him. It's still packed with guests (there's only one solo cut on the whole thing), but the creative vision is all his.
Praised for his knack for hooks as much as anything—SL and Nines quickly clocked on to this, tapping him up for memorable collabs several times each—it's been exciting to see what Tiggs has done with his own name above the door. Now the red-hot rhythms and melodies we enjoyed on past offerings like "Run" and the Glenville Grove EP comes right to the fore. Now the likes of Blade Brown and K-Trap, who are usually accustomed to dark and gloomy rap beats, are in his domain and, we're pleased to say, they have all risen to the occasion. "MOREFIRE is for the young, ratchet me," says Tiggs, "the stuff that I want to listen to before I go out to the club, stuff that my friends like to listen to. This is one for the mandem." And it certainly makes for an energising party-starter, but there's a little more to it than that.
Here, Tiggs Da Author breaks down every track on MOREFIRE. Take it in below and cop or stream the full album on iTunes or Spotify now.
"Rolling Riddim" f/ Skrapz
"'Rolling Riddim' is a sick little intro for the tape. I wanted to do something with Skrapz for a long time; we met ages ago at a Nines video shoot, and have wanted to work together since then. So when I was putting this project together, I knew I had to get Skrapz on there. Originally, I was going to get someone else on the tune and have that part as the intro but I thought it just worked really well as an interlude/intro for the tape. I feel like it sets the tone nicely."
"Batty Ryda Riddim" f/ Nafe Smallz
"'Batty Ryda' was a last-minute addition, actually. It was a tune I did a while back with Michelin Shin and KZ. They played it to Nafe and he did his thing on it. I love this tune; it's perfect for the girls to sing along to."
"Rumours Riddim" f/ M.anifest
"'Rumours' I did with producers TSB and Maestro. They killed the beat on this one! The tape has a very UK sound and, while I wanted the best of the UK scene, I also wanted to add some African flavour so I called on my guy M.anifest from Ghana. He killed his verse and I'm super happy with how the track came out. I've had the verse for time and wanted to use it for something... This one's about people who smile to your face but talk behind your back."
"Nasti Riddim" f/ Not3s
"Not3s and I made this a little while back. First, he was going to use it, but I said: 'Yo, can I put this on my project?' I just felt it had the sickest vibe for MOREFIRE. I produced this one, too, and his verse just sits so nicely on the beat. We had some fun shooting the video for it early this year in Morocco. It's basically just a little vibe about some beautiful girl who I'm daydreaming about."
"Gangsta Flex Riddim"
"This is the only song on the tape that has no featured artist. The whole idea of the project was me putting together a bunch of songs with people who are killing it in the scene; there was no planned feature for this one, but the beat was so cold I jumped on it myself and kept it as a solo track. It's just about feeling yourself and your own vibe. I had a little moment [laughs]."
"Plaza Riddim" f/ K-Trap
"Me and Trap got together a while back. Blade introduced us and as soon as we went in the room, we got something so sick! It's not actually this one, as he wanted it for his project, but it never ended up coming out. We did 'PLAZA' the second time we got in and I just love the playful vibe of it. It's cheeky and shows a fun side to both of us; my guy, Show N Prove, on the beat as well."
"Kinshasa Riddim" f/ Blade Brown
"Me and Blade go way back. I've featured on a few of his albums now, firstly 'Drug Dealer' from his Bags & Boxes 3 album, and more recently Bags & Boxes 4 on '6am'. Blade is a legend in the UK rap scene and he was one of the first people I called when I had the idea to do this project. He went so hard on this one, it was only right to have it as my first release from the tape. Show N Prove produced this one also."
"Operator Riddm" f/ NSG
"I just love everything that NSG do, man. They're killing it right now! I knew I had to get these guys on there. They came in and done there thing, super quick. I actually came up with the idea in LA earlier this year; I was out there with a sick producer called Maximilion Jaeger. I've got a few with him, which will hopefully drop at some point."
"No Goonz Riddim" f/ Kida Kudz
"Kida's a real cool guy, and I love his energy. Me and him have been working on some more stuff recently, so look out for that soon. This tune is just a good message about leaving the bad-mindedness at the door and enjoying the party."
"Traffic Jam Riddim" f/ SL
"Me and SL first hooked up on 'Oh My' on Nines' Crop Circle album. The album has since gone silver and lots of people gravitate to that tune in particular. It's always sick performing it live. I got in with SL after that and we did something for him called 'Oh Please', which went on his Everything Good Is Bad project. He's one of the hardest out there at the moment, and he's still so young! His flow is unique and so is this tune."
"Man Don't Lie Riddim" f/ Asco
"'Man Don't Lie' is one of my favourite tracks on the project. Me and Asco got in the studio one night and done this mazza! He killed it on his verse so I had to add it to the tape. Show N Prove on the beat again... Show's got a few on this project and we always work really nice together. Lots more to come from us, too."