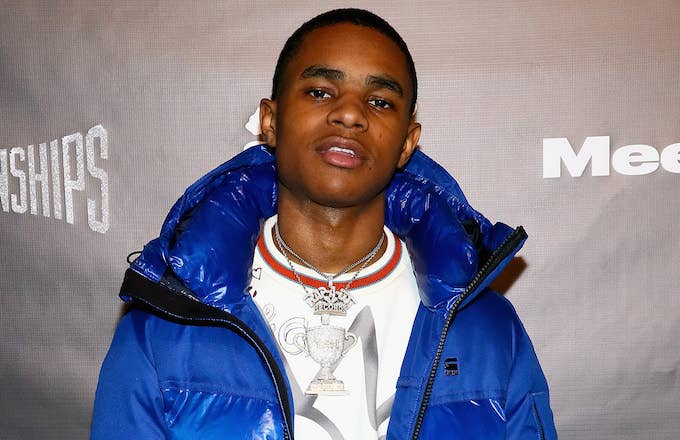 YBN Almighty Jay was allegedly robbed Friday night by a group of New Yorkers.
A video that appears to show Jay getting jumped Friday night has surfaced online. In the clip, he's seen running away while the narrator curses him out and rants about an alleged incident that took place on an elevator. Later, the rapper is seen sitting on the ground as assailants attempt to kick him, rob him, and curse him out even further. "Is that the YBN n***a? Take his chain!" someone yells, at one point.
Per TMZ, the fight began outside of a Saks store, where Jay was shopping with his friends. Another rapper, Lil Tjay, walked into the store with his crew and an altercation ensued, spilling onto the street. At first, it seemed like Jay and his friends were handling the skirmish well, but then later, when Jay got separated from his friends, he was chased and beat up. According to a TMZ source, Lil Tjay had nothing to do with the altercation.
At one point, the video cuts and then appears to show Jay and his assailants in a building. The rapper's pants fall down as the group take his personal possessions, including his wallet, YBN chain, and shoes, TMZ reports. The police were called but no one wanted to report the crime.
On Feb. 26, Jay turned himself into police over a week after he was named a suspect for a felony grand theft. Jay was suspected of stealing $80,000 in jewelry and cash from New Jersey rapper Skinnyfromthe9. Surveillance footage puts Jay at the scene where a crew allegedly walked off with tens of thousands of dollars worth of watches, chains, and money. The alleged theft happened while Jay was shooting a video with Skinny. Though Jay turned himself into the LAPD, he's maintained his innocence.