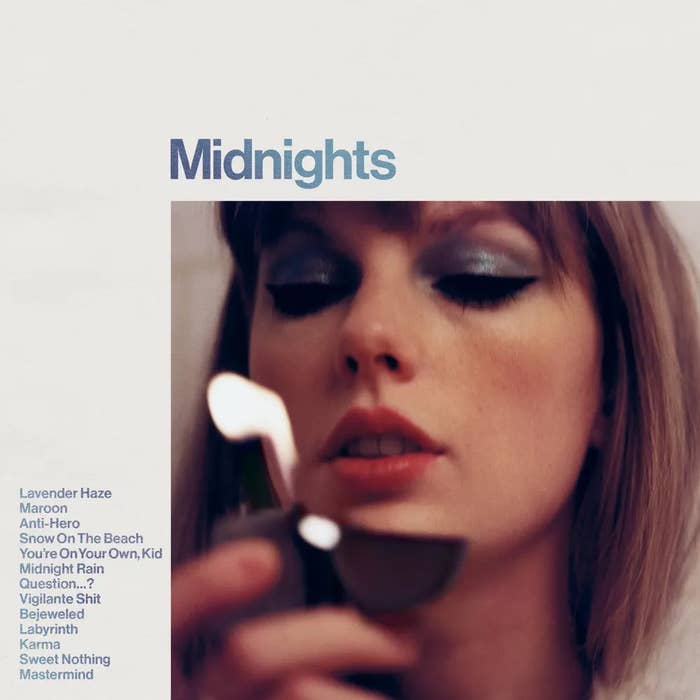 Taylor Swift's long-awaited album Midnights is here.
This time around, the singer worked with producer Jack Antonoff, Lana Del Rey, Zoë Kravitz, Sounwave, Sam Dew, Jahaan Sweet, Keanu Torres, William Bowery, and more.
Telling fans to expect "the stories of 13 sleepless nights scattered throughout my life," Swift wrote on social media, "This is a collection of music written in the middle of the night, a journey through terrors and sweet dreams. The floors we pace and the demons we face. For all of us who have tossed and turned and decided to keep the lanterns lit and go searching—hoping that just maybe, when the clock strikes twelve…we'll meet ourselves."
Taylor mapped out an elaborate rollout leading up to her 10th album's arrival and past its release. On Thursday, she had a Midnights teaser trailer air during the third quarter of Thursday Night Football on Prime Video. The music video for "Anti-Hero" is set to Friday at 8 a.m. ET, and another visual is slated for an Oct. 25 debut, with fans speculating it's for "Vigilante Shit."
Swift is also gearing up for a couple late-night appearances, including the Tonight Show Starring Jimmy Fallon on Oct. 24 and the UK's Graham Norton Show on Oct. 28.
Additionally, in the days prior to the release of Midnights, Swift teamed up with Spotify to plaster new lyrics on various billboards across the world. The first, in Times Square, read, "I should not be left to my own devices." Her campaign with Spotify will also include a clip where she'll divulge five things that inspired the record.
Stream Taylor Swift's Midnights album below.
Overnight, Swift extended the Midnights experience with the surprise release of seven additional songs. According to Swift, these are songs that were penned during the sessions behind her new album but ultimately didn't make the main tracklist.
"I think of Midnights as a complete concept album, with those 13 songs forming a full picture of the intensities of that mystifying, mad hour," Swift told fans in an IG note. "However! There were other songs we wrote on our journey to find that magic 13."
The result, available below, is billed as the "3 a.m. edition" of Midnights.
Friday morning, the official video for main album cut "Anti-Hero" was rolled out. Swift wrote and directed the video, which includes some noteworthy guest appearances and can be seen in full below.