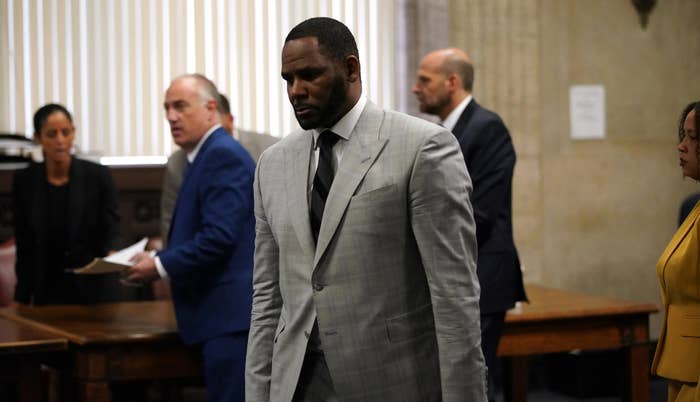 In late March, R. Kelly asked to be released from jail for fear of becoming infected with COVID-19.
Judge Ann M. Donnelly announced on Tuesday that the singer's request has been denied. Kelly also noted that because of the pandemic, visiting hours at MCC Chicago have been suspended, which prevents him from meeting with his attorneys.
In court documents obtained by Complex, Donnelly explained her reasons for rejecting Kelly's appeal. "While I am sympathetic to the defendant's understandable anxiety about COVID-19, he has not established compelling reasons warranting his release. At present, there are no confirmed cases of COVID-19 at the MCC in Chicago," the judge wrote. The Bureau of Prisons has announced emergency measures to protect inmates and staff, including suspending all legal and social visits, suspending inmate facility transfers, making soap available to inmates, screening and testing inmates and staff, and modifying operations at detention facilities like the MCC to maximize social distancing."
The judge writes that Kelly hasn't "demonstrated" that he's at high risk for contracting the virus. The judge points out that while the singer is 53-years-old, that's 12 years younger than the group of "older adults" that the CDC has deemed as high-risk. While Kelly underwent surgery during his incarceration, "he does not explain how his surgical history places him at a higher risk of severe illness," the judge writes.
Additionally, the judge views Kelly as a flight risk. "[Kelly] is currently in custody because of the risks that he will flee or attempt to obstruct, threaten or intimidate prospective witnesses. The defendant has not explained how those risks have changed."
As for Kelly's argument that he won't be able to prep for trial with his lawyers, the judge has said that Kelly can still speak with them via phone and email. The judge added that it's unlikely the singer's trial will take place in July as scheduled, writing that "as conditions return to normal, [Kelly] and his lawyers will have additional time to prepare for trial."
Kelly's original argument was that he was within the group of people considered by the CDC as high risk. At the time, Kelly's lawyer also pointed to the Bail Reform Act, which permits the "temporary release" of a person in pretrial custody if it's regarded as necessary "for preparation of the person's defense or for another compelling reason."
At the beginning of the month, 6ix9ine was released early from prison due to his asthma, which makes him more susceptible to contracting COVID-19.