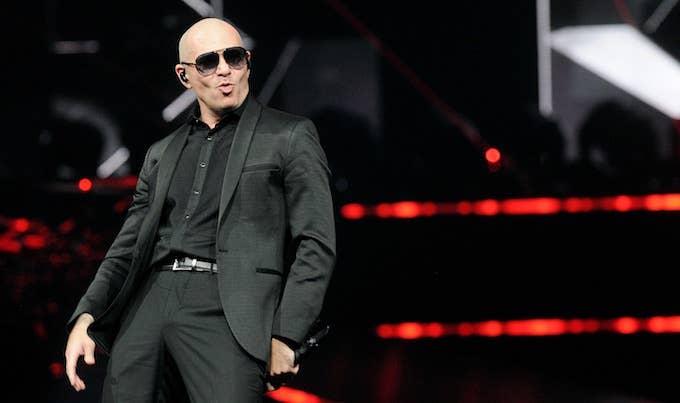 Pitbull has announced that he's going on tour in 2019—and no, this isn't your typical tour: the Miami native is trying his hand at motivational speaking.
He revealed the news to Billboard on Wednesday, also sharing that his longtime hero, life coach Tony Robbins, will be joining the tour. Pitbull expressed how his only wish is to motivate and inspire his fans across the world.
"My mother looked at him as a hero [when I was about 10 years old]," Pitbull told Billboard, adding that when he began making music, he finally met Robbins and they became friends.
Indeed, the two have become close over the years. During the summer of 2016, Robbins spoke on Pitbull's career when the entertainer was honored with the 2,584th star on the Hollywood Walk of Fame.
"His life could've been completely different, should've been based on the law of averages," Robbins said, per Billboard. "He's a man where somewhere inside he's got so much love for people that he couldn't hurt anyone. At 17, he did the most important thing that any of us could do...he  decided what life was going to be about. He decided to leave the idea of selling drugs and see how he could light people up with something much more powerful: his music, his heart, his soul."
Make no mistake—Pitbull is still making music. However, he's trying something new with that, too. For his new release "The Roof Is on Fire," instead of using streaming services, he's embracing pre-internet methods and an independent approach. He thinks it'll motivate his audience.
"I even told [my] team not to register it [on Spotify]," he said, adding, "I'm just being a revolutionary to wake everybody else. Music brings everybody together."
Still, a lot of people aren't fans of the tour, particularly because many view Pitbull as sexist, and because Robbins is a fairly controversial figure. Back in March, Robbins implied that women were exploiting the #MeToo movement "to try to get significance and certainty by attacking and destroying someone else." A video of Robbins' response to an audience member disputing his point was posted to Twitter, where it went viral.
In early April, Robbins took to Twitter to apologize for his remarks. "I apologize for expressing anything other than my profound admiration for the #MeToo movement," the statement says. "I teach that 'life happens for you, not to you' and what I've realized is that I've dedicated my life to working with victims of abuse all over the world, I need to get connected to the brave women of #MeToo."
Check out the reactions to Pitbull's tour below.