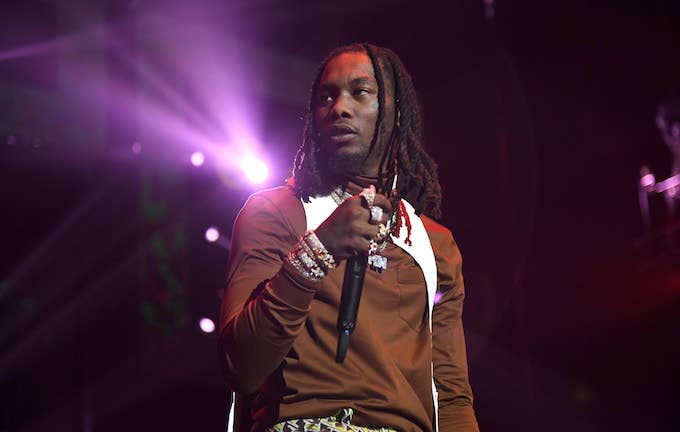 Offset's lawyer believes the fan who approached the rapper is just trying to become famous and land a big payday, TMZ reports.
According to Offset's attorney Drew Findling, the warrant issued for Offset's arrest for purportedly shattering a fan's phone is "disgraceful and should be dismissed immediately."
Findling says the incident occurred when Offset was "simply trying to buy some items for [his] youngest child" at a Target in Georgia. The lawyer mentions that the 18-year-old whose phone was damaged, Junior Gibbons, waited four days before filing a police report, adding "this so-called victim, instead took to social media for an extended 15 minutes of fame."
Findling also shared that there's been no investigation and there is no evidence to support the claim that Offset broke Gibbons' phone.
The interaction took place in late April, with Gibbons uploading footage to YouTube on April 23. In the video, the teen asked Offset "What's up?" when the rapper got near him. It looks like Offset pulls his hand back and smacks the phone; however, the clip doesn't show what Gibbons' phone looks immediately following the incident.
Per TMZ, Gibbons claims that after the phone hit the ground, Offset told him to get the "fuckin' phone out of my face" before walking out of the store.
After the teen filed a police report, Offset was hit with a felony arrest warrant. Gibbons is said to have filed a report with police last Friday. The felony distinction is due to the cost of the device in question, which is seen here with a cracked screen.
Gibbons told TMZ that he only filed the police report so Offset would pay to replace the shattered phone, and that he doesn't want to see the rapper get arrested. The teen added that he's surprised a warrant was issued, and that cops contacted him after he filed the report to verify details and cost of the phone.