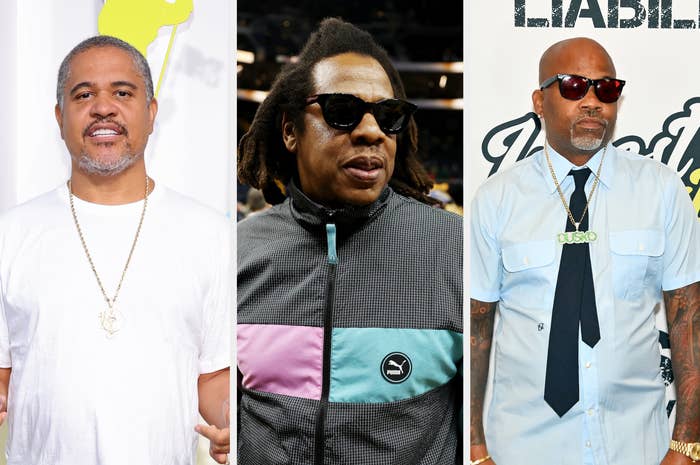 It seems Irv Gotti doesn't really care for Dame Dash.
During Gotti's recent Drink Champs episode, N.O.R.E. asked Gotti if he appeared in The Book of Hov. Gotti replied he hadn't seen it.
"The famous rumor is that Dame Dash is removed from that book," N.O.R.E. added, to which Gotti said, "Probably, I don't think Jay likes Dame."
When asked if he saw this day coming, Gotti said, "Yeah. Remember what I said, Jay didn't need nobody. Jay don't need nobody," commenting on Dame's role in building Roc-A-Fella Records.
"You really don't think Dame had anything to do with the success?" DJ EFN said. "Regardless of how you feel about the person, whatever they did should be credited."
"[Dame] started Roc-A-Fella with Jay so he should get credited," Gotti explained. "I'm saying the making of the records. I don't know, what do you want me to say? Jay was picking the beats, Jay was rapping over the beats. It was all Hov. They was along for the ride."
Elsewhere in the interview, Gotti shared his true feelings on Dame. "Does anyone listen to Dame anymore? He's lit on the internet, good for him," he said around the 20:38 minute mark: " I don't give a fuck about what Dame Dash says."
However, Gotti and Dame do agree on something: Nas' "Ether" diss track outshone Jay-Z's diss "Super Ugly."
"Did I think ['Super Ugly'] was the hardest shit? No. If you'd have asked me 'Ether' or 'Super Ugly,' I'd have been like, 'Yo "Ether,"'" Gotti said around the 25:45 minute mark.
‌Dame said something similar last month, calling Jay-Z's raps "wack" in an episode of the That's Fucked Up podcast.
Gotti also touched on comments he made about Ashanti during his last Drink Champs appearance, around the 1:05:00 hour mark, telling N.O.R.E. that he "validated to the world" that Gotti still had "feelings" for Ashanti.
After N.O.R.E. admitted to saying that, Gotti asked, "You been around me a little bit not like that, have you ever heard me talk about this girl?"
N.O.R.E. responded, "Absolutely not."
"She's fucking done with me," Gotti then said while apearing to be in a playful mood regarding the ensuing backlash, "I can honestly say it just now started dying down. These motherfuckas," he said. "DMs, comments, 'Oh you still love her.' They'll post a picture of Ashanti and Nelly and all the comments will be like: 'Irv's punching the air.'"
Last August, Gotti appeared on Drink Champs and discussed learning about Ashanti and Nelly dating for the first time back in 2003. That and comments about Gotti's alleged relationship with Ashanti rubbed people the wrong way, inciting a backlash. "I could get past you wanting to be with Nelly," Irv said. "Listen, at the time, it happens… any man is hurt. The chick that you fuckin' are in love with is with this n***a."
Ashanti later responded to Gotti's interview, telling Angie Martinez that Gotti was "salty" when he found out about Nelly.
Gotti also threw in his two cents about Drake and Jay-Z. When asked if Drizzy is bigger than Hov right now, Gotti said, "No. I don't view Hov like how I view Drake. Drake still makes music, Hov ain't making new music. Last time I spoke to Hov he said, 'Gotti I gave it all I had.' That was his way of telling me I'm out, n***a. He was just letting me know that he gave it all he's got."
Watch Irv Gotti's latest appearance on Drink Champs below.