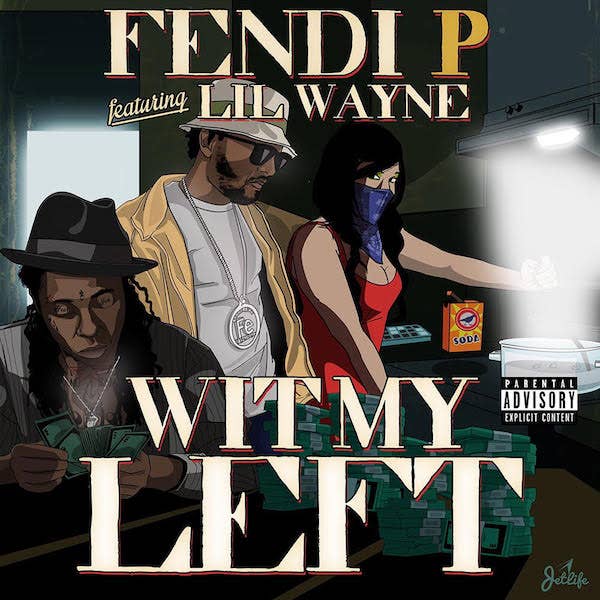 New Orleans native Fendi P—f.k.a. Corner Boy P—is gearing up to drop Late Nights, Early Mornings, and today he shares "Wit My Left" featuring Lil Wayne.
For Fendi, the song is a home team and family affair. "The song came about on tour," Fendi told Complex over email. "I was in the studio banging out records and this track was different than what I was doing on mixtapes; it was next level. I knew it needed Wayne on it and I've always wanted to work with him. When I was in school we always used to argue who the G.O.A.T. was and that's what Wayne is too me. I always go home team!" 
Fendi has been signed to Currensy's Jet Life Recordings imprint for a few years now, and after dropping numerous tapes, is ready to release Late Nights, Early Morning on May 11 via Jet Life/Empire. "This is my greatest work to date," Fendi added. "I'm excited for people to hear it and hear how much I have progressed."
While he used to go by Corner Boy P, Fendi said his name was an essential part of the evolution of his artistry. "As Corner Boy P, fans got to see me grow and develop as an artist. However, there are things I want to accomplish as an artist and as a man. I want to share my story and be a mentor in my community. If I want to visit a school as Corner Boy P, I do so with preconceived ideas of who I am and with negative connotations. So moving forward, it's Fendi P; we all grow and mature." 
Listen to Fendi P's "Wit My Left" and check out the tracklist for Late Nights, Early Mornings below. The project will be available for pre-order on iTunes here.
1. "Intro"
2. "Dance With The Devil" f/ Mary Cold
3. "No Weapons Formed Against Me"
4. "Dayton's & Rollie's" f/ Currensy
5. "Gifted"
6. "Magic"
7. "Pull Up"
8. "Lil Baby" f/ Tracksmith
9. "Wit My Left" f/ Lil Wayne
10. "Strap" f/ T.Y.
11. "Jukebox"
12. "Weed and Weave" f/ Currensy and Project Pat
13. "Radar"
14. "Spend Some Money"
15. "Took My Love"