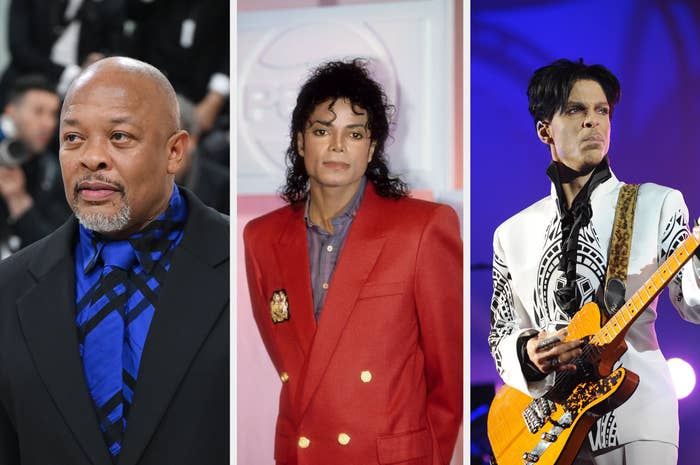 Dr. Dre passed on working with some legends.
The story came up on Kevin Hart's Peacock show Hart to Heart when the comedian asked the legendary producer which artists would appear on his dream project.
"It's gonna sound really weird," Dre said around the 35:30 minute mark here. "Curtis Mayfield, Marvin Gaye, Kurt Cobain, Jimi Hendrix, Freddie Mercury. Yeah, I mean I can go on. Barry White, Isaac Hayes, Led Zeppelin. Those are most of my heroes."
He continued, "There's a couple of times in my career where I fucking bowed out."
Pressing Dre for more information, Hart asked, "Who did you have the opportunity to work with and you was like 'nah' then, but you regret and that you should have worked with?"
"Prince, Michael Jackson," Dre responded.
"You bowed out from working with them?" Hart asked, to which Dre, said, "Yeah."
Hart needed clarification. "Both of them?"
"Yeah," Dre said. "They just asked me to work with them. … What the fuck am I going to do in the studio with them? Those are my fucking heroes."
"You're Dr. Dre!" Hart exclaimed.
Dre also added another name to the list. "And most recently, Stevie Wonder."
The 58-year-old previously discussed turning down the opportunity to work with MJ.
"Somebody approached me about working with Michael Jackson, and I did say no because I like working with new artists or people that I've worked with in the past," Dre told MTV News in January 2001. "I can develop them from the ground up. There's no set standard that I have to live up to or anything like that. All I have to do is go in the studio, and basically, they're going to bust their ass to come in there and do their thing the way it's supposed to be done."
Watch Dr. Dre's episode of Hart to Heart here.