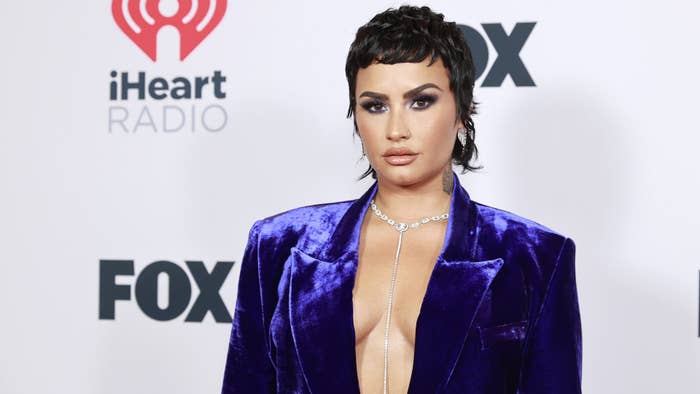 It's been over two years since Demi Lovato came out as non-binary.
Then, the following year, the singer announced that they had started using they/them and she/her pronouns: "I'm such a fluid person when it comes to my gender, my sexuality, my music, my creativity," she said on theSpout podcast last August.
The 30-year-old recently spoke even more in-depth on why she's chosen to identify with both sets of pronouns.
"I constantly had to educate people and explain why I identified with those pronouns. It was absolutely exhausting. And that is one of the reasons that have led me to also feel comfortable with the feminine pronoun," Lovato told GQ Hype Spain recently. "I just got tired. But for that very reason I know that it is important to continue spreading the word."
She also touched on being misgendered and having to deal with the real-world applications of using both pronouns.
"For example, in public toilets. Having to access the women's bathroom, even though I don't completely identify with it. I would feel more comfortable in a genderless bathroom," Lovato explained. "Or it also happens when filling out forms, such as government documents or any other where you have to specify your gender. You only have two options, male and female, and I feel like none of that makes sense to me. I see myself conditioned to choose a woman because there are no more. I think this has to change. Hopefully with time there will be more options."
Following their shift to they/them pronouns, Lovato revealed back in 2021 that they sometimes misgender themselves. "If you misgender me—that's okay. I accidentally misgender myself sometimes," she said. "It's a huge transition to change the pronouns I've used for myself my entire life. And it's difficult to remember sometimes!"