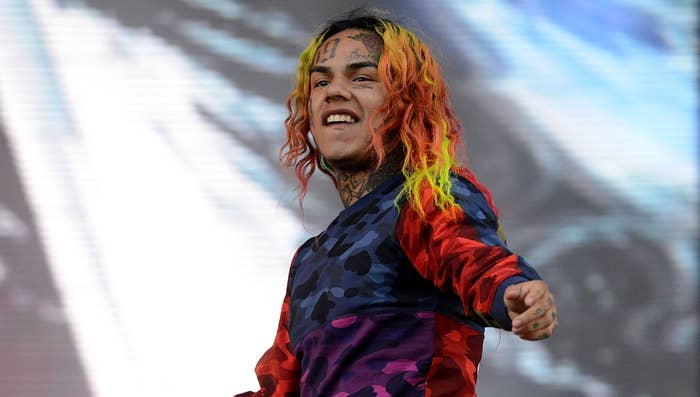 Recent events have fueled 6ix9ine and Rich the Kid's ongoing beef, so much so that 6ix9ine took to Instagram to write in a quickly-deleted post, "Unfollow @richthekid and I'll follow the first 5,000 people."
He also instructed his fans to "comment when done" so he knows to follow them. However, he deleted the post within minutes of sharing.
It appears that 6ix9ine might have deleted the post so fast that Rich didn't have a chance to see it or respond.
6ix9ine's trolling might have stemmed from Rich's attempt to boost his follower count with the promise of new music. However, as DJ Akademiks has pointed out, the request might have backfired, causing Rich to lose followers. Rich began the day with 7.7 million followers and now has 7.6 million.
When 6ix9ine caught wind of the news, he wrote, "If rich the kid drops to 6 million I'll literally cut my hair off," on Akademiks' post.
The two rappers have been at each other's necks this month. A couple weeks ago, they started feuding after reports surfaced that Rich was being sued for failing to pay a jeweler $234,000. 6ix9ine and Rich went back and forth, with Rich ultimately saying, "We can play if u want. I got the time & you sure as hell ain't got more money than me or jewelry or CARS."
A day later, 6ix9ine's campaign against Rich continued. Though the New York rapper's $200,000 donation to No Hungry Kid was rejected, he also took it as a moment to troll Rich, claiming that he's going to donate to Rich's "jewelry dept next." Rich followed 6ix9ine's antics by sharing a video of him picking up 6ix9ine's baby's mother, Sara Molina, in a blue Lambo. "He rented her and the lambo for a couple hours," 6ix9ine responded.