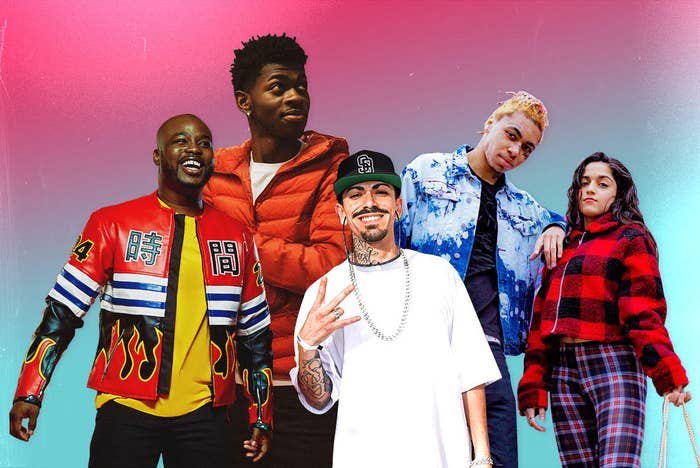 In TikTok's previous incarnation as Musical.ly, the tween-favored app was a playground for viral stars who were made for the orange carpet of the Nickelodeon Kid's Choice Awards, rather than the top of the Billboard charts. Preceding the success of Lil Nas X's "Old Town Road," TikTok was perceived as much of the same: a tangle of e-girls, Shrek memes, and juvenile jokes.
The recent ascent of Lil Nas X has seen the short-form video sharing app gain its first major taste of credibility as a music platform. Nas X has now spent three weeks at No. 1 on the Billboard Hot 100, after breaking streaming records previously held by Drake. "I should maybe be paying TikTok," he told Time. "They really boosted the song. It was getting to the point that it was almost stagnant. When TikTok hit it, almost every day since that, the streams have been up. I credit them a lot."
In 2018, Chinese tech company ByteDance acquired Musical.ly and subsequently merged it with their own lip-syncing app, TikTok. Known as Douyin in China, it launched in North America in August of last year, transforming Musical.ly's once tepid stream of memes into a hotbed for music discovery and promotion.



"Lots of TikTok stars think it sucks now that the general public has started catching up, but there's a lot you can do in 15 seconds." - Cookie Cutters
Democratizing popularity has been at the crux of TikTok's appeal. The app, which operates mainly via its homepage, displays an endless flow of 15-second videos. Everyone from users with 5 million followers to those who just joined the app have the opportunity to be seen, liked, and propelled into virality. The discovery of content on the app doesn't rely on a follower count like other social media services, but rather trending hashtags, inside jokes, and a shared feed that promises everyone an equal chance at fame.
The promise of routine virality has enticed a slew of musicians, brands, and labels to the app. With an estimated 800 million downloads worldwide, TikTok's promotional capabilities are immense. Pushing songs to mainstream success through trending hashtags isn't a novel idea, but the ability to remix and duet has given a generation of TikTok users a new tool to play with.
A specific type of music is seeing success on the app. Songs that lend themselves to physical humor, and have lyrics that can be easily mimicked, are growing in popularity. Upon opening TikTok, lip-syncing videos like this one from user @sav_age619 flood the feed. Staring directly to the camera, she lip-syncs and simulates lyrics from Doja Cat and Rico Nasty's collaboration, "Tia Tamera." Finger wagging and miming, "I'm not his buttercup," earned the TikTok star 128.5k likes.
There's an amalgamation of parody and hip-hop at the center of the app. The act of embracing the meme has evolved into creating music built to inspire memes. Whether it's a diss track in response to fake tweets, or videos of people painting their faces to emulate a rapper, the common thread amongst TikTok users is a sense of fun. As a community, TikTok users aren't inherently problematic, but instead gravitate towards jokes that are absent of the politics Facebook and Twitter thrive on. Erring on the light side of humor, TikTok's ecosystem relies on the interpolation of memes and music.
These are the artists who not only inspired trends on TikTok, but hope to create music that integrates these formative concepts into widespread success, just like Lil Nas X.
The BoyBoy West Coast
New York DJ-turned-rapper Supa Dupa Humble is, as his name suggests, incredibly grateful for his success on TikTok. After discovering the app through comments on his YouTube videos, he downloaded TikTok and found that his song "Steppin'" (featuring Mills Supreme) had its own #idontknow challenge.



"My ultimate goal when creating a song is for it to eventually get the 'meme treatment.'" - Supa Dupa Humble
"The song wasn't officially in the system at the time, so we couldn't track the actual numbers, but I knew there were at least a few hundred videos," he tells Complex. After contacting TikTok's music content and artist relations director, Mary Rahmani, to find out more, Supa realized the scope of his song. "About a week later 'Steppin' was officially uploaded to TikTok, revealing there were already 500,000 videos on the platform," Supa explains. "Quickly after, 'Steppin' was added to the featured playlist with a corresponding banner on TikTok's sounds page."

The #idontknow challenge encapsulates TikTok's carefree attitude. There is no message, no diss, and no real point, except for a meme that creates an inside joke through repetition and physical humor. "My ultimate goal when creating a song is for it to eventually get the 'meme treatment,'" Supa says. "Now that I understand how memes can positively affect music, it's an important factor in my creative process."
Lil Nas X
ZaeHD & CEO
Cookie Cutters
iLOVEFRiDAY