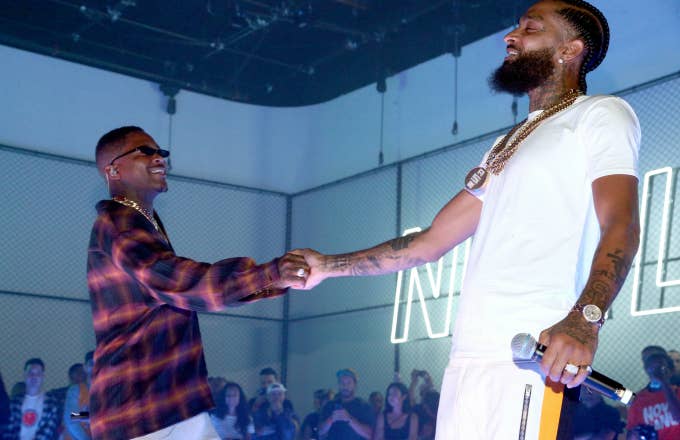 YG has opened up about the death of his good friend and collaborator Nipsey Hussle.
Days after Nipsey was fatally shot in South Los Angeles, the Stay Dangerous rapper shared a heartfelt message in which he expressed his disbelief over hip-hop's loss.
"I took so long to post you kuz I Kant believe this shit," he captioned a photo of him and Nipsey. "I don't wanna believe this shit. I'm not never accepting it. IDGAF what nobody say. It wasn't yo time to go."
YG also touched on the various projects he and Nipsey had up their sleeves, including TV projects and their long-awaited collaborative album. He said they had tried to work on 2 OF AMERIKKKAZ MOST WANTED, "but it never got done."
"If niggaz know NIP then Niggaz know bro got his own recording process," YG wrote. "He rather start doin musik at 10am. But we was 4sho gone do it 1 day, damn bro I'm sick. [...] THE WORLD DIDNT KNOW WHAT THEY HAD TILL YOU WAS GONE I BEEN KNEW!"
Following his IG tribute, YG tweeted that he was planning to release a surprise album on April 12, but will now be holding it for May. "Now that we gotta deal with Big bro goin to heaven I will not drop the album this month. Pushing it to May," he wrote. "LONG LIVE @NipseyHussle my brother from the other color!
YG joins a long list of entertainers who have publicly mourned Nipsey's death. The Crenshaw native was gunned down Sunday afternoon in the parking lot of his Marathon Clothing store. Authorities captured the suspected gunman, 29-year-old Eric Holder, on Tuesday in Bellflower, California. Officials said they believe Nipsey and Holder had a dispute of "a personal nature" shortly before the shooting. 
Holder remained in custody as of Wednesday afternoon, with his bail set at more than $7 million. The charges against him have not been announced.