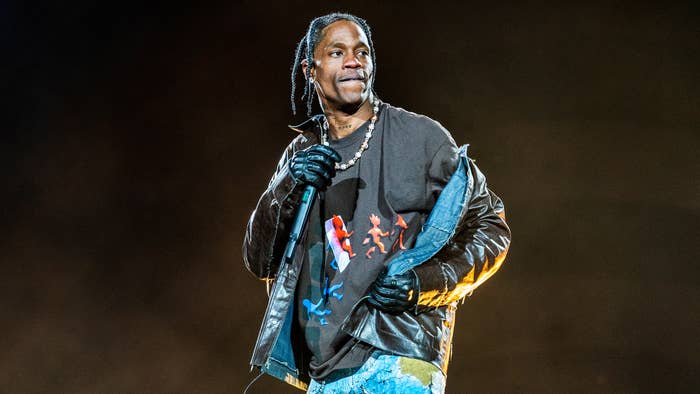 Travis Scott said he is "devastated" over the deadly events that unfolded at his Astroworld Festival.
"I just wanna send prayers to the ones that was lost last night ..." he told fans in a video posted to Instagram. "You know my fans really mean the world to me, and I always really wanna leave them with a positive experience."
Authorities confirmed eight people died Friday night during the sold-out music event held at Houston's NRG Park. Though the investigation is ongoing, police said they deaths occurred around 9:15 p.m. local time, as a large crowd rushed to the main stage to catch Scott's headlining performance. It's believed that the wave of concert-goers sparked panic, causing some attendees to fall to the ground, pass out, and go into cardiac arrest. Seven of the victims were reportedly between the ages of 14-27; the age of the eighth victim has not been confirmed. 
Scott went on to say he was unaware of how chaotic the crowd had gotten during his set, insisting anytime he sees his fans in potential danger, he stops to the show to make sure they get the help they need. 
"I could just never imagine the severity of the situation," he added.
Scott said he and his team were working to identify the families of the eight victims, and intend to provide any assistance that will help get through this "tough time." He also confirmed he and his camp were working with authorities to "get to the bottom" of the tragedy.
"If you have any information, please just contact your local authorities, he continued. "I'm honestly just devastated. I could never imagine anything like this just happening. I'ma do everything I can to keep you guys updated."
In wake of the incident, Astroworld festival organizers announced they had canceled day 2 of the event, which was scheduled to take place Saturday.