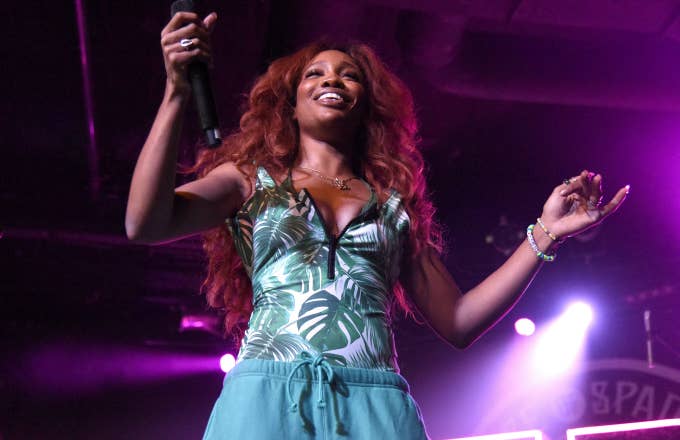 After years of anticipation and several delays, SZA's debut album CTRL finally dropped in spring of 2017.
The project has since received critical praise, debuted in the top five of the Billboard 200, and had multiple platinum-certified tracks; but perhaps the biggest accolades arrived this week, when it was announced the album had earned SZA a handful of Grammy nominations.
The 28-year-old singer is up for best R&B performance, Best Rap/Sung Performance, Best R&B Song, Best Urban Contemporary Album, as well as Best New Artist. A day after the nominations were announced, SZA opened up about her long journey to success.
"I remember pretending to be vegan cause that's all I could afford lol (chips avocado n salad mix), she wrote on Instagram. "I remember sleeping on everyone's couch cause I missed the train AGAIN (thank yall for having me lol ). Sold my beloved 500$ grillz for 50 bucks at the gold shop for train fair (I was SICK lol)."
She also addressed the fear and hesitation she had about CTRL's release, claiming she begged TDE president Terrence "Punch" Henderson to hire writers for the project.
"He said 'U don't need em.' I remember crying cus I didn't have any hits or a quantifiable 'sound'.. I remember feeling like damn maybe I suck. Maybe I should try something else ? Maybe I'm jus wasting space," she wrote. "[…] I remember sobbing on the phone w Punch pleading for the album not to come out cause I couldn't take the embarrassment. Just wanted another week. Another day? He ignored me n said I'd be fine."
She was more than fine. In fact, SZA said she's having trouble accepting all of the success because it feels like a dream. She went on to thank her fans, the TDE family, everyone who worked on the album, and the Recording Academy for the honors.
"This entire thing puts my wildest dreams to shame. I dunno what to say cause I dunno how to accept its even happening to me lol?" she wrote. "I've never won anything in my life even until this week (THANK YOU SOULTRAIN AWARDS!!) It all just feels strange somehow BUT IM SO OVERWHELMINGLY GRATEFUL FOR THIS STRANGENESS!! I'm so in awe of Gods plan."
You can read SZA's full message below.