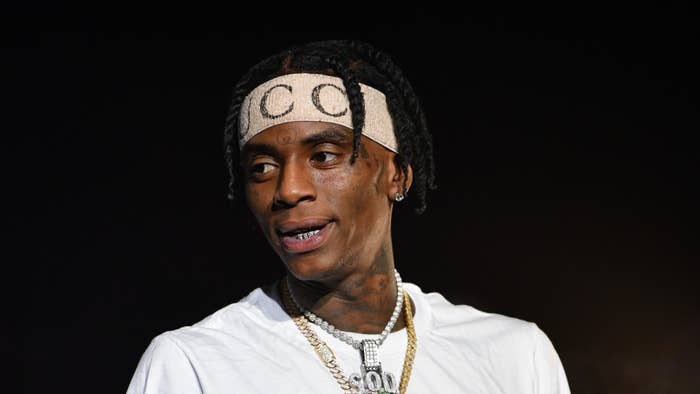 Soulja Boy had some harsh words for Kanye West, following a recent interview. 
The "Crank That" rapper delivered an expletive-filled response to Ye's recent Drink Champs interview where he addressed his decision to pull Soulja's verse from Donda's "Remote Control." After the G.O.O.D. Music boss declared Soulja to be one of the "top five most influential" artists, the hosts asked why he ultimately scrapped the rapper's contribution.
"You ain't hear that verse?" Ye said, prompting laughter in the studio.
"The verse wasn't good?" N.O.R.E. asked. 
"Nah," Kanye responded. "But I'll tell you what, though. Soulja Boy is the future, though. Future the future..."
Soulja clearly wasn't amused.
"Don't get on no motherfuckin' platform and say different from what the fuck you told me to my face," Soulja said during a Friday night livestream. "Tell me to my face that shit was trash … Who cut your hair? Yo shit fucked up."
Soulja also showed viewers a purported text exchange with Kanye regarding his "Remote Control" verse. Soulja claimed Ye had described his contribution as "hard," suggesting the Donda artist didn't have the guts to criticize him to his face.
Soulja went on to say he wasn't flattered by Ye's "top five" compliment, and proceeded to call Donda "trash," despite never hearing it.
"You not finna baby me, n***a, with some, 'Soulja Boy is the future.' Shut the fuck up," he shouted. "You said my verses wasn't hard, n***a? Who the fuck you think you talkin' to—everything that comes out my motherfuckin' mouth is hard, n***a. What the fuck is you talkin' about Kanye West? Yo album was trash. Yo shit wasn't hard, n***a. Just 'cause it's your album don't mean you get to pick what's hard. Put it out and let the people decide … That shit was trash. I ain't even heard the album yet. All my n***as said yo shit was trash."