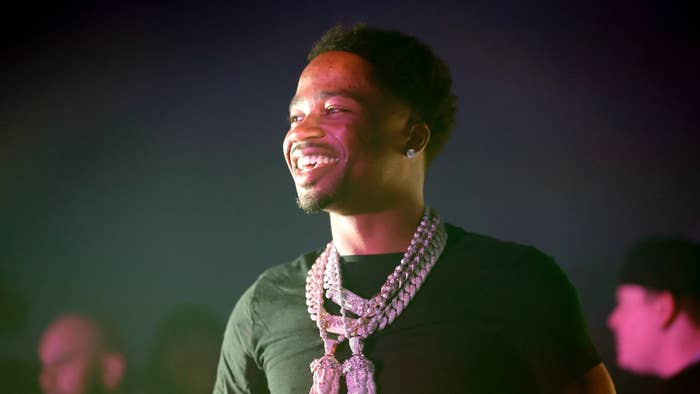 Roddy Ricch continues to pay tribute to some hip-hop's fallen artists.
During his Friday night set at the Something in the Water Festival, Roddy treated fans to a performance of his 2018 track "Die Young." The song, which appeared on his Feed tha Streets II project, finds the Compton native reflecting on the importance of living a full life, as he reminds listeners tomorrow isn't promised.
"Tell me, why the legends always gotta die quick?" he sings in the chorus.
As Ricch performed the track, photos of several late artists appeared on the stage screens. The featured artists included Juice WRLD and Nipsey Hussle, who both died in 2019, as well as Drakeo the Ruler and Lil Keed, who died in 2021 and 2022, respectively.
SITW kicked off Friday in Washington, D.C. The event, which concludes Sunday, boasts performances this year by Lil Uzi Vert, Tyler, the Creator, 21 Savage, T.I., Chloe x Halle, Skepta, and Pharrell, who founded the festival in 2019.
Roddy's Something in the Water set went down less than a week after he was arrested on gun charges. The 23-year-old was quickly released from custody the following day and performed at Hot 97's Summer Jam last Sunday, where he led the crowd in a "fuck the NYPD" chant.
Roddy also took to Instagram on Friday to tease a fast-approaching release. The rapper changed his profile picture to a piece of sheet music headlined The Big 3 with a trio of song titles: "Real Talk," "Tootsies," and "No Mop."
He also posted a series of photos of him standing alongside Mustard, captioning the carousel with, "June 24."
The Big 3 is available to pre-save/pre-add ahead of its Friday release.
Roddy is now preparing to hit the road for Post Malone's Twelve Carat Tour. The trek begins Sept. 11 in St. Paul, Minnesota and will make stops in NYC, Houston, Vancouver, Los Angeles, and more.