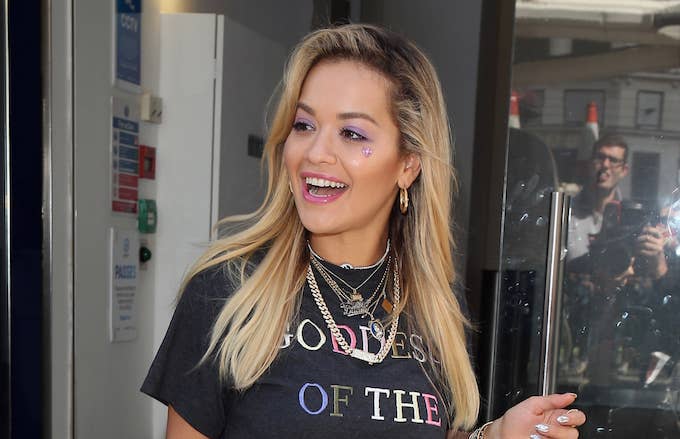 Rita Ora is back.
On Thursday night, the 27-year-old British singer delivered her empowerment anthem titled "Girls." The record has been the subject of several rumors during the past few months, with many fans theorizing which female artists would appear on the track.
Well, last week, Ora finally confirmed the "Girls" all-star lineup: Cardi B, Charli XCX, and Bebe Rexha.
The catchy record is a celebration of female sexuality, with lyrics that nod to Katy Perry's 2008 breakout single "I Kissed a Girl" and Cyndi Lauper's 1983 hit "Girls Just Want to Have Fun."
Cardi raps:
Now I could be your lipstick just for one night
Girls just wanna have fun, they have their funds right
I mean, say my name, say my name, say my name
It tastes good just running up your tongue, right?
I put this smack on your lips all so pucker up 
We ain't never heard of you 'cause you ain't gun enough 
Ora spoke about the track during a 2017 interview with ChartShowTV. At the time of the sitdown, Cardi's cameo had not been revealed.
"I look at, you know, waking up and see what's been out—when I was putting my record out—and there's just some amazing new artists that have come out since I put out ORA, that I've been obsessed with. […] I just gathered all the girls that I thought were just, like, cool vibes. It's always about the vibe and the energy and the connection. And, 'Girls' is one of my exciting songs, which I can't wait for people to hear […] It's my way of showing love to the girls in this industry."
You can listen to "Girls" now on Apple Music/iTunes and via Spotify below.