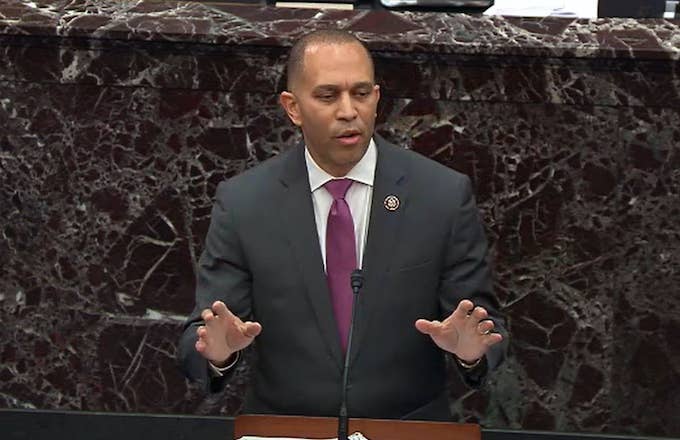 Day 1 of the Senate impeachment trial of President Donald Trump included a number of highlights; the most viral and unexpected which was a reference to the Notorious B.I.G.
The moment occurred toward the end of Tuesday's opening arguments, when Rep. Hakeem Jeffries (D-NY) gave a speech calling for the subpoena of Mick Mulvaney. The Brooklyn-born congressman also took the time to address Trump's attorney Jay Sekulow, who challenged the validity of the trial by asking, "Why are we here?"
"We are here, sir, because President Trump corruptly abused his power and then he tried to cover it up," Jeffries said. "And we are here, sir, to follow the facts, follow the law, be guided by the Constitution, and present the truth to the American people. That is why we are here, Mr. Sekulow."
Jeffries punctuated his response with, "And if you don't know, now you know"—a line from Biggie's 1994 hit "Juicy."
Many people, including former U.S. attorney general Eric Holder, were pleased with the Biggie salute.
Jeffries, who serves as one of the House impeachment managers, paid tribute to Biggie on the House floor in 2017—20 years after the legendary rapper was assassinated. 
"I've got the privilege of representing the district where Biggie Smalls was raised. We know he went from negative to positive and emerged as one of the world's most important hip hop stars," he said. "His rags-to-riches life story is the classic embodiment of the American dream. Biggie Smalls is gone but he will never be forgotten. Rest in peace, Notorious B.I.G. Where Brooklyn at?"