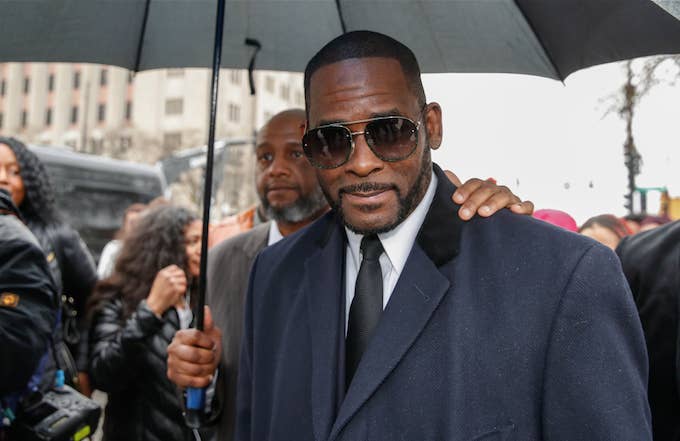 R. Kelly has reportedly avoided more jail time by paying $62,000 in back child support.
According to TMZ, the 52-year-old entertainer returned to Cook County court Tuesday to face an ongoing dispute with his ex-wife, Andrea "Drea" Kelly. The embattled singer was placed behind bars back in March for failing to pay more than $161,000 in overdue child support. He was released from jail after someone covered the debt on his behalf; however, Kelly reportedly missed the $20,000 per month payments, which are required under his divorce settlement—in March, April, and May. 
"All I can say is that this is a victory for my children," Drea Kelly told reporters after Wednesday's court hearing. "[...] I will fight for my children till the end."
Though the $62,000 covered the past three child support payments, Kelly still owes Drea Kelly $32,000 in interest. The mother is also asking that Kelly cover educational expenses for their 21-year-old daughter, Joann, a.k.a. Buku Abi. 
Kelly sought to have his monthly child support payments lowered, citing a lack of income due to the backlash over his sexual abuse allegations. 
"If you can't play a show, if you can't go out on tour, if they're not streaming your music anymore, obviously you're going to have financial problems," his attorney Steve Greenberg explained back in March. "You don't need to be a rocket scientist to figure that out."
According to CBS Chicago, the presiding judge has not modified Kelly's child support payments, meaning he is still required to cough up $20,000 every month. 
During a seperate court hearing Wednesday, a Cook County judge vacated a default judgement against Kelly, giving the singer a second chance to defend himself in a sexual abuse case. In late April, the defendant was rewarded a default judgement after Kelly failed to appear in court. Kelly's legal team, however, argued that their client did not fully understand the legal documents because he can't read.