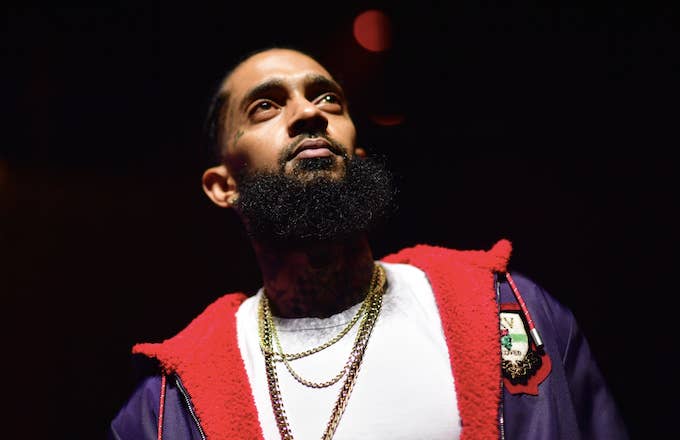 Lauren London's birthday celebration took a violent turn Sunday night, when her boyfriend Nipsey Hussle was dragged into a big brawl outside a West Hollywood nightclub.
The incident occurred in the Nightingale's parking lot, where Nipsey had also run into O.T. Genasis. Shortly after the rappers' meet-up, several men came out of nowhere and confronted Nipsey's crew. Punches were thrown, security was called, and the altercation ended without any major injuries or arrests; however, the question remained: why was Nipsey targeted? Well, it seems O.T. played a role.
Earlier in the night the "CoCo" rapper was seen punching a fellow patron inside the nightclub. TMZ reports the unidentified man wanted to settle the score so he and another guy approached O.T. in the parking lot—or, who they thought was O.T. 
As you can see in the videos above, O.T. and Nipsey were both rocking plaid shirts on the night of the altercation, which is why some believe Nipsey's involvement was simply a case of mistaken identity.
Days after the fight went down, TMZ caught up with Nipsey at LAX. The rapper seemed unfazed by the incident and was more interested in plugging his projects, including his new record Victory Lap, which just received a Grammy nomination for Best Rap Album.
"That's life. We don't give that s**t no attention," Nipsey said about Sunday's altercation. "[...] We workin' on music at this point. Do I got any bruises, any scratches? We workin' bro."